The Houseguests Can't Stop Playing Games: Big Brother Season 18, Episode 28 Recap
The remaining HGs visited the BB County Fair before a spooky HOH competition.
Posted on Aug 20, 2016 | 12:00am
On the latest episode of
Big Brother
, the remaining Houseguests visited the BB County Fair, played carnival games, and reminisced about their favorite moments from the season before a haunting HOH competition.
While we wish someone would cut us a slice of that pie, let's take a brisk walk through some of the greatest moments from the latest episode.
WATCH: Full Episode 28 of Big Brother Season 18
After a full week of eating apple pies and
plotting to send Paulie packing
, everyone was in need of a little carefree fun—and what better way to let loose than to frolic at a fair?
The backyard was transformed into a carnival-themed compound, complete with games, treats, and live music from legendary crooner Ziggy Marley.
Without the pressure of talking strategy, the HGs seemed ready to exhale, enjoy each other's company, and toast to some of the summer's most memorable (and sometimes dramatic) times.
They touched on
Jozea's ego
, cringed as they remembered
the drama between Tiffany, Frank, and Da'Vonne
, and giggled as they recalled
Paulie's epic lapdance at Zakiyah's birthday party
But, they didn't just focus on the ghosts of
Big Brother
past. The HGs also dished on the summer showmances, sharing their favorite moments between
Natalie
and
James
,
Nicole
and
Corey
, and
Zakiyah
and
Paulie
.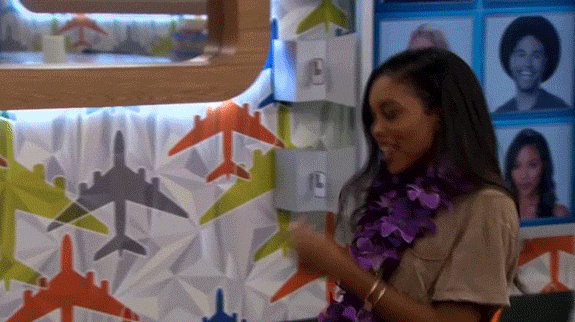 Once their hearts stopped fluttering, the HGs geared up for a series of messy games, which included a dart board, a dunk tank, and a welcomed appearance by
Big Brother
legend
Jessie Godderz
(aka Mr. PEC-Tacular).
Each game offered a range of prizes, including a tech gadgets, cold-hard cash, and a special advantage for the upcoming HOH competition.
Alas, the cotton candy-induced sugar-high had to wear off at some point.
Once fully stuffed with churros and popcorn, the Houseguests put their game faces back on and it wasn't long until they were beckoned back to the backyard where they discovered a daunting object which contained "The Black Box" HOH comp.
As the outgoing HOH,
Victor
explained to the participating HGs their mission: each player would have to make his or her way into the spooky pitch black box, where they'd be expected to hold onto their buttons while weathering rancid smells and gloppy goop until instructed to search for, find, and place a disc on a pole by their stations.
(Got all that?)
The first person to stack 10 discs in two hours would become the newest Head of Household.
Who will survive the chilling challenge and ensure their safety for one more week?
Watch
Big Brother
on Sundays and Wednesdays at 8/7c, and Thursdays at 9/8c on CBS, and stream full episodes on
CBS All Access
.