Sniff, sniff.

Smell that?

If not, you're probably better off because, based on Nicole, Corey, and Paul's reaction to a particularly pungent incident in the HOH suite, someone better grab the air freshener—and we're looking at you, Victor!


El Fit Vic isn't claiming to own the odor, but neither is Paul. Either way, Nicole isn't too excited that her luxurious HOH suite now features a funky airborne flavor.
So, who's the phantom tooter—Paul or Victor?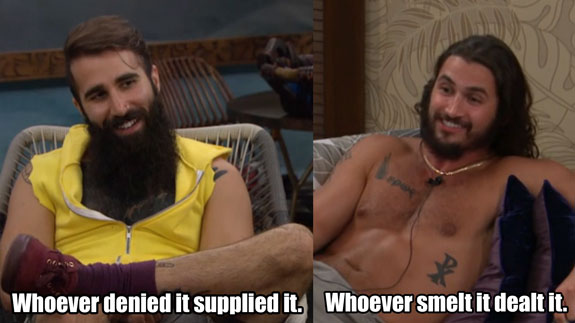 Keep watching the
Big Brother Live Feeds
to see—and possibly smell!—even more behind-the-scenes moments like these before everybody else.
Watch new episodes of
Big Brother
on Wednesdays and Sundays at 8/7c, and Thursdays at 9/8c on CBS and
CBS All Access
.