Here's What It's Like To Attend A Big Brother Live Eviction Show
Ever wondered what it's like to be part of the live studio audience when the latest evictee hits the road?
Posted on Aug 29, 2017 | 02:15pm
Have you ever wondered what it would be like to sit as an audience member on the set of
Big Brother?
To be inches from host
Julie Chen
, amidst all the cameras and live action as you anxiously await the latest evictee to walk out of the house and into the studio?
Well, we had the opportunity to do
just
that and have returned back with all the little behind-the-scenes details
Big Brother
fans are dying to know.
STREAM: Every Single Episode Of Big Brother On CBS All Access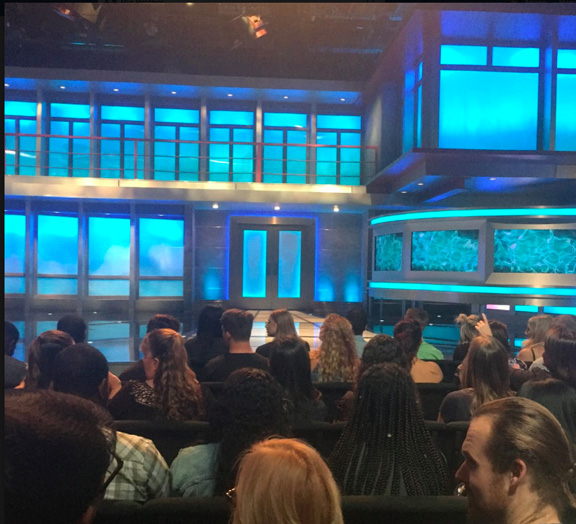 With
Big Brother
's Live Eviction episode taping on Thursdays at 6 PM PST sharp, we were sure to get there early and make the short trek from the parking garage at Radford Studio Center in Studio City, CA to Studio 18 where all the action happens.
As we stood outside in line, we could see more than a dozen production pros moving around the lot, finishing up last minute to-dos before going live.
Inside the chilled studio, 76 open chairs awaited fans and an impressive stage caught all eyes.
The crowd's energy at the live taping—as one may expect in a crowd full of hardcore BB fans—was super lively and full of smiles. About a half an hour before broadcasting live, the crowd was given the full rundown on how the live experience would work.
When Julie arrived on stage about ten minutes before show time, the crowd roared with excitement. This is
Julie Chen
, people—live in living color!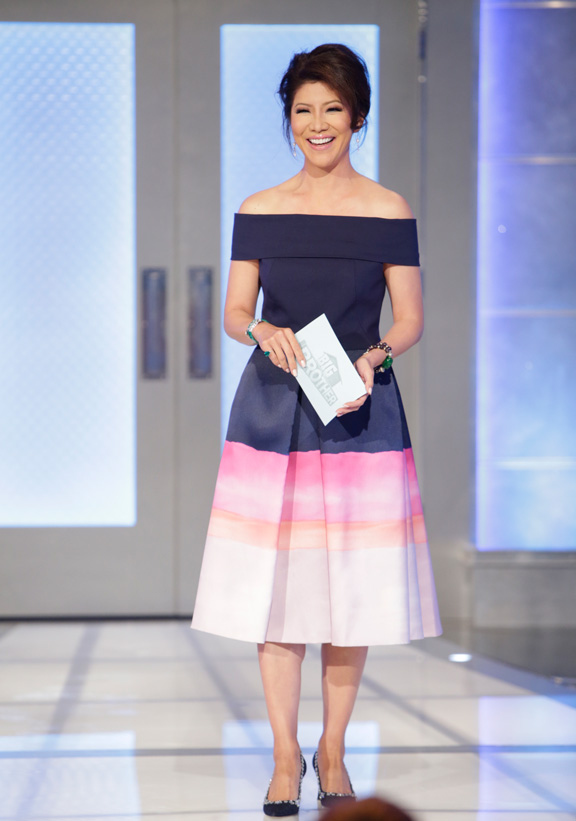 She looked as beautiful as ever in her Tom Ford dress and Christian Dior pumps. We learned about her fashion choices after an excited audience member asked her "What are you wearing?!"
Julie's makeup artist offered some last minute touch-ups—lip gloss and powder—and her hair stylist added some extra volume to her gorgeous up-do.
As BB fans already know, during each live episode there are pre-taped segments highlighting what happened earlier that week inside the BB house.
Watching these clips on the big screen brought the episode to life, and it was especially fun to watch with such a large group—almost like a massive viewing party with your closest friends. Together, we laughed as we took in the unique scenery of cameras panning overhead, production assistants moving around on stage, and bright LED lights.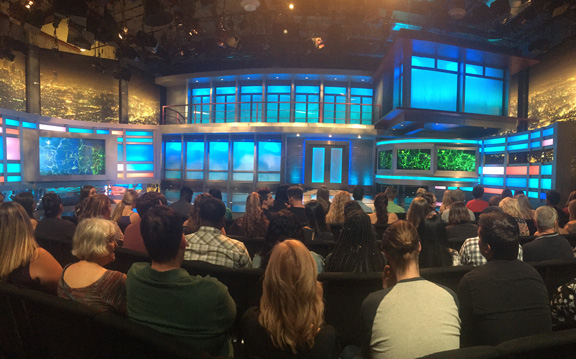 So what happened when the show went to commercial break?
First, a producer would call out a time that would let the entire room know how much time we had before coming back from commercial.
Then, the crowd coordinator—who was
hilarious
, by the way—chatted up various audience members and asked people to predict the winner of BB19 and
Big Brother
t-shirts were given away to people who danced on stage. It was one big party!
As the crew counted down to go live, everyone applauded and hollered at the top of their lungs.
Later, as the remaining Houseguests voted live from the Diary Room, the audience waited with anticipation for the votes to tally up. How cool is it that the audience learns of the eviction news
before
the Houseguests actually do?
Once Julie delivered the news to the Houseguests, it was only a matter of seconds before the evictee made their way from the BB19 house to the studio. Seeing how the house was connected to the studio, live and in person, was mind-boggling.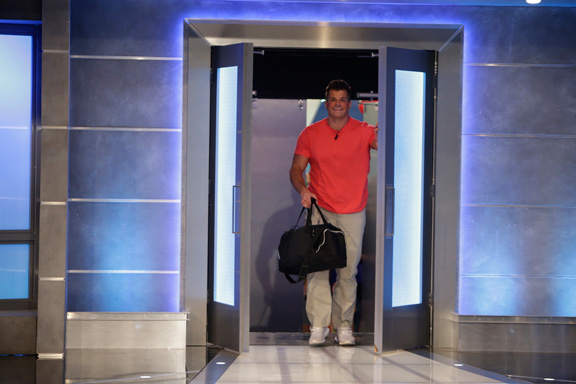 Getting a quick glimpse into this infamous house is what BB fans dream of. Many audience members arched from their seats to get a peek at the final eight HGs poking their heads out.
The live interview between Julie and the latest evictee,
Mark
, was professional and to the point—proving she's a pro that knows how to ask
all
the right questions.
STREAM: Mark Opens Up To Julie On Episode 28 Of Big Brother Season 19
After Mark left the stage and we watched the start of the HOH Competition, Julie waved goodbye to the group and made her way backstage.
It was a seriously cool experience watching a full live taping of
Big Brother
—all the way from the meeting other BB-enthusiasts and seeing how a production works to seeing Julie in person and learning about all the little details that go into making a show, well,
a
show
.
If there's anything we learned that we didn't know before it's this: it takes one giant crew to produce the live show and a whole lot of coordination to seamlessly connect all the moving pieces of the night. Major props to everyone involved.
'Til next time,
Big Brother
!
Stream full episodes of every past season of
Big Brother
on
CBS All Access.