​Big Brother Season 20 Twist Is All About The Tech
Plus, Julie Chen offers fans a house tour of the new BB house, which is decked in a Silicon Valley aesthetic.
Posted on Jun 20, 2018 | 09:00am
Summer has arrived and, with it, the premiere of
Big Brother
!
Now that we've met the 16 new Houseguests
who will be playing for $500,000 in the series' landmark 20th season, it's time to see where they'll be living—and what new challenges they'll face!
Season 20 kicks off with a three-hour, two-night premiere event on Wednesday, June 27 at 8/7c and Thursday, June 28 at 9/8c on CBS and
CBS All Access
, when an all-new cast will enter the BB house, which is decked out to look like the fun, colorful, and creative interactive spaces on tech campuses in Silicon Valley.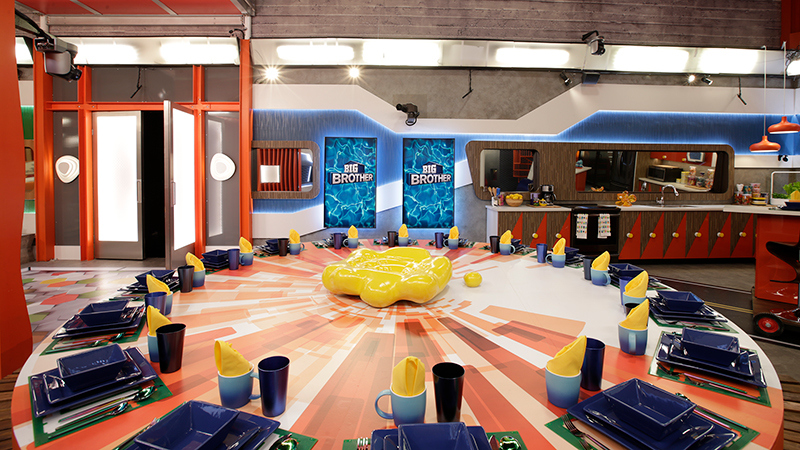 Before anyone gets a chance to explore the new digs, the Houseguests will need to put on their game faces because the first competition starts almost immediately on premiere night with three challenges that will yield a game-changing power—and two unprecedented punishments.
Not only that, but these new personalities will be faced unexpected twists and upgraded powers thanks to a a new tech-themed twist called the BB App Store.
The BB App Store will be unveiled in the season's first Sunday episode, which airs July 1 at 8/7c, when America will be given a chance to get the Houseguests trending, resulting in power apps or punishments that could crash their game.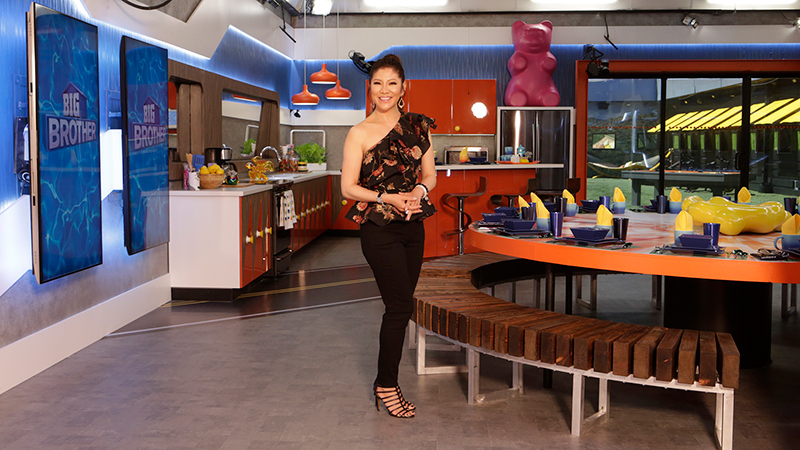 "
Big Brother
has always been about innovation and, this season, technology, interactivity, and powerful upgrades will give a charge to the Houseguests' game," said Allison Grodner and Rich Meehan, Executive Producers,
Big Brother
. "This house is bound to inspire some state-of-the-art strategies, forcing the players to make inspired decisions and form collaborative relationships if they hope to advance through the summer!"
"On July 5, 2000, pop culture found a new obsession when
Big Brother
debuted, giving viewers groundbreaking 24/7 access into the lives of those first Houseguests... and now an entire generation has grown up watching. Here's to a new season of competitions, ceremonies, alliances and evictions!" added host
Julie Chen
, who leads a tour of the new house in the video above.
WATCH: Big Brother Season 20 House Tour With Julie Chen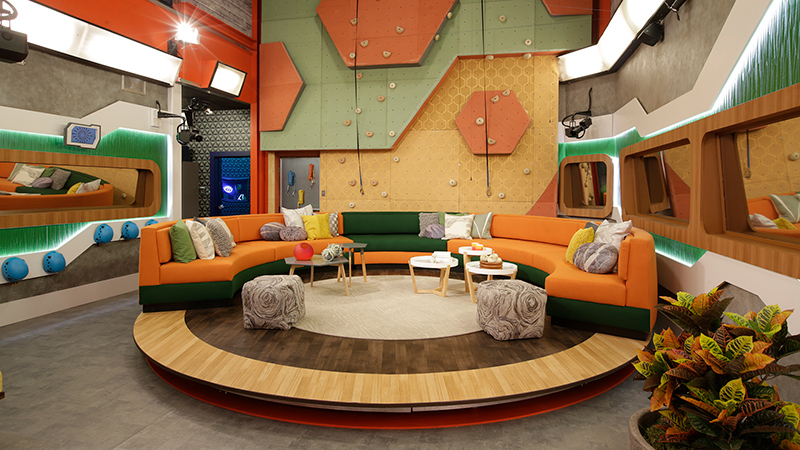 As you'll see in the
full house tour
, looming over the living room is a
Big Brother
first: a 22-foot tall rock-climbing wall, which allows the Houseguest to literally climb out of situations when they feel trapped in the house.
In another first, this season's circular couch is on a large rotating platform that opens up space for the Houseguests to then access the climbing wall.
The downstairs bedrooms feature the first sliding walls to be incorporated into the BB house. These five separate panels can open up to make a more communal space; plus, the placement of the beds and reflective walls also create an optical illusion.
Under the careful watch of a 4-foot tall fiberglass gummy bear, the kitchen features a unique island on casters that allow the countertop and stools to move from side to side.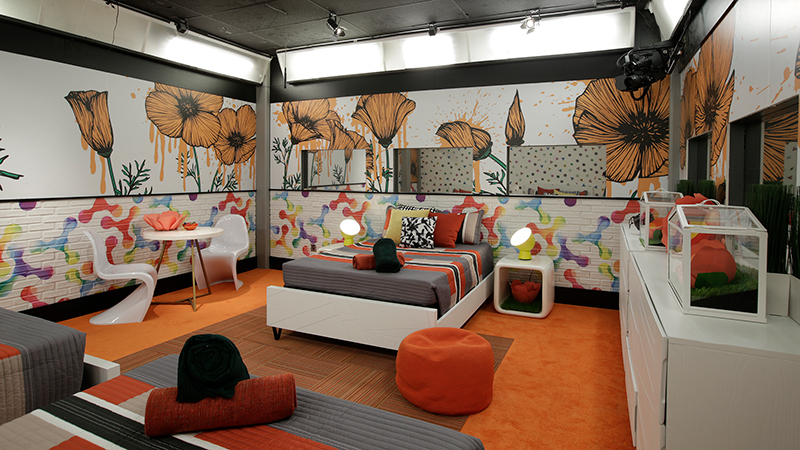 The Kaleidoscope Lounge is a party of pattern, complete with multi-dimensional shapes and colorful graphics. The highlight of the room might just be the floor-to-ceiling pin-art wall, featuring 14,276 separate plastic pegs on a display big enough to press your entire body into.
The common bathroom features four sinks, bright-green walls, emoji pillows, and a collection of mirrors covered with interchangeable IRL filters inspired by multi-messaging media apps.
Upstairs, the bridge has been transformed into a gaming lounge with a classic foosball table, tabletop video-game-inspired cocktail table, illuminated abstract chessboard, and moving gamer chairs that are reminiscent of an old-school arcade.
The extra-large aquarium has a prominent position, too, and is stocked with neon tropical hybrid fish swimming among sunken custom 3D-printed miniature themed arcade games.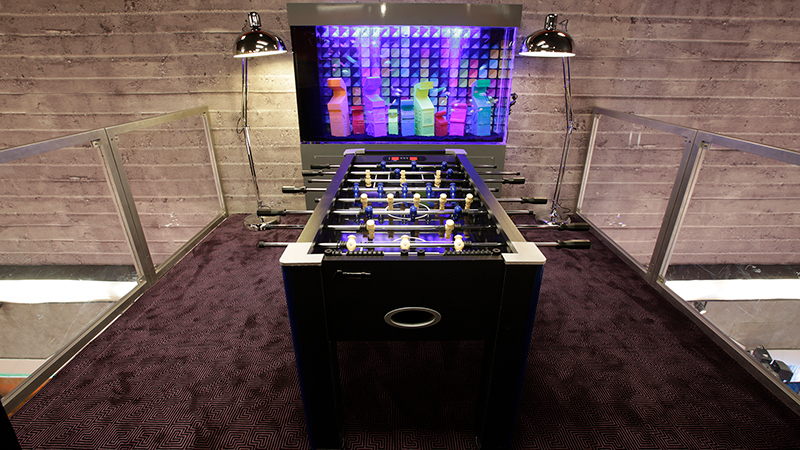 Moving right along, the Head of Household Suite has a trendy warehouse feel with dark wood, exposed cinderblock, and walls covered with LED panels that constantly change color.
While chilling in the somewhat secluded bedchamber, not only can the HOH spy on the other players, but an all-new upgrade will give them the ability to speak with other HGs through a video intercom system placed in select rooms around the house.
In a nod to the home of tech giants in Northern California, the BB backyard features a mural of California poppies, the official state flower.
The yard is also outfitted with a new pool table and the house's trademark pool and spa, which are perfect for a summer of scheming.
PHOTOS: Get A Sneak Peek Inside The Big Brother 20 House
Don't miss the two-hour Season 20 premiere of
Big Brother
on Wednesday, June 27 at 8/7c, followed by another all-new episode on Thursday, June 28 at 9/8c on CBS and
CBS All Access
.
Then, be sure to check out the
Big Brother Live Feeds
—exclusively available through
CBS All Access
—when they start rolling after the West Coast air of Thursday's episode on June 28 at 10 PM PT / 1 AM ET.
Finally, don't miss all-new episodes of
Big Brother
on Sundays at 8/7c, and Wednesdays and Thursdays at 9/8c—always on CBS and
CBS All Access
.