If you were looking for even more ways to expand your summer of Big Brother fun—as if the CBS Messenger Bot wasn't enough—Alexa is here to assist!

Amazon devices with Alexa now feature some fun BB features, like a brand-new poll to take every Tuesday!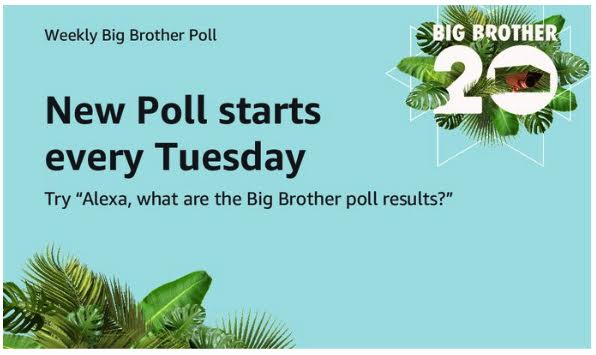 From offering your opinions on the Houseguests to your favorite punishments or competitions, all you've got to do is tell Alexa:

"Alexa, open the Big Brother poll."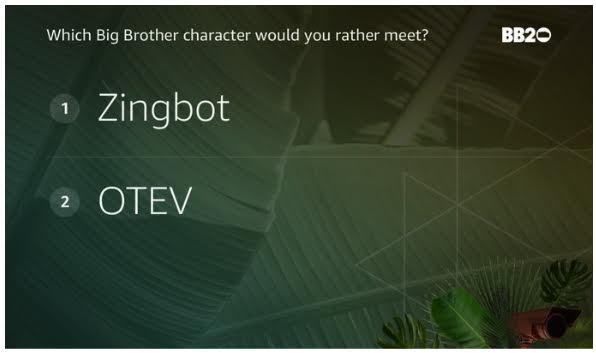 Simple as that! And if you take the poll, you might even get an exclusive little snippet of something fun—so make sure to come back every week!

Then, check back every Thursday to hear how other BB fans responded to that week's question by saying, "Alexa, Big Brother poll results."

You can also ask Alexa questions like:

- "What time is Big Brother on TV?"
- "What channel is Big Brother on TV?"
- "What happened on the last episode of Big Brother?"
- "Who won Head of Household on Big Brother?"
- "Who's hosting Big Brother?"
- "Who won Power of Veto on Big Brother?"

One of the best parts of Big Brother is that it doesn't stop when the episodes ends.

Whether it's asking Alexa about BB, playing games on the CBS Messenger Bot, or just watching the BB Live Feeds on CBS All Access—Big Brother is fun all summer long.




Don't miss all-new episodes of Big Brother on Sundays and Wednesdays at 8/7c, and Thursdays at 9/8c—always on CBS and CBS All Access.

Then, be sure to check out the Big Brother Live Feeds—exclusively available through CBS All Access—for a 24/7 peek inside the BB house.