A Big Brother season full of high-tech twists and game-changing advantages can be a lot to keep track of, so we've compiled a one-stop-shop for all of your BB recap needs! Check back at any point during the season to see what you missed.

Be warned, there are full spoilers ahead!

Episode 23 / Evicted: Rockstar
Rockstar feels positive the house is going to evict Kaycee. Meanwhile, Tyler tries to fix his relationship with Sam. Fessy and Haleigh get closer and share a smooch.

Brett tricks Rockstar into thinking they have a secret alliance. We meet Tyler's family, who is rooting for him back home. The BB Hacker cancels Fessy's vote, leading to a blindside where Rockstar is evicted in a 5-1 vote.

The live Head of Household competition begins, a winner to be revealed in the next episode.

Episode 22 / POV: Tyler / Nominees: Rockstar and Kaycee
Rockstar gets frustrated by another nomination and confronts Kaycee about being the Hacker, who denies it.

The Hacker, Kaycee, chooses Tyler to play in the OTEV Veto comp, which he wins, taking Angela off the block.

Haleigh puts Kaycee back up as a replacement nominee.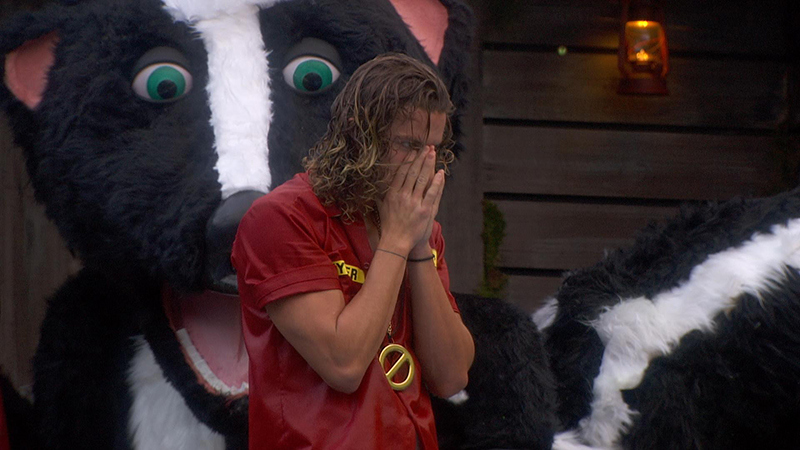 Episode 21 / BB Hacker: Kaycee / Nominees: Rockstar and Angela
Haleigh celebrates her Head of Household win while Sam struggles to keep the game from feeling personal and spirals a little.

Haleigh concocts a plan to backdoor Tyler, while Level 6 tries to convince Haleigh to put Sam on the block.

In the end, Angela and Kaycee are nominated for eviction, but Kaycee wins the BB Hacker comp and replaces herself with Rockstar.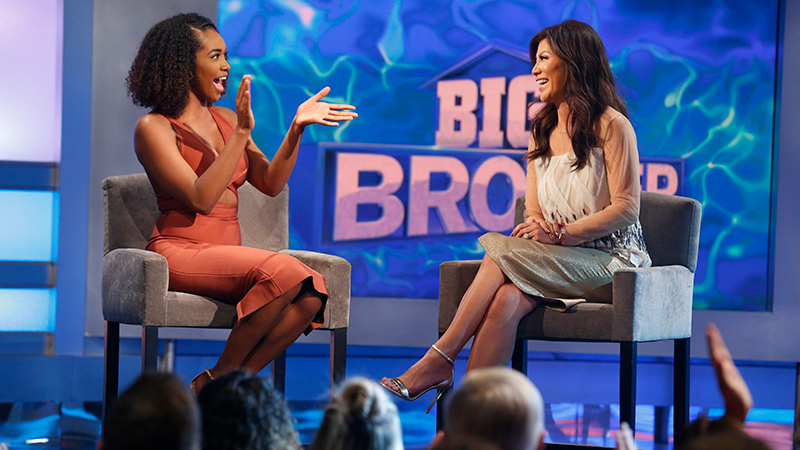 Episode 20 / Evicted: Bayleigh / HOH Winner: Haleigh
The house explodes after the Veto ceremony. Brett's Insta-Granny punishment begins, much to the amusement of the Houseguests.

Haleigh reveals she's the BB Hacker to the house and offers a tearful apology to Bayleigh, who then absolutely rips into Tyler in one of the biggest fights of the season.

Haleigh chooses to hack Tyler's vote, and the house evicts Bayleigh in a 6-1 vote. Haleigh wins the live Head of Household comp.

Episode 19 / POV: Angela / Nominees: Bayleigh and Rockstar
Level 6 suspect Bayleigh is the BB Hacker, even though it's actually Haleigh. BB Alum Jessie "Mr. Pectacular" Godderz hosts the Veto comp, which Tyler wins.

But after some prize swapping, Angela gets the Power of Veto, Kaycee and Rockstar get punishments, Tyler wins a trip to Hawaii, and Scottie wins $5000.

Angela uses the Power of Veto on Tyler and replaces him with Bayleigh.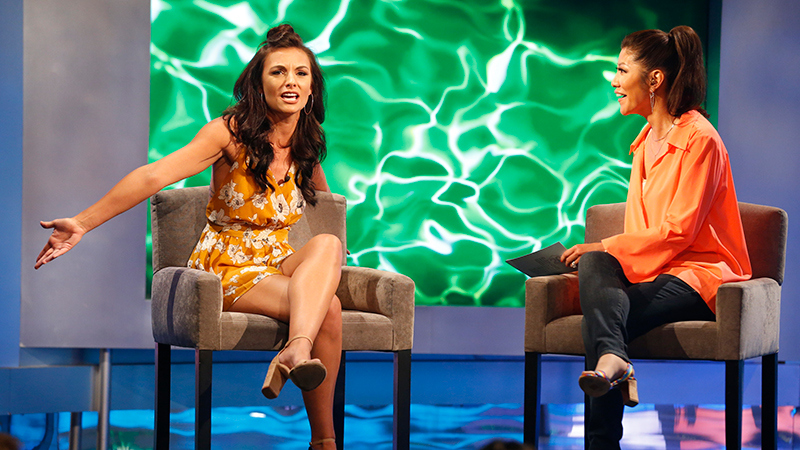 Episode 18 / BB Hacker: Haleigh / Nominees: Rockstar and Tyler
Angela reveals the plan to throw Rachel under the bus, Bayleigh tries to figure out who flipped their vote for Brett, and the BB Hacker twist begins.

Angela nominates Scottie and Rockstar for eviction, but Haleigh wins the BB Hacker Comp and hacks the game, replacing Scottie with Tyler.

Episode 17 / Evicted: Rachel / HOH Winner: Angela
Rachel goes into a downward spiral after the Veto meeting, Tyler campaigns to keep Brett, and Faysal is jealous about Brett and Haleigh hanging out.

Fans go along with Swaggy C when he visits Bayleigh's parents.

Brett makes another shocking speech and again spreads a lie about his fellow nominee, Rachel, who is evicted in a tight 5-4 vote.

Angela wins the live Head of Household competition.

Episode 16 / POV Winner: Tyler / Nominees: Brett and Rachel
Rachel struggles with being a pawn. Tyler lies to Bayleigh about having the other Power App.

Tyler wins the "Goober Driver" Power of Veto competition and Rachel puts a target on her back with Level 6, but tells them about Bayleigh's Power App to save face.

Tyler decides not to use the Veto.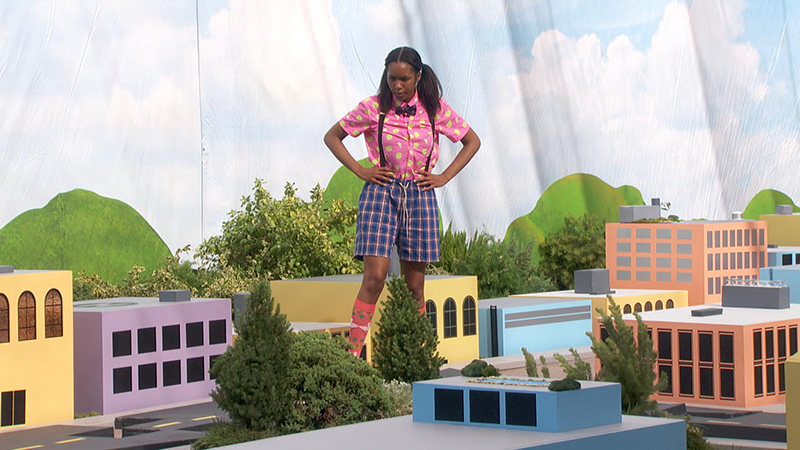 Episode 15 / HOH Winner: Bayleigh / Nominees: Brett and Rachel
The Houseguests compete in the Perfect Timing Head of Household competition, which Bayleigh wins.

Faysal and JC showcase their close friendship, and Faysal tries to convince Bayleigh not to use JC as a pawn.

Bayleigh tells Rachel about her Power App, but nominates Brett and Rachel for eviction.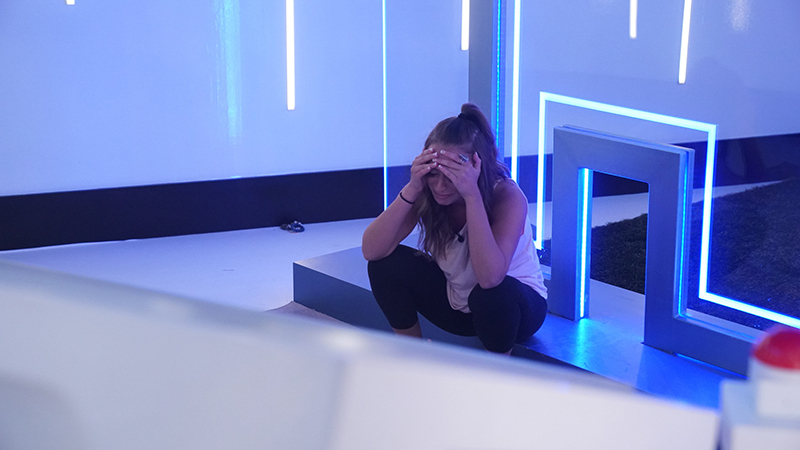 Episode 14 / Evicted: Kaitlyn
Kaitlyn deals with Faysal's betrayal while the Houseguests try to figure out who they want to vote for.

Kaitlyn is evicted in a 9-1 vote, but Sam's Bonus Life Power App activates.

Watch Kaitlyn compete in a live competition for a chance to re-enter the house... and fail.

Episode 13 / POV Winner: Faysal / Nominees: Rockstar and Kaitlyn
Faysal promises both Haleigh and Kaitlyn he'll take them off the block if he wins the Veto competition, which is hosted by BB legend Rachel Reilly.

Sam, Haleigh, Kaitlyn, JC, Rockstar, and Faysal play the Veto comp, which Faysal wins.

Faysal takes Haleigh off the block, much to Kaitlyn's chagrin, and Rockstar is nominated. Watch as the Houseguests learn about Sam's Power App.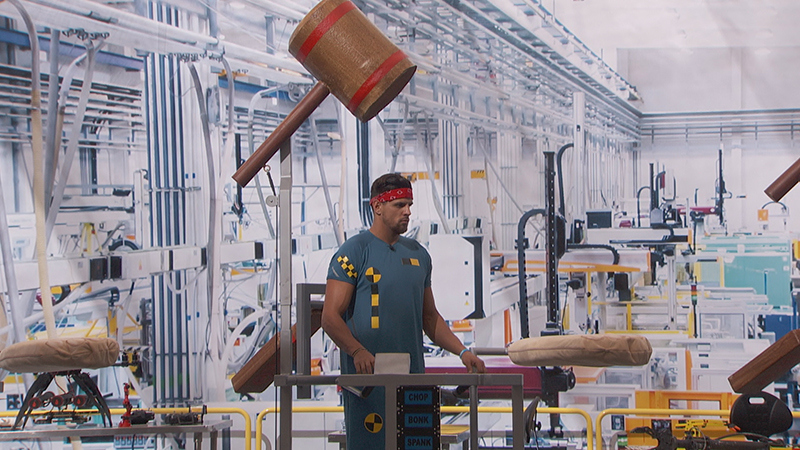 Episode 12 / HOH Winner: Sam / Nominees: Haleigh and Kaitlyn
Sam wins the Head of Household endurance competition. Rockstar confronts Brett about his lie.

Sam rules her Head of Household room with an iron fist.

JC and Bayleigh have a complicated discussion about cultural sensitivities before Sam nominates Haleigh and Kaitlyn for eviction.

Episode 11 / Evicted: Winston
Brett and Winston campaign to stay while Level 6 tries to figure out what's best for the alliance and Tyler has to choose between the two sides.

Sam's family support her from home.

Then, Winston is evicted in a 6-5 vote. After Winston leaves the house, Rockstar blows up at Brett because he made up a lie about her during his speech.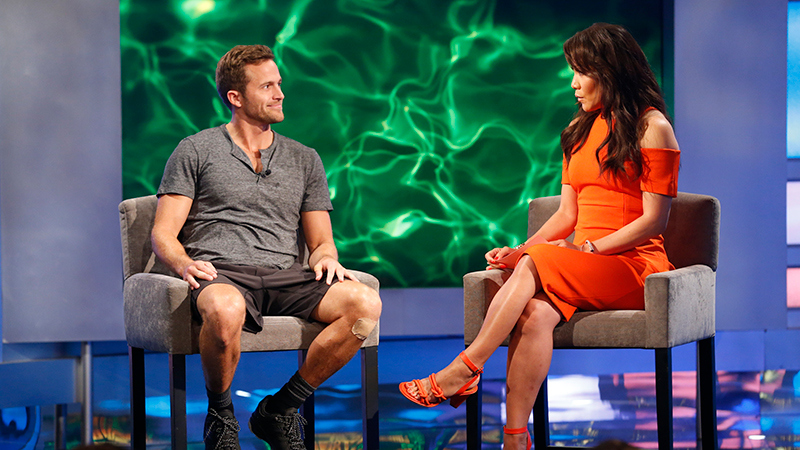 Episode 10 / POV Winner: Scottie / Nominees: Winston and Brett
Scottie, Winston, Brett, Tyler, Rachel, and Rockstar play the Veto competition, which also nets the winner a trip to the Greek Islands.

Scottie spins like a madman and wins Power of Veto, after which he keeps nominations the same, despite The Bros trying to backdoor Kaitlyn.

Sam considers if she'll use her Power App this week.

Episode 9 / Power App: Bayleigh / Crap App: Haleigh / Nominees: Winston and Brett
Houseguests suspect Scottie of being an evil genius, while Bayleigh adjusts to life in the house without Swaggy.

The BB App Store reopens and Bayleigh receives a Power App called Identity Theft, which allows her to replace the HOH's nominees with her own selections, good until there are eight Houseguests left.

Haleigh receives a Crap App that requires her to dress in a Shakespearian costume and recite Hamlet aloud until she finishes the entire play.

Winston and Brett are nominated for eviction.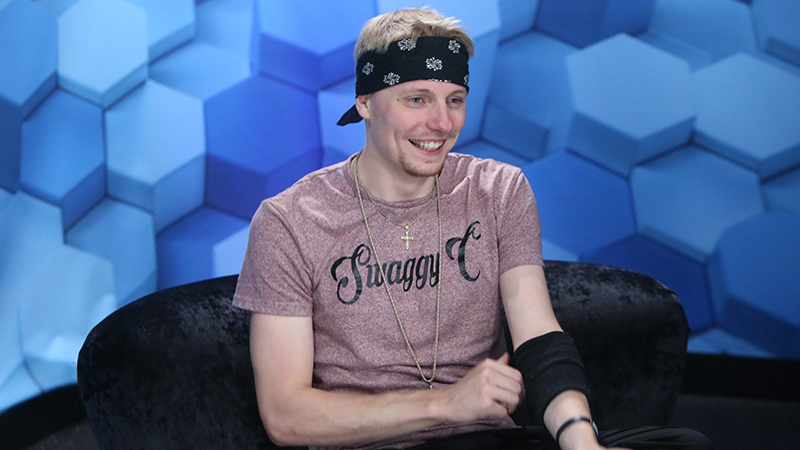 Episode 8 / Evicted: Swaggy C / HOH Winner: Scottie
After Swaggy C is nominated for eviction, Bayleigh decides to kiss up to Kaitlyn to help her own game. In the meantime, both alliances try to sway votes to their side.

The nominees plead their case to stay but, ultimately, Swaggy C is evicted with a vote of 8-4, thanks to a surprise betrayal by Scottie.

Scottie then wins the live Head of Household competition.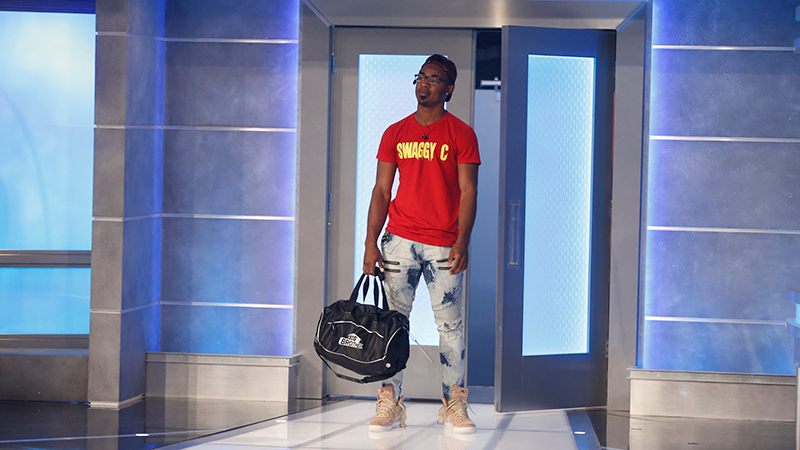 Episode 7 / POV Winner: Tyler / Nominees: Swaggy C and Winston
Kaitlyn, Winston, Scottie, Faysal, Rachel, and Tyler play the Veto competition as BB19's Jessica and Cody return to the house to host, which Tyler wins.

Kaitlyn lies to Faysal about her plan to backdoor Swaggy C, but she tells Haleigh. Tyler takes Scottie off the block and Kaitlyn nominates Swaggy as a replacement.

Episode 6 / Power App: Tyler / Crap App: Rachel / Nominees: Scottie and Winston
Kaitlyn struggles with her nomination decisions. Faysal's Hamazon punishment ends and the BB App Store reopens.

Tyler is the top trending Houseguest and chooses The Cloud Power App, which prevents him from going on the block during any eviction ceremony or Veto meeting for eight weeks.

Rachel receives a Crap App which forces her to be yelled at for 24-hours, Scottie and Winston are put on the block, plus Swaggy C and Bayleigh strengthen their showmance.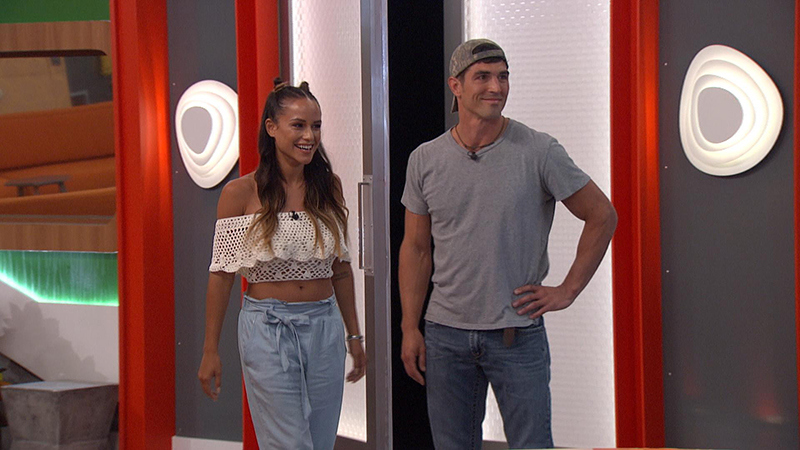 Episode 5 / Evicted: Steve / HOH Winner: Kaitlyn
The house discusses how they want to vote after the Veto Meeting and the Level 6 alliance tries to sway a vote from the other side of the house.

Tyler manages to sway Kaitlyn's vote, which results in him successfully orchestrating Steve's eviction in a 7-6 vote.

Kaitlyn wins the live Head of Household competition.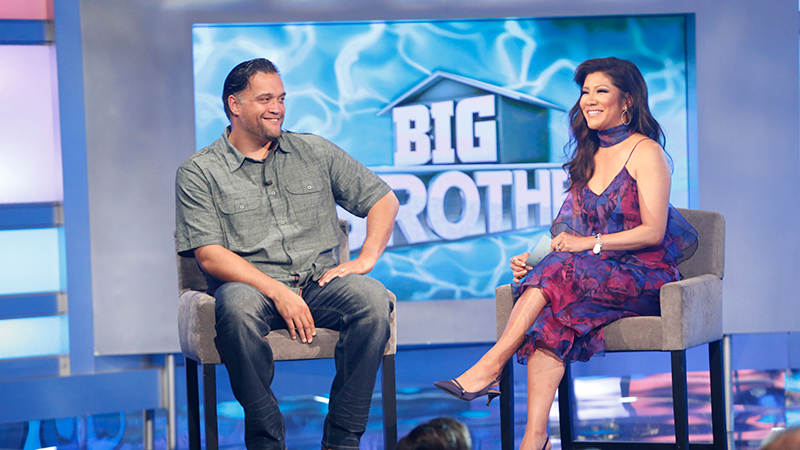 Episode 4 / POV Winner: Faysal / Nominees: Sam and Steve
The house grows paranoid after they learn a new app is in play. Sam tells Tyler about her Bonus Life advantage and Fessy's punishment begins.

Watch Faysal suffer through a series of hilarious Hamazon deliveries.

Bayleigh feels hurt when Swaggy C wants to distance their relationship, while Faysal wins the Veto competition and keeps the nominations the same.

Episode 3 / Power App: Sam / Crap App: Faysal
The BB App Store opens for business.

Watch Sam receive a Power App called Bonus Life, which means she or a Houseguest of her choosing gets a chance to return to the house if evicted during the first four evictions.

Faysal receives a Crap App called Hamazon, which forces him to eat (vegan) ham whenever a package arrives at the house.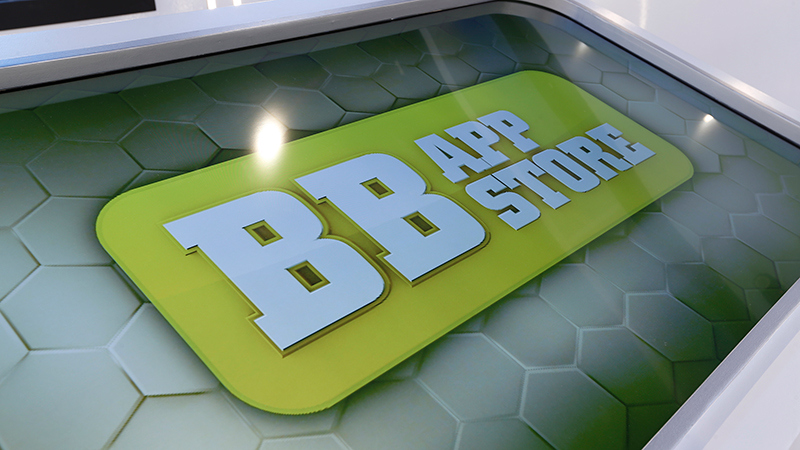 Episode 2 / HOH Winner: Tyler / Nominees: Sam and Steve
Swaggy C suffers fallout from his decision not to save Angela's team, while Sam gets emotional when she's targeted.

Tyler becomes the first Head of Householdand draws out the wrath of Bayleigh, while Winston tries to assemble an alliance while Sam appeals to Tyler as a robot.

Sam and Steve are nominated for eviction.

Episode 1 / Punishments: Sam and Kaycee
The Houseguests move in to the BB20 house and start to get to know each other. Alliances begin to form and Swaggy C wins the BB Supercomputer comp, which lets him save seven Houseguests for the week.

Sam and Kaycee are given punishments for losing the comp—Sam spends a week as a BB Robot, while Kaycee rocks the dreaded Pinwheel of Doom.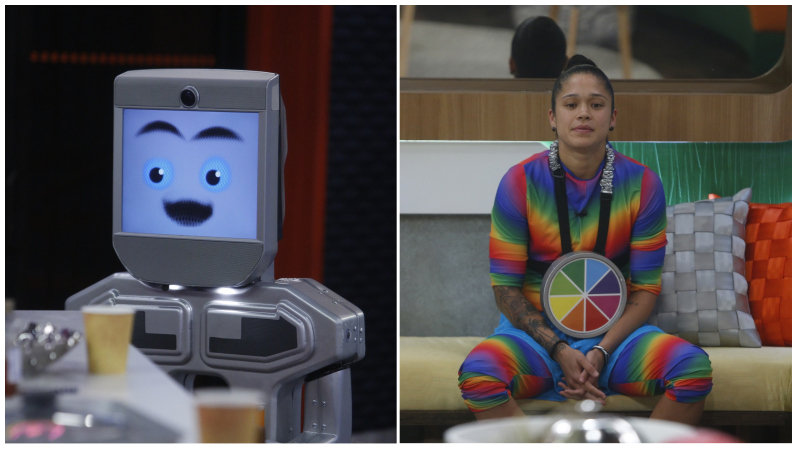 STREAM: Don't Miss An Episode Of Big Brother 20 With CBS All Access

Don't miss all-new episodes of Big Brother on Sundays and Wednesdays at 8/7c, and Thursdays at 9/8c—always on CBS and CBS All Access.

Then, be sure to check out the Big Brother Live Feeds—exclusively available through CBS All Access—for a 24/7 peek inside the BB house.