​Big Brother 20 Live Feed Highlights For Week 10: The Houseguests Get Makeovers
Here's everything you need to know about the past week on the Big Brother Live Feeds.
It was a week of revelations and makeovers in the
Big Brother
house while HOH
Angela
continued to prove she really does always get what she wants.
Fessy
's big move
the previous week
set the stage for Angela to target him and
Haleigh
. And with
Scottie
gone, the duo had no one left in their court.
Kaycee
's Veto win locked in Fayleigh's fate since Kaycee would never use the Veto on anyone outside her Level 6 alliance. One of them will be evicted from the
Big Brother
house come elimination night, but the secret Jury Battle Back could finally be the twist that breaks up the house.
WATCH: Don't Miss A Moment Of The Action With The Big Brother Live Feeds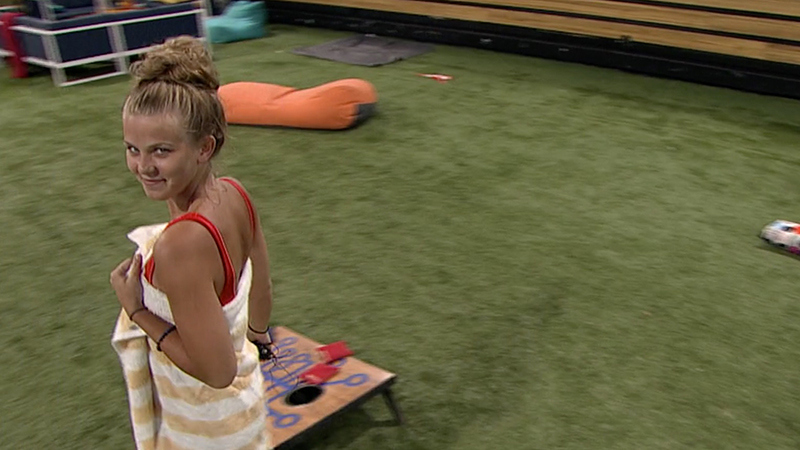 Haleigh's new game plan
Knowing that either she or Fessy would be eliminated come Thursday, and the person left behind would need friends in the house, Haleigh spent the week schmoozing with her enemies. She spent plenty of time in the HOH Room with Angela and company and played games with Kaycee.
Obviously, this tactic didn't go over well with Fessy, who felt rejected in a week when all he wanted was to get some last cuddles in with Haleigh. When Haleigh cried to
Brett
in the hammock (and adamantly denied her showmance) it only made the situation worse.
It seemed like Haleigh had time to flirt with everyone but Fessy, even the cameras.
Still, Haleigh and Fessy got some alone time, and Haleigh did an (almost) good job of hiding her annoyance every time Faysal admitted his actions the previous week were a mistake.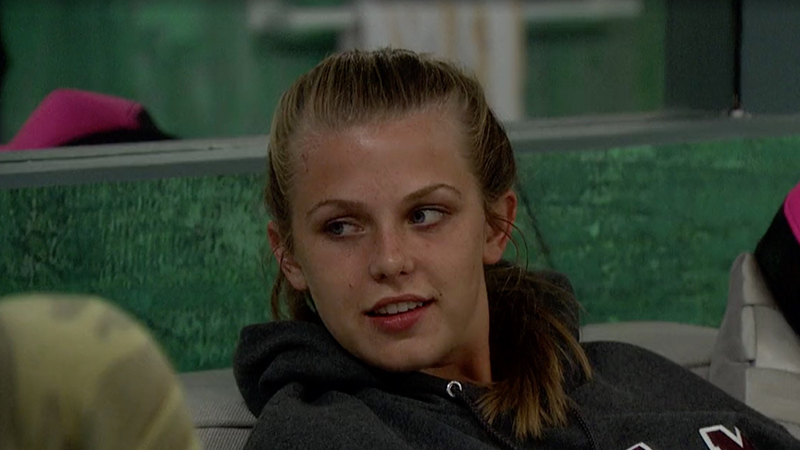 Level 6 starts to crack
With four of their original six alliance members left in the house and one of their own as HOH, Level 6 should feel safe as kittens for at least another week or two, but this week we saw the first fissures in the alliance's tight union.
JC
flittered between Brett and
Tyler
this week, planting seeds of doubt. He made sure Brett started to doubt his level of closeness with Tyler, Angela, and Kaycee, reiterating that the other three would choose each other over Brett in a heartbeat. To Tyler, JC repeatedly warned that Angela and Kaycee were closer than he believed.
Of course,
despite their close friendship
, JC has vastly underestimated how cozy Angela and Tyler have become, which could prove a problem for his own game. And while the duo flirt (literally) the lines of friendship and showmance, Tyler assured Kaycee this week that his feelings for Angela would in no way jeopardize his loyalty to their final two pact.
Eventually, Tyler's debts will come due and we'll see which of the ladies stands at his side.
By far Level 6's biggest blunder this week was in blowing their own cover. First, Haleigh caught the foursome celebrating Angela's HOH win. Later in the week, the four of them and JC spent a chunk of time complaining about
Sam
, not knowing the HOH speaker was on and Sam heard their conversation in the kitchen below.
Angela did her best to smooth things over with Sam later, and
she was cheerful enough to do handstands later
, but the damage to Sam's loyalty may be done.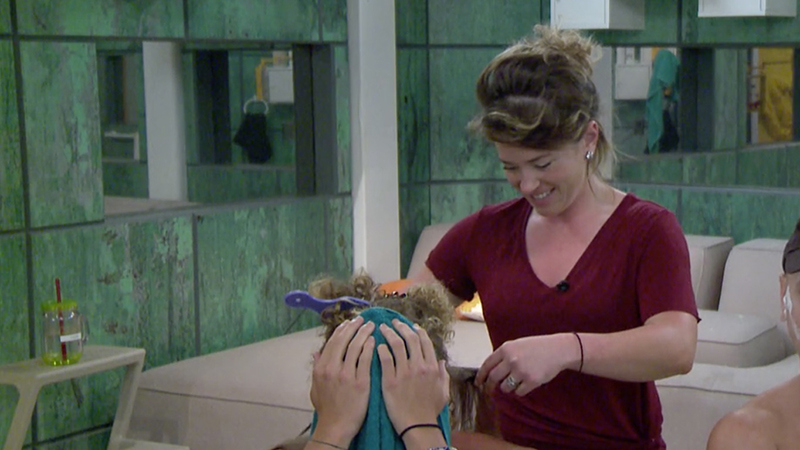 Sam's rotating stylist chair
Sam's hair salon was wide open for business this week and Tyler, Brett, and Kaycee all took a turn in the hot seat. Tyler was up first and Sam convinced the curly-haired bro to try out a softer, straightened look. With all that hair to work on,
Tyler made for a very impatient client
.
His reaction to his new straightened do was worth the struggle and the girls of the house swooned, calling him Ty-zan for his resemblance to the bare-chested branch-swinger.
JC, however, was not a fan of his new look
.
Brett was next, letting Sam give him a gravity-defying look worthy of a cartoon villain or '80s band fanatic. Kaycee allowed Sam to straighten her hair, as well,
causing the ladies of the house to swoon over her luxurious, thick mane
.
One thing's for sure, once Sam inevitably becomes a target for eviction, the house will be much less handsome without her.
Though Sam has had her share of mood swings in the house, and quitting smoking can't help matters, she managed to stay relatively cheerful this week.
Even when JC tried to get under her skin by criticizing her energy levels
.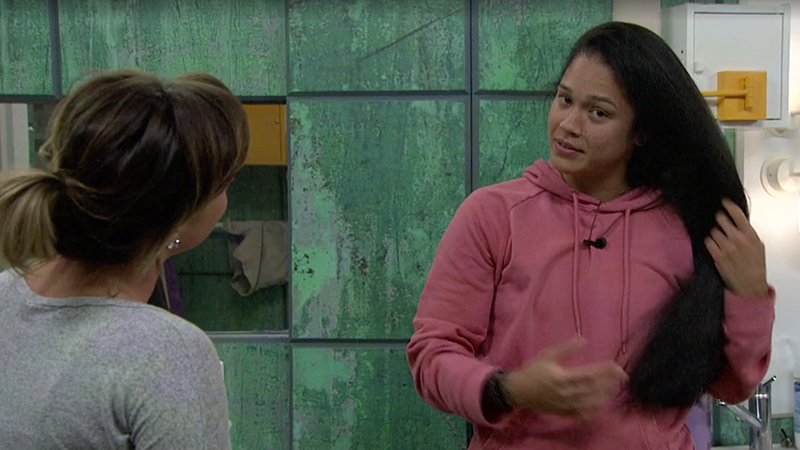 The Battle Back is coming
As Angela's true target, Fessy may be the one evicted from the Big Brother house Thursday night, but little does he or any of the other Houseguests know that a Battle Back competition awaits them immediately after the Live Eviction.
Hopefully, Fessy is ready to fight his way back into the house.
Sam's lessons on multi-tasking earlier this week could come in handy
.
The week's eviction may be a sure bet, but the Jury Battle Back and following HOH competition may throw all of the Houseguests off balance. Who will be the one who lands on their feet as the new Head of Household next week?
Will Haleigh be an immediate target once again, or will the house finally go after Sam after weeks of complaining about her? And could the return of someone from the other side of the house mean Level 6 should finally start sweating?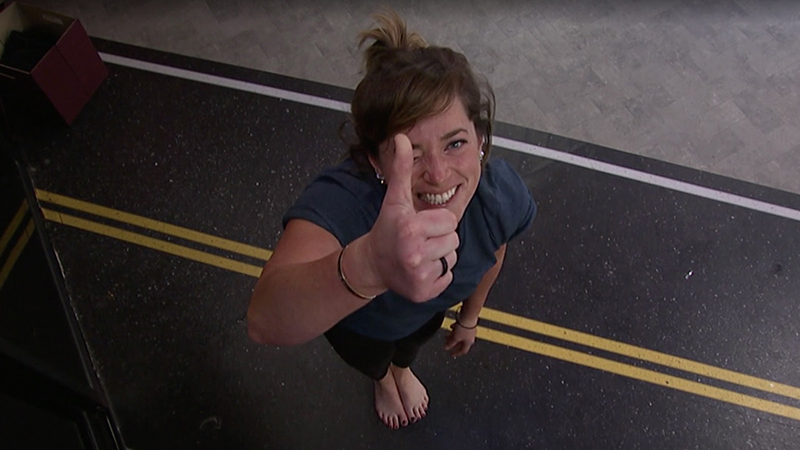 Don't miss all of this action on the
Big Brother Live Feeds
—exclusively available through
CBS All Access
.
And be sure to tune in to all-new episodes of
Big Brother
on Sundays and Wednesdays at 8/7c, and Thursdays at 9/8c—always on CBS and
CBS All Acces
s.