Big Brother Season 21 Live Feed Recap: The Sting Of Eviction
Watch the show in real time with the Big Brother Live Feeds on CBS All Access!
Posted on Jul 22, 2019 | 09:00am
Big Brother
is THE summer show for drama, competition, romance, and ALL the twists and turns, but anyone who loves
Big Brother
knows the
Big Brother Live Feeds
are the REAL show.
Watching 16 (and falling) people form alliances, fall in love, find lasting friendships, stab each other in the back, and decide the fate of their fellow Houseguests in real-time is the realist form of reality TV!
STREAM: The Big Brother Live Feeds Exclusively On CBS All Access
Not to mention, Live Feeders have the inside knowledge needed to guess which Houseguest will take home that $500,000 grand prize at the end of the summer.
Here, you can find a convenient summary of the Live Feed action you may have missed to get an insider look at what you
don't
see on the show. But watch out!
There are spoilers below!
Of course, it's never too late to get in on the action; the
BB Live Feeds
come included with your subscription to
CBS All Access
!
And be sure to watch all-new episodes of
Big Brother
21 on Wednesdays and Thursdays at 9/8c and Sundays at 8/7c on CBS and
CBS All Access
.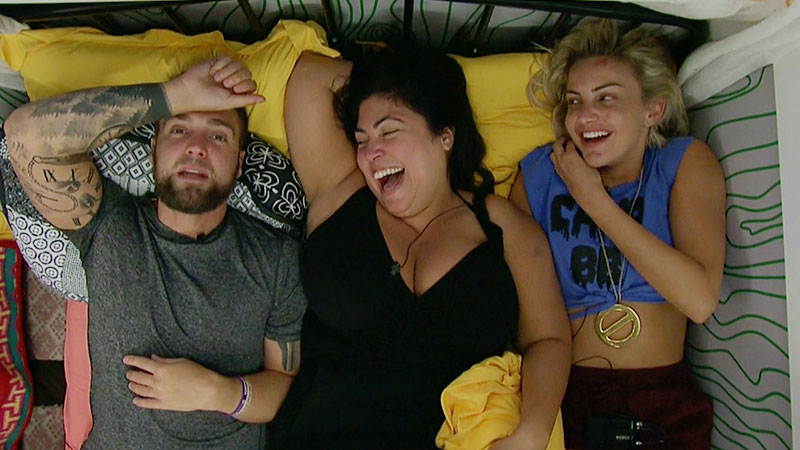 Day 26-30: Paranoia sets in
Different factions of Gr8ful held side conversations about the possibility of Nicole being a renom in the event Kat used her veto on Jessica (which she was planning to do). Further conversations about the merits of sending Cliff home vs. Nicole also took over the house.
Day 26 saw an increase in the house's collective stress. First in a conversation between Nick and Kemi where he finally discussed how that intense eviction speech made him feel, and then when Bella admitted to Nick she was not happy about his tendency to flirt with Analyse (Sis).
Christie and David had an intense staring contest
in the kitchen which we dare anyone to watch without their eyes watering up.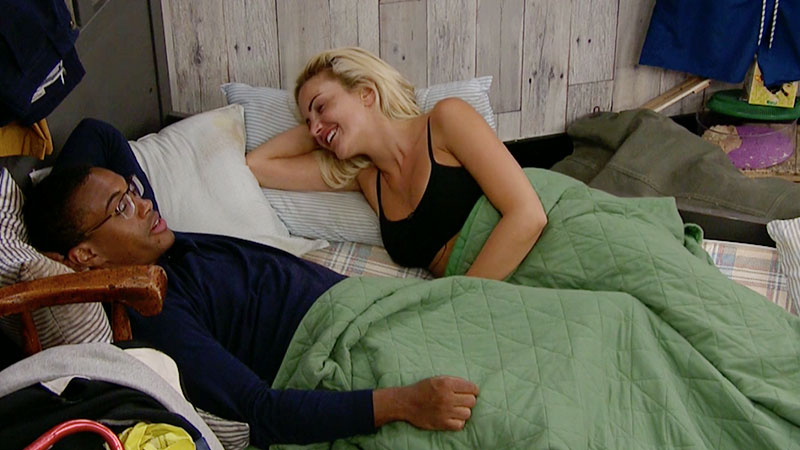 Kat ended the day upset by comments Michie made to her regarding their now deceased showmance. Despite the awkward love triangle, her friendship with Holly proves strong,
as well as one with Jessica
.
Plus, her many moments with David show she's clearly moved on to a new showmance in the house.
Christie had a way-out-of-left-field paranoia attack on Day 27 just before the Veto ceremony was to begin and Nick would inevitably have to choose a renom. Even when he spoke to her at length to assuage her unwarranted fears of being nominated, she never seemed to truly feel at ease.
The Veto ceremony did happen and
Kat took Jessica down
as promised and Nicole went up. Jack and Kemi had an awkward exchange regarding what goes in the refrigerator that made Nicole feel especially awkward.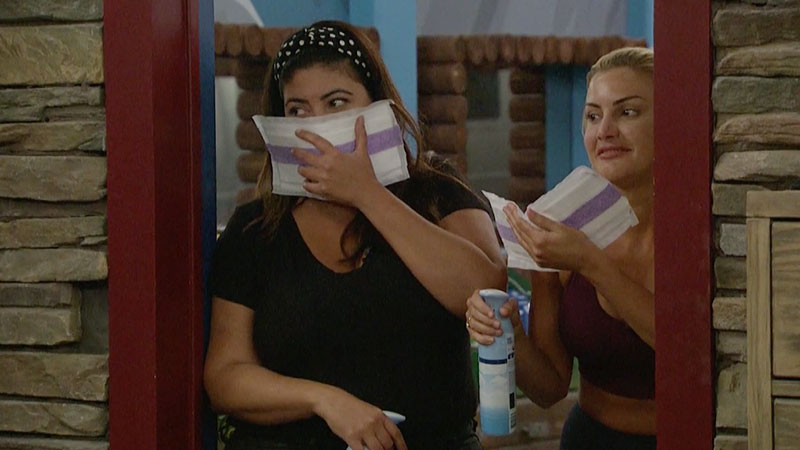 Meanwhile, both Christie and Tommy have held side conversations with Houseguests discussing others in their not-so-secret secret alliance. Whether they mean to stir the pot or truly have a master scheme, remains to be seen.
Frazzled nerves seemed to calm on Day 28 as the HGs spent time in the backyard.
Christie shared stories of what she thinks her past lives were like.
David and Ovi
showed off Camp Comeback
and speculated about what Day 30's Battleback would be like.
The HGs enjoyed their now weekly Taco Tuesday night with Sam dressed up in a Santa hoodie.
By Day 29 Kemi had gotten plenty worked up over stray comments from Jack and Nick, who seem to forget Kemi has a one-in-four chance of re-entering the game come Day 30's Battleback.
David did his best to distract from the drama.
Day 30 was a doozy with Nick getting blindsided as his alliance turned against him and voted Cliff out of the house. But Cliff won the Camp Comeback Battleback and then immediately took HOH, putting everyone in a tizzy.
Many of the Houseguests spent the remainder of the day
upset over friends finally leaving
the house for good and the finality of a real Big Brother eviction.
Days 21-25: Loose lips sink ships
The drama kicked into high gear when Christie walked by the Boat Room on Day 21
and overheard Cliff's show for the feeds
, dubbed "Cliff's Notes." She spread word among her alliance quickly about all she'd learned.
Jack had a break-up discussion with Analyse, saying they needed to distance themselves in order to protect their gameplay. She didn't seem to love this new development.
Meanwhile, chatty Bella told Sam about Gr8ful, tuning him into the fact that he's simply a ninth add-on to a previously formed alliance. Further confirmed to him the next day when Jack slipped up and he said he wants what's best for Gr8ful, er, "the group of nine."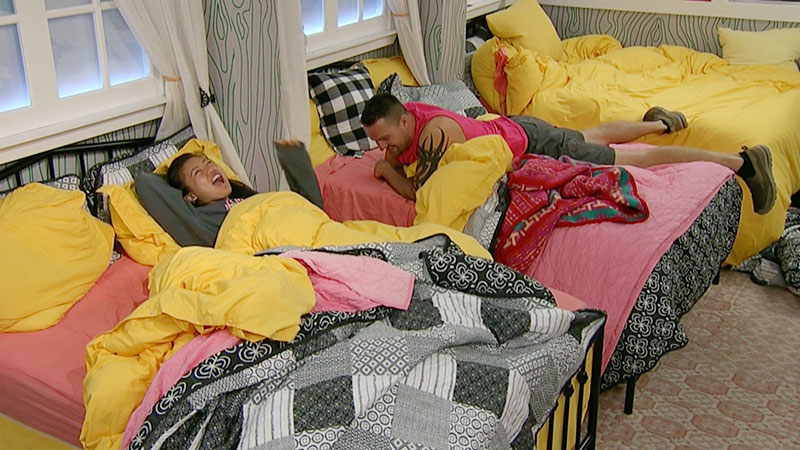 Convinced that Cliff may be a Team America player, Tommy stole Orwell (Cliff's almost constant companion) and hid him with Christie egging him on.
On Day 23, Sam filled Nicole in on the Gr8ful alliance, feeling a bit bitter about being the de facto ninth member. At least
Nicole has Kat by her side
.
Bella and Kemi had it out over Kemi's scathing eviction speech. Michie started spreading doubts about who the rogue vote for Jessica was but told Holly the truth about it being him which spurred on their first makeout session as a showmance.
Nick got a letter from his dad in his HOH basket and started conversations with the HGs about who he'd put up. He assured Nicole, it would not be her.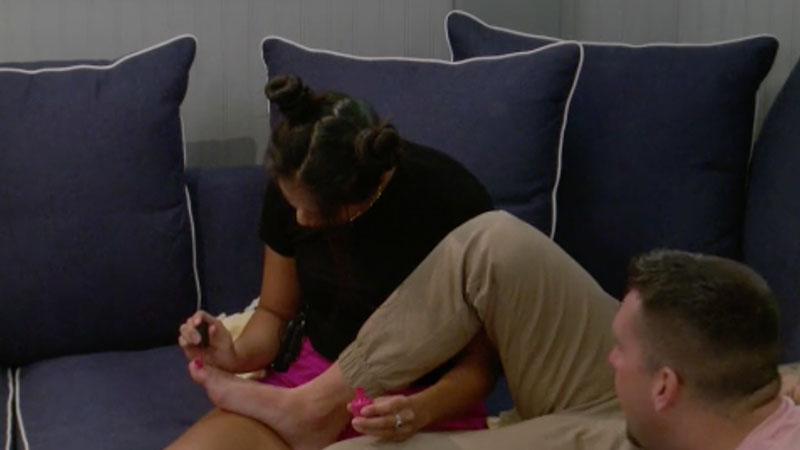 After the
final Whacktivity competition
on Day 24, much talk ensued in the house about the difficult and disgusting task of sifting through giant cockroaches.
Christie told Tommy she won the comp, and then told Jack on Day 25, with the three of them making their trio official with the group name "Lots of Love" or "LOL."
After Nick's nomination ceremony Gr8ful had an enthusiastic group meeting where much lying and trash-talking solidified that the tide had turned against Nicole. Day 25 included many intense conversations about who said what to whom with
everyone's friend Tommy
playing conversation mediator.
The day wrapped with
Kat winning the Veto competition
and hilariously wearing her medallion at all times, even to bed.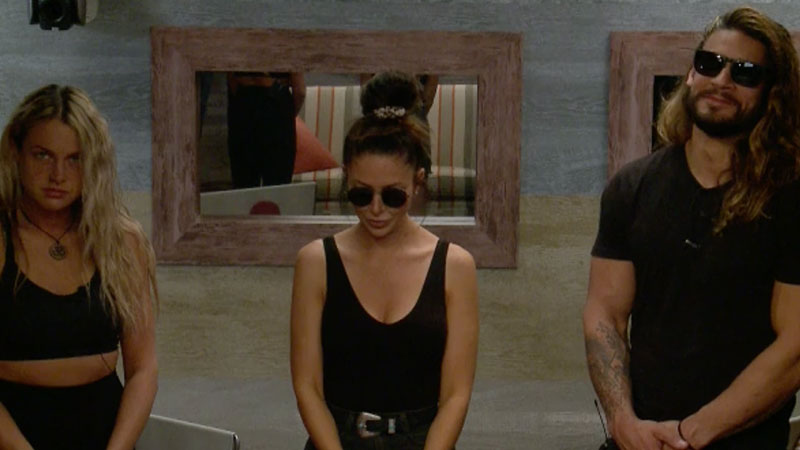 Days 16-20: Jack takes control
The Houseguests celebrated the Fourth of July primarily in the backyard and
built a homemade slip n' slide
for fun.
They felt a tiny earthquake that morning as well, but it was the bigger one on Day 17 that really
shook up the house
. All were safe and sound and moved on to the usual game talk and downtime.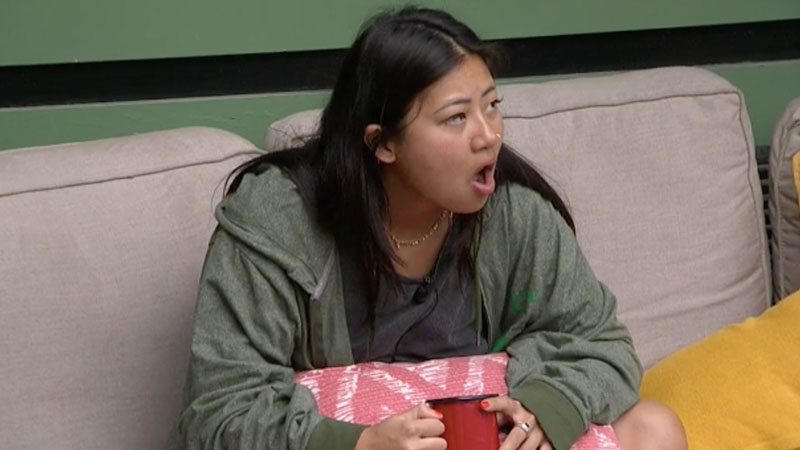 By Day 17,
Jack
had plenty of convos with others in the house about his plan to nominate Kemi and
Jessica
.
Bella
had spilled the beans to Jack about The Black Widows, giving him the perfect excuse to nominate the two of them. Jack also kept it to himself that he won the Whacktivity competition earlier that day, awarding him the Chaos Power.
Day 18 was a Veto competition, and Jack proved he was ruling his HOH with an iron fist when he suggested that Jessica stop putting effort into finding out who snitched on The Black Widows and instead be cheerful.
He had already called a house meeting on night one of his HOH, strongly suggesting his fellow Houseguests abstain from talking game with the Camp Comeback campers.
Nicole made sure
Jessica knew it was Bellawho snitched
, however.
Despite nominating her, Jack and Kemi played nice with one another for
their shared birthday on Day 19
.
Sam
earned himself a second Veto win AND a trip to Fiji!
By Day 20,
Christie
had confided to her
in-house BFF and bedmate
, Tommy, that Jack told her about his Chaos Power. She continued to claim to others outside her alliance that she hoped someone else would take a swipe at Jack once he was no longer HOH, since she felt she couldn't be the one to do it.
Jack continued to think Christie was next to Michie as his closest friend, meanwhile, his casual showmance with
Analyse
got complicated.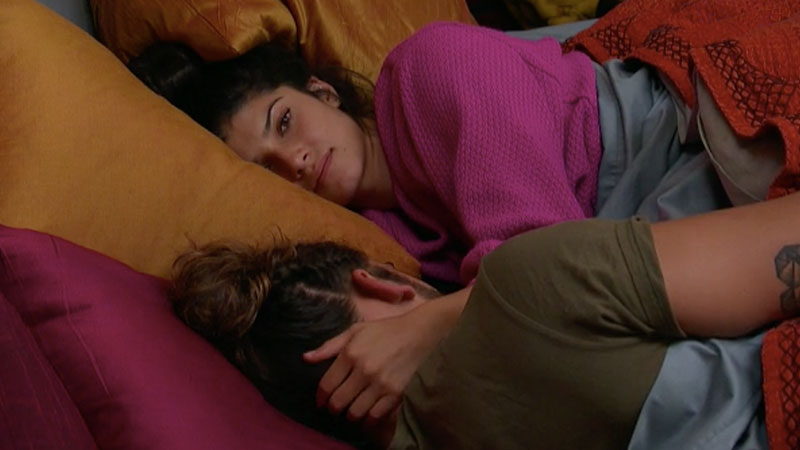 After a couple of "break-up" conversations with
Kat
, Michie started
spending more and more time with Holly
.
Bella and
Kemi
had their friendship tested as Kemi started to see that Bella had some rather loose lips and told Michie about a private conversation they'd had.
For all the talk of alliances in the house, the Houseguests do all appear to be mostly looking out for themselves, but the Feeds will show whether each of them can keep their secrets straight.
Days 10-15: Strong alliances start to form
It usually takes a few days for the Houseguests to forget about the cameras and start letting loose, and they certainly did.
Cliff
proved he never forgets about the cameras and as the first HG up in the mornings, he started doing a morning show for the Live Feeders breaking down his thoughts on what's happening inside the house.
Cliff is truly a Big Brother Super Fan
.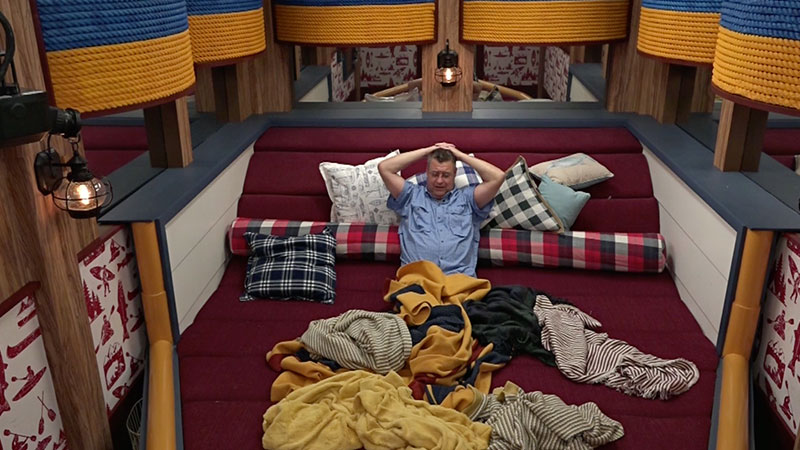 With the Veto meeting and first eviction looming, much game talk ensued.
Sam
told HOH
Christie
his plan to take Cliff off the block, throwing Christie into a tailspin wondering who she should put up as a replacement.
Jack
made his desire to put up Kemi quite clear, while others encouraged her to do something that would work better for her own game.
The first major alliance of the season had formed between Jack, Michie, Holly,
Analyse
, Christie, Tommy, Nick, and
Bella
. They called themselves Gr8ful and Christie starts to get quite a bit of input on who she should put up as a new nominee.
On Day 12, Sam carried through and took
Cliff
off the block and
Christie went with her gut
and nominated Ovi—a decision she'd discussed with a trusted few earlier.
On that same day, Analyse, Christie,
Holly
, Jack, Michie, and
Tommy
decided that Bella and Nick—now in a very official showmance—can't be trusted, and thus an internal six-person alliance was born called the Six Shooters.
Meanwhile, Bella,
Jessica
, Kemi, and
Nicole
attempted a four-person all-female alliance called The Black Widows.
Day 13 included a huge game of hide-and-seek with
Tommy finding most everyone
. Otherwise, the HGs thoroughly began to enjoy their backyard time.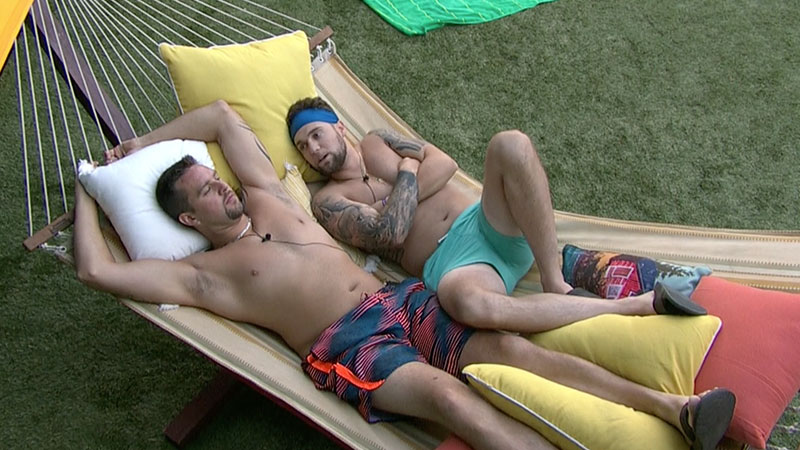 On Day 10, the HGs threw a birthday party for Nicole's Dad, one on Day 11 for Tommy's father, and on Day 12 for Michie's dad. Any excuse to make cookies or bake a cake!
On Day 14 we saw
Ovi
make (what we know to be) a monumental mistake by trusting in
The Jacks (Jack and Jackson)
to reveal his secret Nightmare Power the day before the vote.
Unfortunately, Ovi had no idea that he only made the decision among the other Houseguests that much more unanimous as The Jacks spread the word to a few of their alliance members.
Day 15 was the first big vote of the season and the Houseguests hustled around the house cleaning and prepping to be on live TV while pulling each other aside to confirm how each of them would be voting.
After the feeds came back up post-HOH competition, we got to see the new digs for
David and Ovi who would be living in Camp Comeback
and saw newly crowned HOH, Jack, tear up when he got pictures of his dog and a letter from a friend.
Days 1-9: Settling in
The Feeds didn't turn on until Day 8, after the two-part premiere of
Big Brother
21 concluded.
The Houseguests were self-conscious—as they typically are—about knowing they were live on-camera and seeing
David's
black and white photo on the photo wall confirmed what we'd just learned about the first evictee from the house.
Kathryn
and
Cliff
were
Christie's
nominations for eviction as the first HOH and Kathryn's discomfort at being on the block was clear in her interactions with the other HGs.
The first night of the feeds revealed who would play the first Veto competition, as well. Then on Day 9, the Feeds were down for the HGs to play the Veto challenge and they chatted quite a bit afterward about getting to meet BB20 winner,
Kaycee Clark
, who returned to the house to host.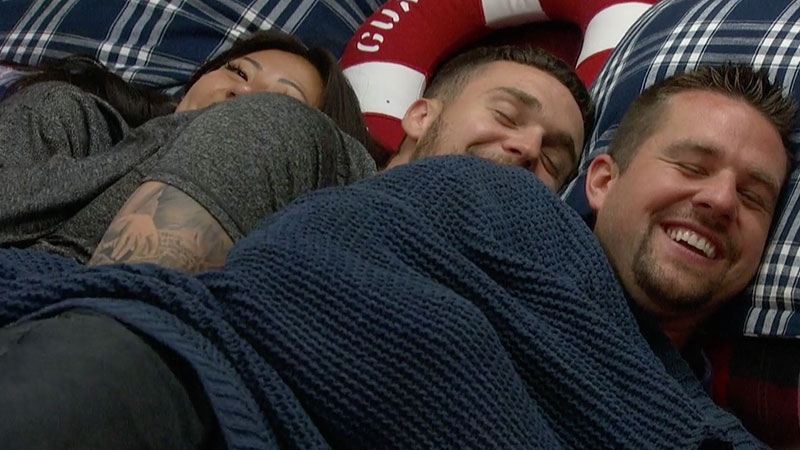 Sam
started discussing with other HGs that he might like to use the Veto on Cliff and the entire house came out to sing "Happy Birthday" to Cliff's son that evening.
Meanwhile, the beginnings of showmances started to become apparent.
Jackson
(nicknamed Michie) and Kathryn (nicknamed Kat) clearly had formed a tight bond in the days before the feeds went live.
Nick
appeared to have his eye on both
Isabella
(Bella)
and Analyse
, with a possible bromance with Sam, both of them playing off each other's humor and conversational personalities.
WATCH: Sam And Nick Break Down The HG's Nicknames
Jack
clearly enjoyed the company of Christie, though she hadn't yet let slip to the house that her sexual orientation meant she was just there for friendship with the boys.
In the meantime, she and
Tommy
successfully hid that they knew each other from outside the house.
Other early friendships in the house appeared to be
Kemi
and Bella,
Nicole
and
Ovi
, Ovi and
Cliff
,
Analyse
and
Holly
, and a serious bromance in Jack and Michie.
The Houseguests hadn't yet felt the bitter challenge of voting one of their own out of the house, so the early days of
widespread comradery
are rare and beautiful.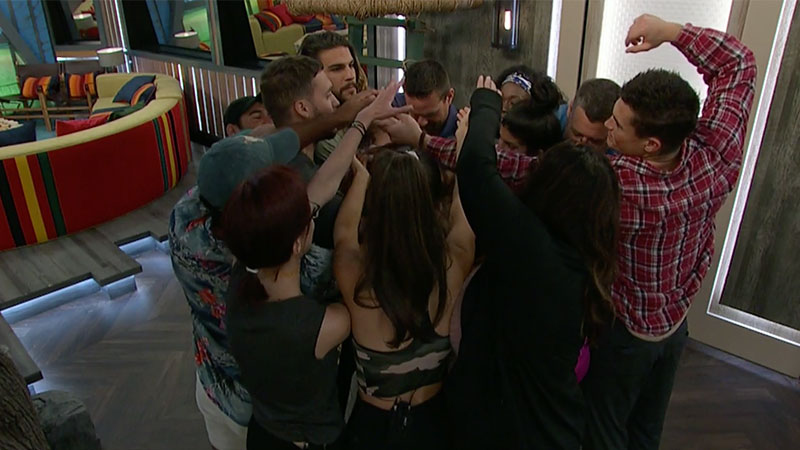 Don't miss out on the
Big Brother Live Feeds
—exclusively available through
CBS All Access
.
Watch all-new episodes of
Big Brother
21 on Wednesdays and Thursdays at 9/8c and Sundays at 8/7c on CBS and
CBS All Access
.