Back to Cast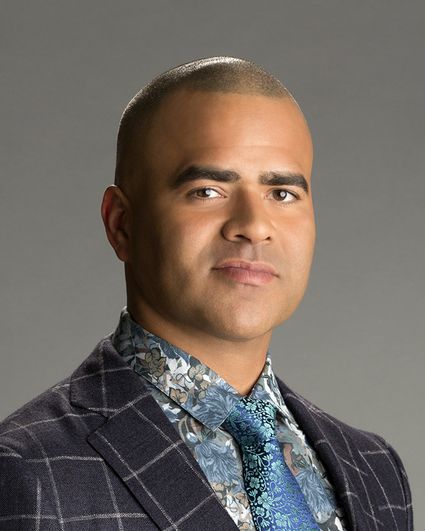 Chunk Palmer
Christopher Jackson
Biography
Hometown: Cairo, Illinois
Birthday: September 30
Christopher Jackson is an actor and Emmy and Grammy Award-winning songwriter/composer. Currently, Jackson plays George Washington in the award-winning megahit musical, "Hamilton." For his performance, Jackson received a 2016 Tony Award nomination for "Best Performance by an Actor in a Featured Role in a Musical."
Jackson's additional Broadway theater credits include "Holler if Ya Hear Me," "After Midnight," "The Bronx Bombers," "In the Heights," "Memphis" and "The Lion King." Off-Broadway, Jackson starred in "Bronx Bombers," "The Jammer," "Lonely, I'm Not," "In the Heights" and "Cotton Club Parade."
On television, Jackson guest starred in the series "Person of Interest" and "A Gifted Man," on the Network, "Freestyle Love Supreme," "Fringe," "Gossip Girl," "Tracers" and "Afterlife."
Jackson served as a composer and songwriter for the iconic children's program, "Sesame Street." While working on "Sesame Street," he won a 2010 Emmy Award for his song for the show with artist Will.I.Am, "What I Am." Also, Jackson was the co-music supervisor and writer for "The Electric Company."
In 2010, Jackson released his first solo album, In The Name Of Love, on Yellow Sound Lab Records. Currently, he is working on his second album and has several musical projects in development for the stage.
Following his son C.J.'s autism diagnosis in 2007, Jackson became an advocate for Autism Speaks, the autism awareness organization.
Jackson is a fan of James Baldwin novels and almost all sports. His favorite snack is peanut butter combined with goldfish crackers.
A native of Cairo, Ill., Jackson lives in the Bronx with his wife and two children. His birthday is Sept. 30. Follow him on Twitter @ChrisIsSingin and on Instagram @cjack930.