Let's Psychoanalyze Michael Weatherly's New Character, Dr. Jason Bull
The TV star returns to CBS this Fall on Bull, based on Dr. Phil's experiences as a jury consultant.
Posted on Aug 10, 2016 | 11:15am
Psychologist. Provocateur. Ladies man.
Dr. Jason Bull, who will be played by
Michael Weatherly
this fall on the new CBS drama
Bull
, is a character who likes to watch and, from the insights provided by the show's stars and producers, audiences will love to watch him, too!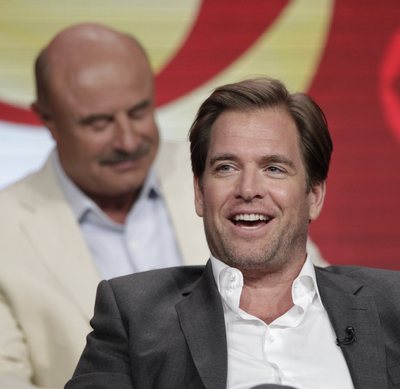 Inspired by the early courtroom career of syndicated talk-show host Dr. Phil McGraw, Bull is a brilliant, brash, and charming psychologist with three Ph.D.s.
He'll use his intellect—and team of experts—to ensure the clients of his trial consulting firm get justice.
On Wednesday, Aug. 10, reporters gathered at the Beverly Hilton hotel for a Television Critics Association panel with the cast and crew, including Weatherly and McGraw (an Executive Producer for the show) were joined by actors Freddy Rodriguez (Benny Colón), Geneva Carr (Marissa Morgan), Christopher Jackson (Chunk Palmer), and
Annabelle Attanasio (Cable McCrory)
and Executive Producers Mark Goffman and Paul Attanasio.
"The
first read on
Bull
, it wasn't a law show,"
Weatherly
explained, as he ticked off ways that experts use psychology and analytics to influence people, right down to the brand of toothpaste you buy.
Ultimately, it's about human behavior.
​The show's pilot follows the case of a young man charged with a
heinous
crime, and his wealthy father hires Bull to tip the scales of justice in his son's favor.
"The average person doesn't get fair trial in this country," noted Goffman. "[The] real revelation was this idea of trial science."

When Weatherly first started talking to Dr. Phil about the role, he said, "The conversations were really quick, getting to the heart of why Bull was interested in human behavior. What are the gears [and] mechanisms inside that guy? ... Phil is an inspiration for a very complex and super-intelligent guy who understands how simple people can be, but how tricky it can be to find that elegance and simplicity."

"
People are either psychologically minded or they're not," added
Dr. Phil, who was on-set every day while the pilot was filmed. He
called Weatherly a natural.
"He so got it, so quick, and started layering and texturing this character and everything involved in it," said Dr. Phil. "We just hit the lottery, he's an absolute home run."
Attanasio agreed. "There's nothing in entertainment like a star in a star part. Michael is a star and I think we created a star part for him."
Bull will be personally drawn to cases that challenge him. "As long as the case is fascinating and he can look at that client that needs healing or needs to be resolved, that's reason enough to take on the case," explained Goffman. His clients can come from anywhere and he won't just represent the rich.
That aspect of the character was clearly inspired by Dr. Phil, who took on pro bono and court-appointed clients—people he described as being devoured by the system.
At the same time, the show won't be autobiographical or even biographical. Hinting that the new character might push the boundaries of the law to help his clients, the team also made it clear that the he'll do the right thing and take the high road. "I think we've really kept that moral compass in terms of what we do," said Dr. Phil. "Sometimes the law doesn't always get it right, but we can get it right within the law, and that's what we do."
The show is set in New York City, but the producers revealed that not every case will be set there. Audiences will get to experience how justice differs from Oklahoma to Silicon Valley to Washington.
Episodes may focus on a single case, but they might not always end with the true culprit being arrested. Even when handcuffs aren't involved, audiences can expect a satisfying ending.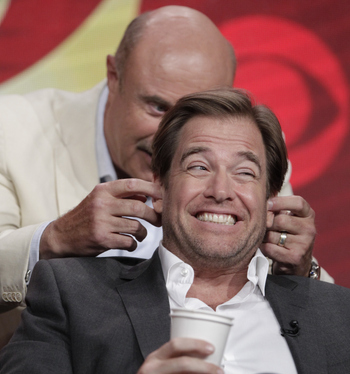 Throughout the course of the season,
Bull
will also make use of shadow jurors. These are people hired because they have a similar psychological profile to members of an actual jury. Bull's team will plant them in the courtroom audience, discuss the case with them as it happens, and try to gain insights that would otherwise remain uncovered.
Of course, psychoanalysis can take place anywhere.
"Imagine that you know you're about to talk to someone who's an expert in human behavior," smiled Weatherly, recalling how he got a little self-conscious the first time he met Dr. Phil. "That must be a blast [for him]!"
Dr. Phil smiled back. "It was with you!"
Watch the series premiere of
Bull
on Tuesday, Sept. 20 at 9/8c, following
NCIS
. Stream it live or on-demand with
CBS All Access
.