Back to Cast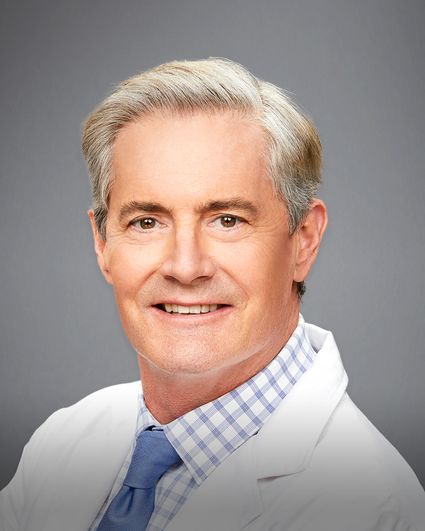 Dr. Stephen Frost
Kyle MacLachlan
Biography
Kyle MacLachlan is perhaps best known for his performance as FBI Agent Dale Cooper in David Lynch's groundbreaking series Twin Peaks, for which he received two Emmy nominations and a Golden Globe Award in 1990. In 2017 MacLachlan reprised his role in the critically acclaimed revival, which earned him a 2018 Golden Globe nomination.

MacLachlan made his feature film debut in 1984 in the futuristic drama Dune, directed by David Lynch. This was followed by his second collaboration with Lynch in 1986 in the uniquely disturbing film Blue Velvet.

His additional film credits include Steven Spielberg's The Flintstones, Oliver Stone's The Doors, in which he portrayed legendary keyboardist Ray Manzarek, and voicing the role of Dad in Disney Pixar's award-winning film Inside Out. Among his recent film credits are Steven Soderbergh's Netflix feature film High Flying Bird and The House with a Clock in Its Walls, opposite Cate Blanchett and Jack Black. He will next be seen opposite Tom Hardy in the feature film Fonzo and the upcoming film Tesla, in which he plays Thomas Edison, alongside Ethan Hawke.

MacLachlan starred in two seasons of HBO's iconic series Sex and The City as Charlotte's husband Dr. Trey MacDougal, and appeared on Desperate Housewives throughout its eight seasons as Dr. Orson Hodge. Also, he had recurring guest-starring roles in How I Met Your Mother, The Good Wife, and Portlandia.

He recently finished filming the limited series Atlantic Crossing, in which he plays President Franklin D. Roosevelt.

In the fall of 2003, MacLachlan made his Broadway debut as Aston in Harold Pinter's The Caretaker, starring opposite Patrick Stewart and Aidan Gillen. The play was directed by David Jones for the Roundabout Theatre Company and was nominated for Best Revival of a Play by the Outer Critics Circle that season. In 2002, MacLachlan made his London stage debut in the West End production of On an Average Day, opposite Woody Harrelson.

MacLachlan is a supporter of many charities including God's Love We Deliver, the American Foundation for AIDS Research, the Entertainment Industry Foundation, and UNICEF. Additionally, MacLachlan's passion for wine prompted him to create his own wine, Pursued by Bear, a Cabernet blend crafted from grapes sourced from Washington, MacLachlan's home state. He added a second wine called "Baby Bear," a Syrah named in honor of his son, Callum, who was born in 2008, the year of the first vintage. In 2015, he released his third wine, a rosé called Blushing Bear.

Born and raised in Yakima, WA, MacLachlan currently divides his time between Los Angeles and New York City with his wife, Desiree, and their son, Callum. His birthday is Feb. 22. He can be followed on Twitter and Instagram @Kyle_MacLachlan.