Young Sheldon Takes Fans Of The Big Bang Theory To Where It All Began
Here's what to expect from the upcoming comedy spinoff series, which includes voiceovers from Jim Parsons.

Everybody's favorite theoretical physicist, Sheldon Cooper, is getting his very own prequel TV series: Young Sheldon!

READ: Here's Your First Look At The 2017-2018 CBS Primetime Lineup

The year is 1989 when we meet nine-year-old Sheldon, the beloved character from The Big Bang Theory, who has skipped four grades to start high school alongside his less intellectual older brother.

With voiceovers from Jim Parsons as adult Sheldon, we get a peek into the formative years of a scientific genius who is misunderstood by his family, classmates, and neighbors. His mother preps him with what she thinks is the only tool he'll need to survive at his new school: Remind bullies that his dad is the football coach and his brother plays on the team.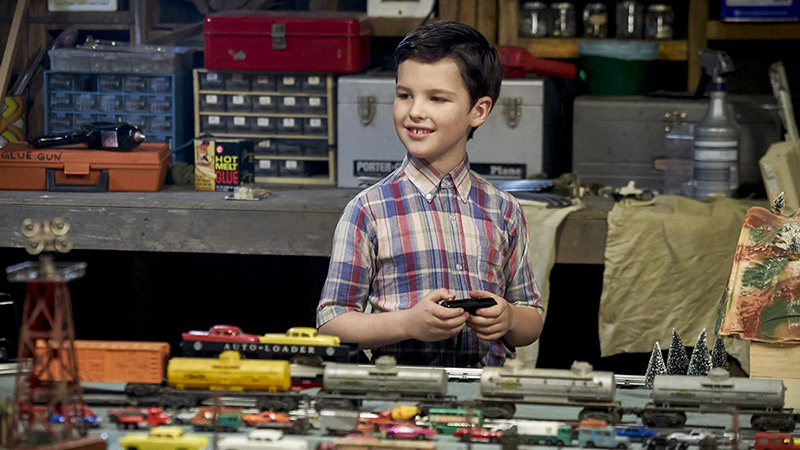 The nine-year-old Sheldon is just as "choo choo" for trains as his adult counterpart.

Sheldon's twin sister, who's happy to stay in fourth grade, has a better sense of what awaits her brother than he does.

Young Sheldon may understand Newtonian physics, but his blue-collar, church-going family only cares if that knowledge will help them win a football game.

Young Sheldon stars Iain Armitage, Zoe Perry, Lance Barber, Raegan Revord, Montana Jordan, and Jim Parsons.

Executive Producers include Chuck Lorre, Steven Molaro, Jon Favreau, Jim Parsons, and Todd Spiewak.

Stay tuned for more updates on Young Sheldon and watch a special one-time preview on Monday, Sept. 25 at 8:30/7:30c (immediately following The Big Bang Theory) on CBS and CBS All Access.

The new series begins in its regular time period on Thursdays at 8:30/7:30c starting Nov. 2 on CBS and CBS All Access.