Back to Cast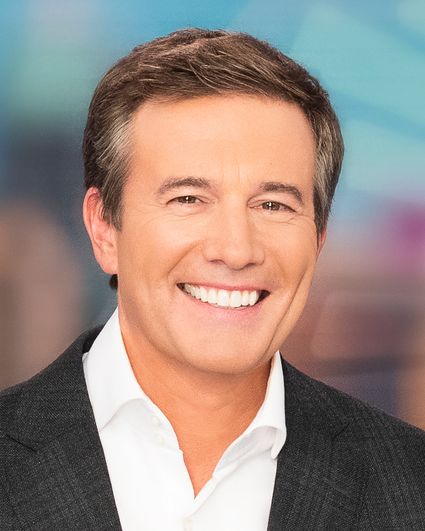 Biography
Jeff Glor, an Emmy-award winning journalist, is the co-host of CBS SATURDAY MORNING and a CBS News special correspondent.

Glor joined the Network in 2007 and has traveled extensively to cover stories around the country and the world. He has been on the ground in the middle of many hurricanes, including Michael, Florence, Irma, and Superstorm Sandy. Glor has reported from the scenes of mass shootings in Pittsburgh, Pa.; Thousand Oaks, Calif.; Parkland, Fla.; Sutherland Springs, Texas; Santa Fe, Texas and Newtown, Conn., among others. He has covered wildfires across California for years.

As anchor of the "CBS Evening News" from December 2017 to June 2019, Glor helped lead the Network's coverage of the 2018 midterm elections, the Supreme Court confirmation hearings for Judge Brett Kavanaugh, and two summits between President Donald Trump and Kim Kong Un of North Korea, in Singapore and Vietnam. Glor was the only network evening news anchor to report from the Middle East for the opening of the new U.S. embassy in Jerusalem. He went to the West Bank and was in the middle of an extended clash between Israeli soldiers and Palestinian protesters.

In December 2017, Glor interviewed French President Emmanuel Macron at the One Planet Summit in Paris, following President Trump's decision to pull the U.S. out of the 2015 Paris accord. That night, he broadcast the "CBS Evening News" live from the Élysée Palace, a first for any American network. In July 2018, he conducted a two-part interview with President Trump before and after the Helsinki summit with Russian President Vladimir Putin. Glor spoke with Mr. Trump in Scotland, and again at the White House for two conversations that aired across all CBS News broadcasts and platforms. Glor's interview with Mr. Trump marked the first time the president did back-to-back interviews with the same network news anchor.

As anchor of the "CBS Evening News," Glor brought back the iconic CBS News franchise "Eye on America," featuring immersive reports on topics of national importance, including immigration, mass shootings, suicides, and church sex abuse scandals. His investigative work is wide-ranging, including a multi-part report on problems at the National Flood Insurance Program that won the 2018 SPJ award for network investigations.

As a correspondent for "CBS This Morning" and "60 Minutes Sports," Glor filed reports from Alaska, Africa, Greenland, Ireland and Newfoundland. For the "CBS Evening News," from 2013 to 2015, Glor's ongoing series of reports on the recall crisis at General Motors and Takata sent him across the U.S. to find survivors, stories and information that were kept hidden from the public for years.

He was one of the first journalists on the ground in Haiti following that country's devastating earthquake in 2010. Glor reported from Iraq in 2007 and 2008, where he spent time embedded with U.S. troops. He also covered the 2008 Beijing Olympic Games in China and the 2010 Winter Games in Vancouver. In 2008 Glor was a lead member of the CBS News team that covered Pope Benedict XVI's historic visits to Washington, D.C. and New York City. He was also the primary campaign correspondent for the Network's morning show during the 2008 presidential election.

In addition to his reporting assignments, Glor was a lead anchor on CBSN, CBS News' 24/7 streaming news service, during its critical launch period. Glor served as anchor of the weekend editions of the "CBS Evening News" on Saturday from 2009-2010 and Sunday from 2012-2016. He anchored "The Early Show" in 2011.

Before joining CBS News, Glor was the weekend evening news anchor and a weekday reporter for WHDH-TV Boston (2003-2007). While there, he covered many national stories, including the 2004 Summer Olympics in Athens, the death of Pope John Paul II in 2005 from Rome, and the hearings on steroid use in Major League Baseball from Washington, D.C. Prior to that, Glor was the co-anchor of WSTM-TV Syracuse's 5:00 PM newscast and a reporter for the 11:00 PM newscast (2000-2003), as well as the morning news anchor (1997-2000). Among the national stories he covered while at WSTM were the terrorist attacks on Sept. 11, 2001; the first anniversary of the 9/11 attacks; and the crash of Flight 587 in Queens, New York. He also reported live from Toronto when Pope John Paul II visited in 2002.

Glor began his journalism career in 1997 as one of the station's news writers, while attending college. During his time in Central New York, he was named "Best Male News Anchor" by the Syracuse New Times, one of the 40 most promising professionals under the age of 40, and served as a contributing researcher and writer on "The Legal Handbook for N.Y. State Journalists."

Born in Tonawanda, New York, Glor graduated magna cum laude from Syracuse University in 1997 with dual degrees in economics and broadcast journalism.

He and his wife, Nicole, along with their two children, Jack and Victoria, live in Connecticut.