Introducing Celebrity Big BroBot, a chatbot that's just itching to give you all sorts of 411 on the debut season of Celebrity Big Brother—which airs Mondays, Wednesdays, Fridays, and Sundays at 8/7c on CBS and CBS All Access— as well as manage the audience voting process that will impact the game, test your knowledge of BB, and so much more.

So how does it work? It's easy!

Cast your vote.
When a vote is announced during an episode, open your messaging app of choice—including Facebook Messenger, KIK, and Skype—say "Hello" to Big BroBot, and it'll prompt you to cast your vote.

Or, cast your vote right here on CBS.com! Read the full Terms and Conditions for the vote.

Ask it a question and it will give you an answer.
If you've ever texted or used a Voice Assistant, then the Big BroBot will be second nature to you.

Big BroBot will answer all sorts of pressing questions, like:

- "Who was evicted this week?"
- "What did I miss in the latest episode?"
- "When is the next eviction?"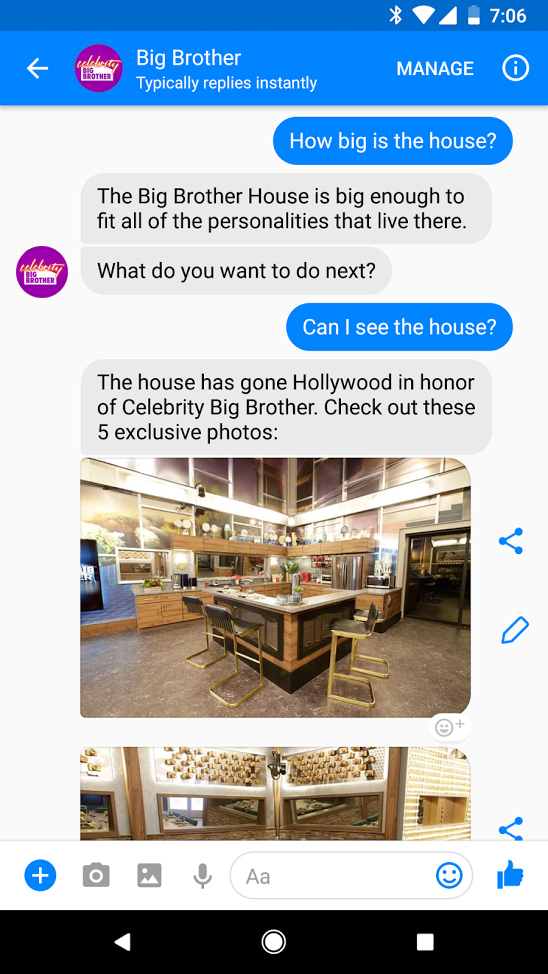 Big BroBot might even have answers for questions you didn't expect. (Though, when it comes to Big Brother, you've gotta expect the unexpected, right?)

Plus, expect plenty of Easter Eggs hidden throughout the chatbot, so you'll definitely wanna spend time chatting it up!

Test your BB knowledge.
When you enter the chatbot, you'll see an option to test your Big Brother trivia skills at two different levels, Expert or Newbie.

If you're a first-time viewer, the Newbie level is the way to go. If you consider yourself a superfan, take the Expert level.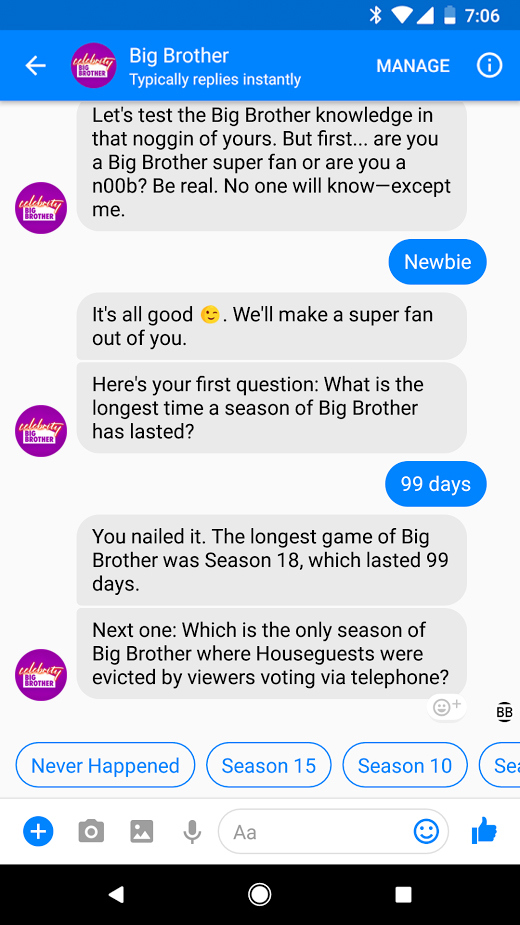 Big BroBot will ask you a question, complete with multiple choice answers, and all you've got to do is click, tap, or type the answer you think is correct.

Then, BroBot will let you know if you're as smart as you think you are.

To find The Big BroBot on your preferred platform, see the instructions below.

Facebook Messenger
There are a few different ways to find Big BroBot on Facebook:
- Visit the Big Brother Facebook page and click "Send a Message." Boom, you're using the Big BroBot!
- Visit this link to take you directly to the Big BroBot!
- You can also simply search Facebook Messenger for "Big Brother" or scan the code below on your mobile device: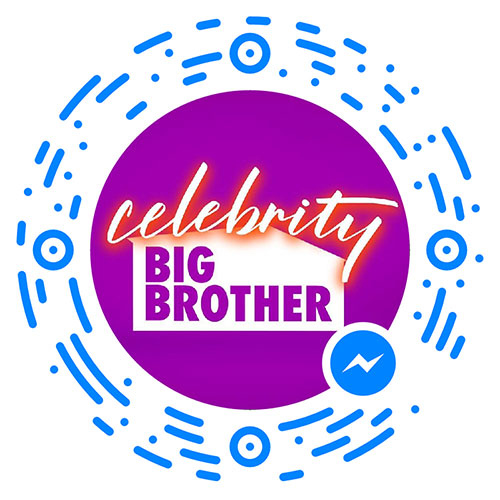 Kik
- Open the Kik app on your mobile device, visit the Kik Bot Store, and search "Big Brother."
- Scan the code below with your mobile device and it will lead you directly to the Big BroBot: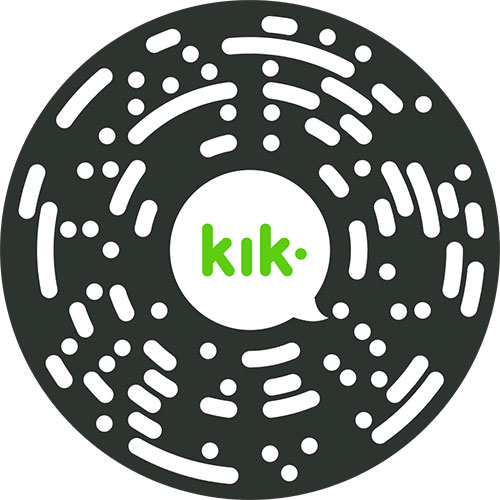 Skype
- Visit this link to take you directly to the Big BroBot on Skype.

There's plenty to discover in the Celebrity Big BroBot, so go say "Hello" and see what it has to say.

Don't miss all-new episodes of Celebrity Big Brother on Mondays, Wednesdays, Fridays, and Sundays at 8/7c on CBS and CBS All Access.

Then, be sure to check out the Big Brother Live Feeds—exclusively available through CBS All Access!