Back to Cast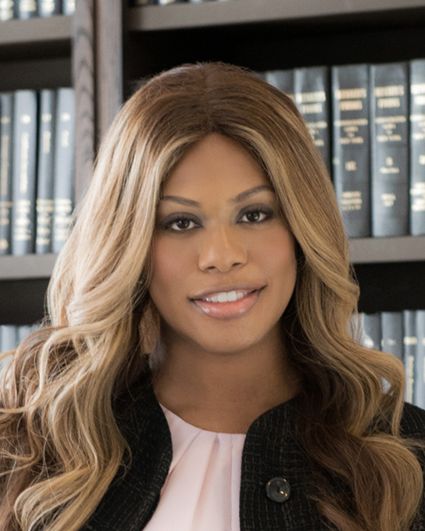 Cameron Wirth
Laverne Cox
Biography
Hometown: Mobile, Alabama
Birthday: May 29
Laverne Cox is an Emmy Award-nominated actress, an Emmy Award-winning producer and has produced and starred in her own television show, "TRANSForm Me," which was nominated for a GLAAD Media Award. Also, she is the first Transgender woman of color to have a starring role in a mainstream scripted series, "Orange Is the New Black."
Cox's work as an actress and advocate landed her on the cover of TIME magazine. She continues to break boundaries and make history with back-to-back SAG Awards for Outstanding Performance by an Ensemble in a Comedy Series, a Critic's Choice nomination for Best Supporting Actress, and consecutive NAACP Image Award nominations for Outstanding Supporting Actress in a Comedy Series, all for her role in "Orange is the New Black."
Her feature film credits include "Grandma," "Bored to Death" and the independent films "Carla" and "The Exhibitionists." Upcoming projects include the starring role of Dr. Frank-N-Furter in the remake of "The Rocky Horror Picture Show."
Her additional television credits include guest roles in "The Mindy Project," "Girlfriend's Guide to Divorce," "Law & Order," "Law & Order: SVU" and "Faking It." Additionally, she appeared in the reality television program "I Wanna Work for Diddy," for which she accepted the GLAAD media award for Outstanding Reality Program.
Also, Cox hosted "#GoBold: Brought to You by Revlon," an empowering web series that celebrates bold, provocative women setting out to accomplish their goals.
Her documentary, "Laverne Cox Presents: The T Word," aired in October 2014. It explored the lives of seven transgender youths from across the country and their determination to lead their lives as the people they are meant to be. She was the host and executive producer of the project, which won a Daytime Emmy Award and was nominated for a GLAAD Media Award.
Currently, Cox is producing another documentary, titled "Free CeCe," to raise visibility and awareness surrounding CeCe McDonald, a transgender woman who was sentenced to 41 months in prison after allegedly defending herself against a racist and transphobic attack. The documentary will focus on McDonald's case, her experiences while incarcerated in a men's prison and the larger implications of her case for the transgender community.
In addition to her acting, Cox is renowned for speaking nationwide, delivering the empowering message of moving beyond gender expectations to live more authentically. Her work as an advocate landed her a coveted spot as one of Glamour magazine's 2014 Women of the Year.
Cox was born and raised in Mobile, Ala. Her birthday is May 29. Follow her on Twitter and Instagram @lavernecox.