30 Years Of Garth Brooks: The Country Sensation By The Numbers
Don't miss another marquee moment from Garth Brooks' career—remember to watch Garth: Live At Notre Dame! on Sunday, Dec. 2 at 8/7c on CBS and CBS All Access.
Country-music iconic Garth Brooks is certainly known for some of the most enduring country hits of the last 30 years—like "Friends In Low Places," Shameless," and "The Dance," just to name a few—but he's also got a real knack for achieving milestones and breaking records.
For example, on Saturday, Oct. 20, Garth held the
first-ever live concert at the legendary Notre Dame Stadium at the University of Notre Dame
in Notre Dame, Indiana, which will be broadcast for all of America to enjoy as
Garth: Live at Notre Dame!
On CBS and
CBS All Access
come December 2 at 8/7c.
STREAM: Garth: Live At Notre Dame! On CBS All Access Dec. 2 At 8/7c
While eagerly anticipating this one-of-a-kind concert event, let's take a look back at Garth's career by the numbers!
12 albums
To date, Garth has released 10 studio albums, including his 1989 self-titled debut that included the hits "If Tomorrow Never Comes" and "The Dance," through his most recent release, 2016's
Gunslinger
. In addition, he's put out two live albums.
And that's not even counting the variety of compilations, boxed sets, Christmas albums, and singles released over the years.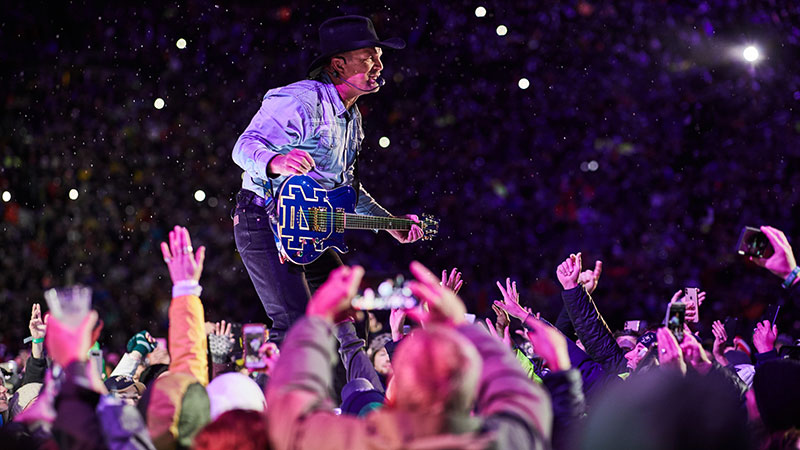 7 Diamond Awards
Garth Brooks is the first artist in history to receive seven Diamond Awards for the albums certified by the Recording Industry Association of America (RIAA) at over 10 million album sales each.
Even more impressive? The artist who previously held this record was none other than The Beatles.
148 million album sales
Not only is Garth the recipient of a record-setting seven Diamond Awards, he's also certified by the RIAA as the #1-selling solo artist in United States history.
READ: How And When To Watch Garth: Live At Notre Dame!
19 #1 singles in the U.S.
Starting with "The Dance" and "If Tomorrow Never Comes" in 1989, Garth Brooks has enjoyed 19 #1 hits in the United States, not to mention 36 tunes in total that have landed in the Top 10.
22 Academy of Country Music Awards
In 1989, Garth Brooks released his self-titled album. By the next year, he had begun his four-year reign as the ACM Entertainer of the Year, which he'd go on to win six times to date.
Garth would be crowned Artist of the Decade in 1999, a distinction only held by three other artists at the time. Not only has he won 22 ACMs, but he's enjoyed a whopping 51 nominations.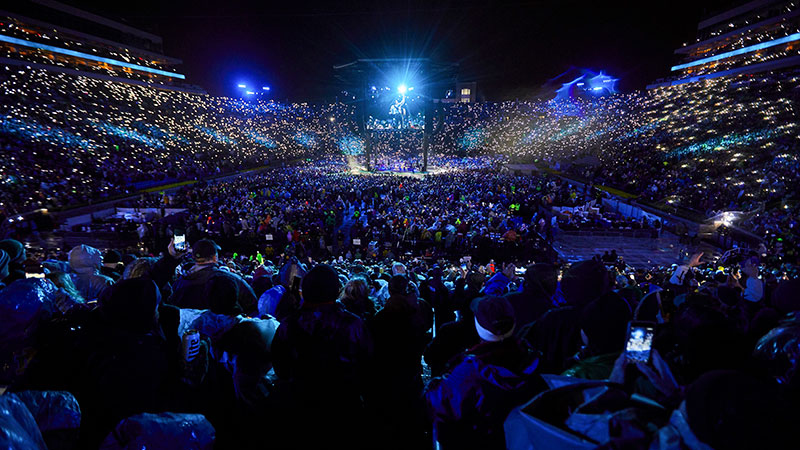 14 GRAMMY® Award nominations
Garth's GRAMMY history began in 1990 with a nomination for the enduring single "Friends in Low Places," just the start to a career that would enjoy 14 nominations.
In all, he's won two GRAMMYs—Best Country Vocal Performance, Male in 1991 for "Ropin' The Wind" and Best Country Collaboration with Vocals in 1997 for "In Another's Eyes," with Trisha Yearwood.
3.5 years
The star's latest world tour, the Garth Brooks World Tour with Trisha Yearwood, lasted nearly four years and smashed records previously held by such legendary acts as The Beatles, The Rolling Stones, and even Garth himself.
The tour played 79 cities, 390 concerts, with over 100,000 tickets sold in over 20 cities!
6.3 million tickets
The Garth Brooks World Tour with Trisha Yearwood sold a record-breaking 6.3 million tickets in total, making it the biggest North American tour in history and the biggest American tour in the world.
Don't miss another marquee moment from Garth Brooks' career! Watch
Garth: Live At Notre Dame!
on Sunday, Dec. 2 at 8/7c on CBS and
CBS All Access
.