God Friended Me Is A Journey To Find Good In The World
The stars and producers of the new CBS drama hope you'll believe in each other.
PING!
Bryan Wynbrandt was on the way to Steven Lilien's house a few years ago when he got an unexpected push notification.
Seeing the prompt to reconnect with an old friend made him wonder, "What if somebody claiming to be God sent me a friend suggestion on Facebook?"
Wynbrandt (a non-believer) and Lilien (a believer) were able to share an interesting conversation that became the genesis for something more. Now, they share the title of Executive Producer on the drama
God Friended Me
, which airs Sundays at 8/7c on CBS and
CBS All Access
.
"You can't predict where inspiration is going to come from," Wynbrandt said during a Television Critics Association panel in Beverly Hills on Sunday. He was joined there by Lilien and series stars
Brandon Micheal Hall
,
Violett Beane
,
Suraj Sharma
,
Javicia Leslie
, and
Joe Morton
.
What is God Friended Me about?
Hall plays the lead character, Miles Finer, an avowed Atheist who even hosts a podcast about not believing in God.
Yes, God friends him. At least, it's an account claiming to be God.
Each week, Miles will be presented with a new problem suggested by this new "friend," and each week will be an opportunity to help somebody who is dealing with a hardship.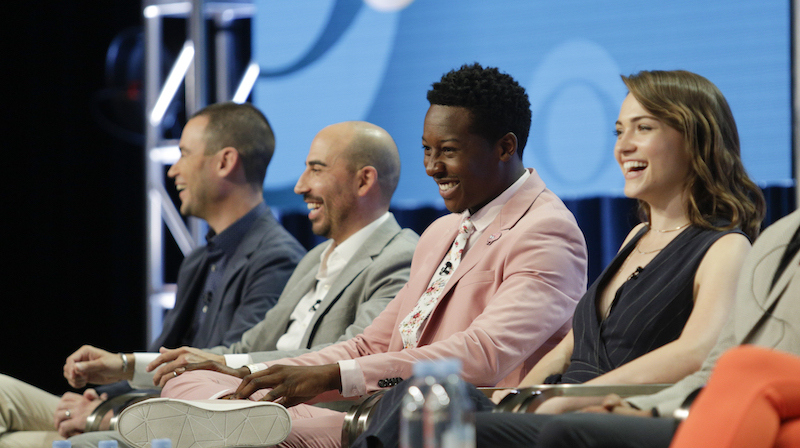 It might be a while until we learn who's really behind all this.
"Our character and his friends are going to be searching for who is behind the God account," said Wynbrandt. "The answer is a long term journey."
How much is God Friended Me focused on religion?
The new series isn't about the supernatural, as the characters aren't angels—just people.
"You don't have to believe in God to believe in good," pointed out Morton. "You remember the movie
The Devil Wears Prada
? It's not about the devil wearing clothes!"
"It's really 'friend,' that's the key word for us," added Lilien. "It's incredibly important to us that we're not a show that's preachy or judgmental. We're not here to take sides. We're here to show all different points of view. It's a respectful, inclusive show. Whether you believe or don't believe, our message is 'Believe in each other.'"
Are different religions represented on God Friended Me?
The show's lead characters are Episcopalian, Jewish, Atheist, and Hindu.
"Even in the friends we'll bring into the show, where they're coming from will obviously help us build the world out more and more, as well," noted Wynbrandt.
This approach starts long before you see anything on screen. "We have a very diverse writers room with lots of voices and different religions and different backgrounds," said Wynbrandt. "That helps inform the conversation and the writing."
The cast of God Friended Me knows a thing or two about spirituality.
Morton was raised Catholic and even went to a Catholic military school for three years.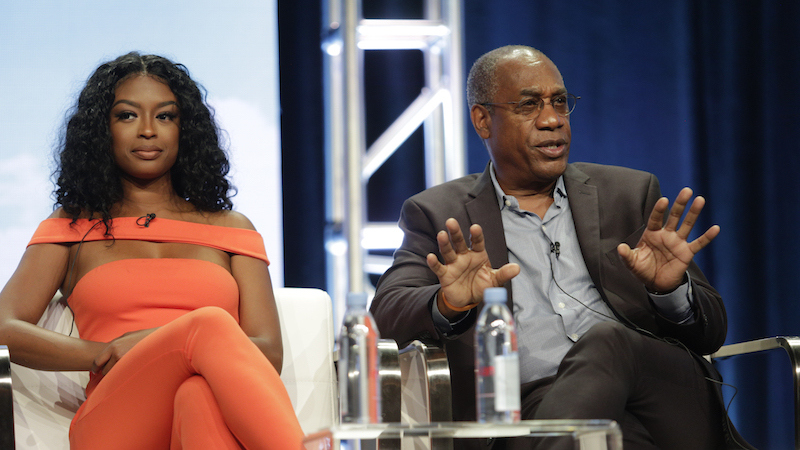 But Hall has an especially close connection to spiritual life: His mother is a preacher.
"Growing up in the church, it's what got me into theater," he recalled. "Church is the ultimate theater. You have the stage, you have the text, you have the actors, and you have the message coming through."
Because of Hall's upbringing, he was excited to get involved with this new project.
"I had such a deep connection to what I thought Church and God were to me. The script did exactly what Steven and Bryan set out to do, which was to raise a conversation about what is religion and spirituality, and what that means to an individual, and having an individual find their own path to God. For me, it has been enlightening and it's a continuing process. It's made me continue to question my relationship and to gain a closer relationship with my spiritual groundedness."
What role does social media play in God Friended Me?
Acknowledging questions about the negative impacts of the online world, Wynbrandt made sure to emphasize, "I think there's a great side of social media, as well."
And there's no reason the show can't have some fun with it, too.
"The God account has a personality, likes taco trucks, changes profile pictures, and suggests they visit certain places," Wynbrandt said. "We definitely want to use that to our advantage."
Watch all new episodes of
God Friended Me
on Sundays at 8/7c on CBS and
CBS All Access
.