Stevie Wonder Reads 2016 "Song Of The Year" GRAMMY Winner In Braille
The legendary singer jokes with the audience before announcing the coveted category
Posted on Feb 15, 2016 | 06:10pm
Stevie Wonder had us in stitches at the 58th Annual GRAMMY Awards when he took the mic to announce the 2016 "Song Of The Year" winner and pulled the winner's card out for all to see. Sensing the astonishment in the audience, Stevie ribbed the audience a little, saying they probably couldn't see it anyway because the answer was in braille.
While the crowd roared, Wonder went on to say, "We need to make every single thing accessible to every single person with a disability," which caused the entire audience to cheer even louder.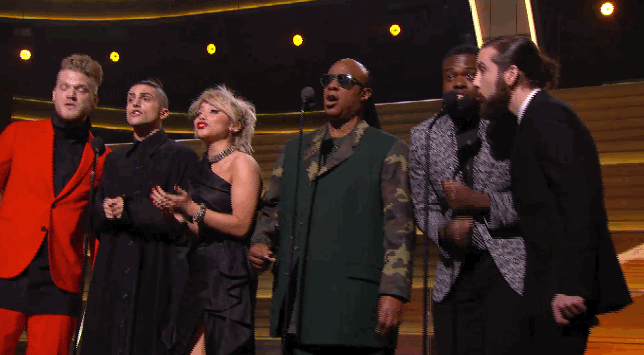 Once everyone quieted down, the legendary pianist and singer announced Ed Sheeran won the award for "Thinking Out Loud."
Of course, Stevie's appearance wasn't just made special by his great sense of humor. The megastar wowed us with his a capella rendition of "That's The Way Of The World" with the oh-so talented Pentatonix, which acted as a tribute to the legacy of Maurice White, a founding member of Earth, Wind & Fire, who recently passed away.