See Which Tom Hanks Movies James Corden Brilliantly Recreated: "Houston, we have a problem."
Tom Hanks and James Corden cover 30 films in one seven-minute take.
Tom Hanks, with the help of
Late Late Show
host
James Corden
, recreated his most famous movie scenes in one take. Here is the full list of film scenes made all the better by James Corden's cameo.
Naturally, the skit opened with Forrest Gump.
Forrest: "What's my destiny, Mama?"
Mrs. Gump: "You're gonna be on The Late Late Show with James Corden."
The two actors quickly got into their groove, moving seamlessly through
Big, Bachelor Party, The Money Pit, The 'Burbs, Turner & Hooch, Road to Perdition, Joe vs. the Volcano, Sleepless in Seattle, Saving Private Ryan, Captain Phillips, The Terminal, A League of Their Own, You've Got Mail, That Thing You Do, The Polar Express, Catch Me If You Can, Cloud Atlas, The Green Mile,
and
Larry Crowne.
When recreating Castaway, Corden took on the heavy role of "Wilson."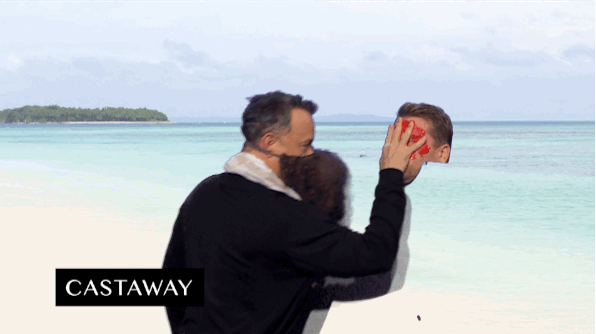 "I would rather take my chance out there on the ocean than to stay here and die on this island, spending the rest of my life talking to James Corden!"
Following the duo's interpretation of Philadelphia, they took on the book-turned-mystery-thriller The Da Vinci Code.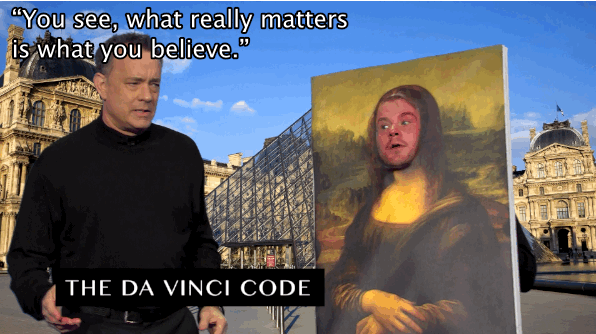 James Corden
, "you are the secret."
Saving Mr. Banks, Splash
, and
Apollo 13
quickly followed.
Corden and Hanks ended the segment in the perfect way possible: with The Toy Story Series.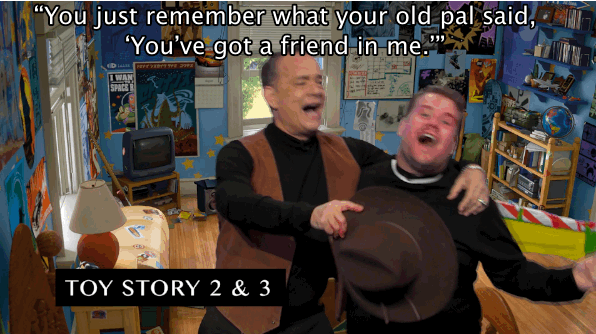 This seven-minute clip went "to infinity... and beyond."
Check out all 30 performances in the full video:
Related Articles:
What Are Critics Saying About The Late Late Show with James Corden?
5 Premiere Photos to Get You Pumped for the New Late Late Show
Jay Leno Schooled James Corden on Late Night Hosting in These 5 Lessons