James Corden's Carpool Karaoke With Lady Gaga Is Everything You Want
Despite being one of the most anticipated Late Late Show videos, it lives up to the hype.
Millions of people watched
Monday's teaser
for Carpool Karaoke with Lady Gaga. Anticipation for the full video reached monster levels. Numerous fans commented about crying tears of joy. Then,
The Late Late Show with James Corden
dropped the entire video tonight and it did not disappoint.
James and Lady Gaga sang her monster hits "Poker Face," "Born This Way," "Edge of Glory," and "Bad Romance." The songwriter even stopped to explain where the lyrics, "Rah rah ah-ah-ah!/ Ro mah ro-mah-mah," come from. "It's romance," Gaga said. That was a true epiphany for James. They also sang "Perfect Illusion" and "Million Reasons," two songs off her newly-released album,
Joanne
, and briefly did impromptu covers of "Move Bitch" by Ludacris and "Liquid Reams" by O-Town.
Lady Gaga admitted that she just got her driver's license for the very first time at age 30. Her whole family went with her to the DMV and her father even cried. Wow, if he cries when she passes a driving test, what happens when her songs top the charts? James let the newly-licensed superstar take over behind the wheel for a few blocks, which is a first for
Carpool Karaoke
.
When a queen of fashion like Lady Gaga is around, it's hard not to discuss clothing. It turns out that the singer owns over 400 pieces of Michael Jackson's clothing, including a
Thriller
jacket and one of his famous gloves. That conversation led to James trying on four of her most famous outfits. Let us know in the comments which one do you think he looks best in:
Red lace dress/mask combo from the 2009 MTV Video Music Awards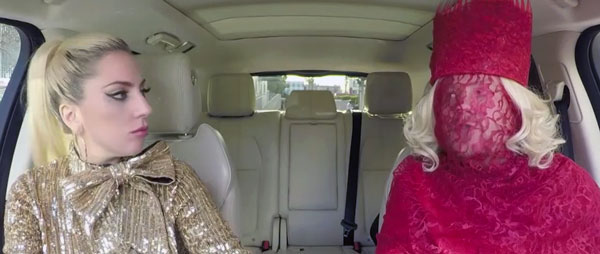 The police-scene-tape wrap from Gaga's "Telephone" music video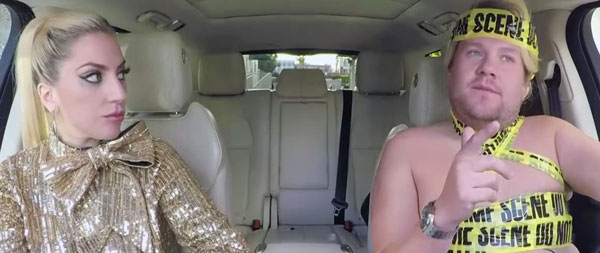 Meat Dress from the 2010 MTV Video Music Awards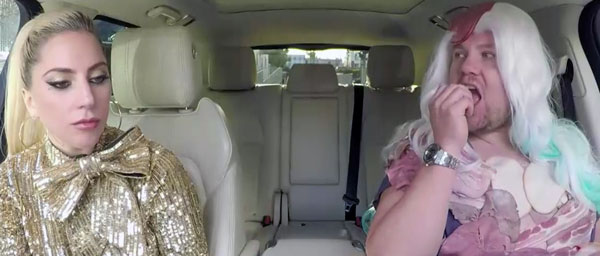 White Francesco Scognamiglio dress from the 2010 Brit Awards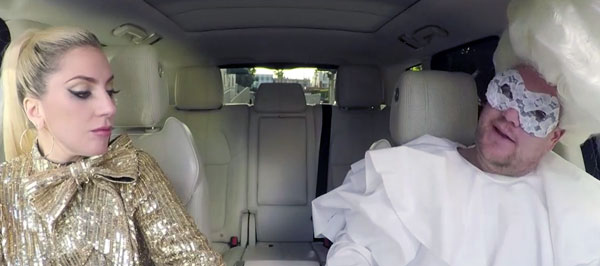 Watch
The Late Late Show
weeknights at 12:37am/11:37pm c on CBS and stream full episodes on
CBS All Access
.