Back to Cast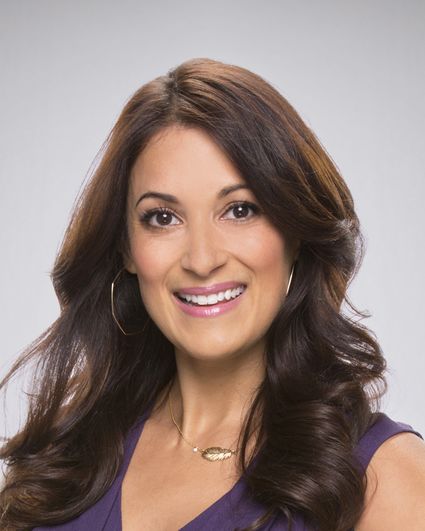 Colleen Brandon Ortega
Angelique Cabral
Biography
Colleen in Life In Pieces.

Angelique Cabral booked her first professional job at the tender age of 6 months old in a United Airlines commercial. She has since worked extensively in national commercials, voiceovers, print modeling and starring in television, film and theater.

Cabral graduated from high school as valedictorian, summa cum laude and was recruited to Indiana University with a prestigious academic Wells Scholarship. While there, she double majored in French and Musical Theater, studied abroad for a semester in London, attending the British American Dramatic Academy, and then lived in Paris for a summer where she attended the Institute of European Studies. After graduation, she moved to New York City in 2001, where she pursued her dream of becoming an actress.

On television, she starred as the female lead in the comedy series "Enlisted" and had a recurring role on "Don't Trust the B in Apartment 23." Cabral's guest-starring roles include "The Odd Couple," NCIS: LOS ANGELES, "Two and a Half Men" and CRIMINAL MINDS, all on the Network, "Chicago P.D.," "Backstrom," "State of Affairs" and "Bad Judge."

Her feature film credits include "Friends with Benefits" and a role in the independent feature "The Perfect Family," opposite Emily Deschanel. The film debuted at the TriBeca Film Festival and screened as the main attraction at Outfest in 2011.

Her stage credits include the Off-Broadway shows "Tape," "Jesse Garon Lives" and "Rubirosa."

Cabral was born in Honolulu and raised in Carmel Valley, Calif. She considers herself an "ethnically ambiguous mutt," with a mix of English/French on her mother's side, and Hispanic/Native American on her father's side. She is certified as a Teaching Artist under The American Place Theater, and has worked in public schools teaching at-risk youth about books/plays and how to express themselves. Also, Angelique is quite the "Yogi" and is a certified Kundalini yoga teacher.

Her birthday is Jan. 28. Follow her on Twitter at @angeliquecabral.