Back to Cast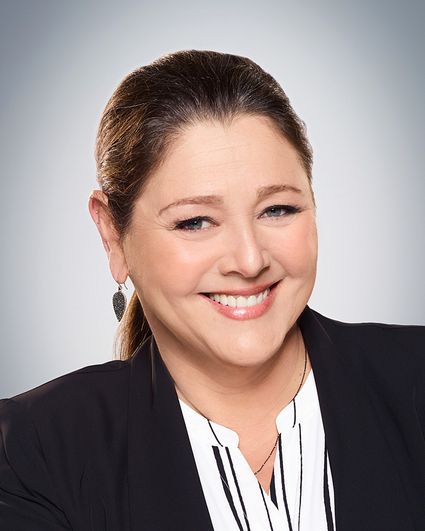 Ms. Meadows
Camryn Manheim
Biography
Camryn Manheim is perhaps best known for her Emmy Award and Golden Globe Award-winning role on The Practice, as well as roles on Ghost Whisperer, Person of Interest, Criminal Minds, Chicago Hope, and Extant.

Most recently, Manheim filmed the miniseries Waco about David Koresh and the Branch Davidians for the new Paramount Network. In addition, she can be seen in the upcoming PBS special Ellis Island: The Dream of America.

Manheim was nominated for a Golden Globe Award for her portrayal of Gladys Presley for the CBS mini-series Elvis.

She made her Broadway debut in Deaf West's Tony Award-nominated production of Spring Awakening and won an Obie Award for Craig Lucas' Missing Persons at the Atlantic Theater Company.

Additional television credits include Code Black, Two and a Half Men, How I Met Your Mother, Chicago Hope, Masters of Sex, Harry's Law, Younger, Hand of God, The L Word, Will & Grace, Ally McBeal, Family Guy, The 10th Kingdom, and the CBS movie Jessie Stone: Thin Ice, among others.

Her feature film credits include Cop Car, Return to Sender, Slipstream, An Unfinished Life, Without Men, Twisted, Scary Movie 3, Romy and Michele's High School Reunion, Happiness, The Laramie Project, Dark Water, The Road to Wellville, and Eraser.

Manheim adapted her one woman, off-Broadway show, Wake Up, I'm Fat!, into a book by the same name, which became a New York Times bestseller.

She received a B.A. from the University of California at Santa Cruz and her M.F.A. at New York University. She teaches and lectures all over the U.S. and abroad on topics including philanthropy, body image and self-esteem, breast cancer, and the entertainment industry.

Born in Caldwell, N.J., Manheim grew up in Peoria, IL and Long Beach, CA. Currently, she resides in Venice, CA. Her birthday is March 8. Follow her on Twitter @CamrynManheim and on Instagram @CamrynManheim.