You Don't Have To Be A Believer To Enjoy The New CBS Comedy Living Biblically
The show's creators discuss opening a conversation between the faithful and the not-so-much.
The new CBS comedy
Living Biblically,
which premieres on Monday, Feb. 26 at 9:30/8:30c on CBS and
CBS All Access
, follows Chip Curry (
Jay R. Ferguson
), a modern-day man at a crossroads in his life who decides to live strictly in accordance with the Bible.
STREAM: Full Episodes Of Your Favorite CBS Comedies On CBS All Access
With the help and support of his non-believing wife Leslie (
Lindsey Kraft
), his co-worker Vince (
Tony Rock
), his boss Ms. Meadows (
Camryn Mannheim
), and his self-proclaimed "God Squad" of Father Gene (
Ian Gomez
) and Rabbi Gil (
David Krumholtz
), Chip will try to navigate the waters of a spiritual journey of biblical proportions.
At CBS' Television Critics Association 2018 Winter Tour, show creator and Executive Producer Patrick Walsh was joined by fellow Executive Producer
Johnny Galecki
(
The Big Bang Theory
) and the cast to shed some light on the bold new sitcom.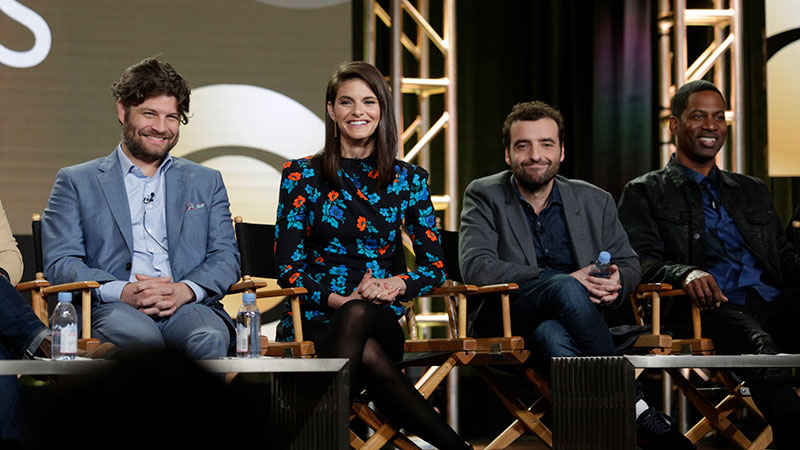 From left: Jay R. Ferguson, Lindsey Kraft, David Krumholtz, and Tony Rock.
The producers pointed out that, despite a focus on Chip's religious path over the course of the show,
Living Biblically
will be treating both sides of the religious debate with respect and an intent to open a dialogue about the often hard-to-discuss topic.
"The best way to approach a conversation that people are uncomfortable with is with comedy, and our goal here is, one, to make people laugh, and two, to hopefully inspire a conversation around the water cooler that people might have otherwise been uncomfortable with, no matter what the result of that conversation," explained Galecki.
He continued: "I'll say there are a number of people involved with the show who are devout in their beliefs, and we do have consultants of the cloth who keep us broadly accurate. And I say 'broadly,' because it's, again, so personal, and very few things mean the same thing to everyone in the Bible."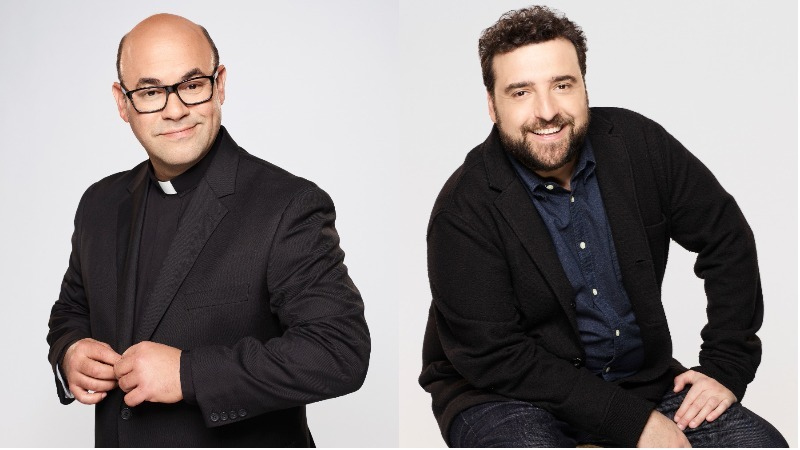 Ian Gomez is Father Gene and David Krumholtz is Rabbi Gil, a.k.a. the "God Squad," on
Living Biblically
.
"Our goal is never to offend, and I think it would be crazy in this day and age to do a show that is trying to offend people of faith," added Walsh. "I have a great deal of respect for them. I think people need guidance and help in their life, much like Chip does in our show, and it helps a lot of people, and we hope that we treat it fairly and with respect."
Manheim chimed in: "I have had tons of friends come from all different walks of life, and I think all of them feel that [the show] is really speaking for them, whatever side of the fence they're on. And I think it does that really well. I don't think people are going to be insulted by it. I think everyone's going to find something, and it could be interpreted, like most things, to their benefit."
"I certainly understand why it's sensitive," said Walsh. "But our hope is that this can loosen up the conversation about it a little bit, while, really, the ultimate goal is to be funny, and not to hurt anyone's feelings."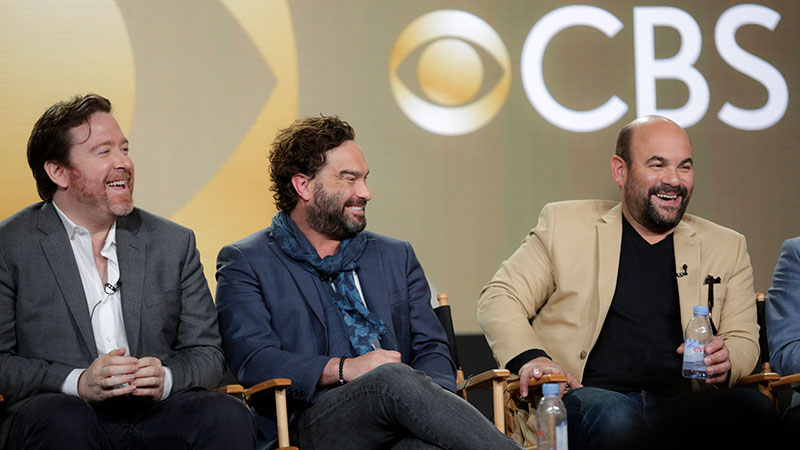 From left: Patrick Walsh, Johnny Galecki, and Ian Gomez
Walsh also noted that the show has "a priest and a rabbi that read every draft of the script and tell us where we are wrong in certain cases, or where we could use a better example from the Bible."
Of course, applying certain teachings from the Bible to the modern world is quite often cause for debate, particularly when things are read literally.
When asked how the show would handle the more controversial teachings of the Bible, Walsh said, "We do tackle these issues head on. We're not pretending that they don't exist. And while he is a modern man living by the Bible, there are certain things that he will not be doing. Absolutely. He will not be hateful, et cetera. But I don't necessarily think those things are biblical. I don't think those are biblical attitudes, and I don't think the show will reflect that, either."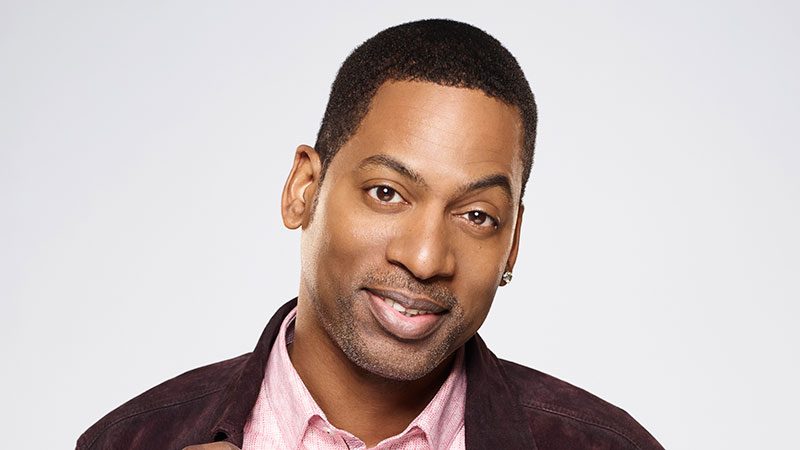 Tony Rock is Vince on
Living Biblically
.
Walsh added: "I think religious people are not given credit for having a sense of humor, and I think non-believers are not given credit for being curious about religion and wanting to know more about it. We get into some pretty interesting topics on this show, and that is a goal, to serve an underserved audience, I think."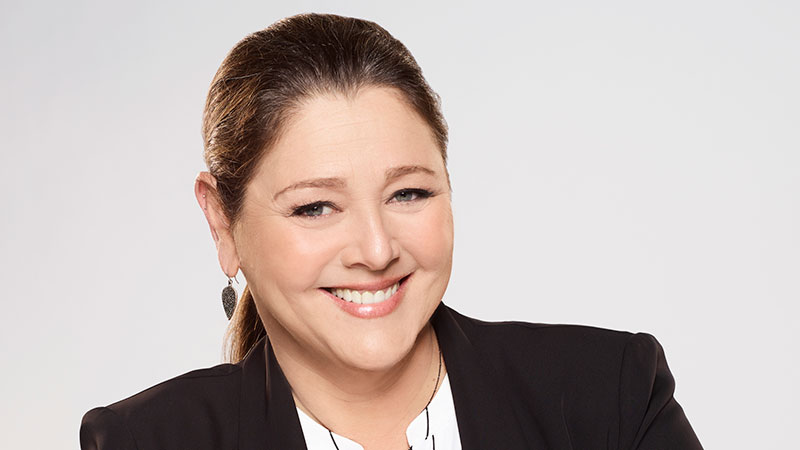 Camryn Manheim is Ms. Meadows on
Living Biblically
.
No matter what side of the conversation the cast and crew stand on, it's clear all involved feel like they've captured something special. "I would say by week two, this was starting to feel like a Season 3 show," Walsh said. "These guys love each other, and I think that really shows."
Watch the series premiere of
Living Biblically
on Monday, Feb. 26 at 9:30/8:30c on CBS and
CBS All Access
.