Back to Cast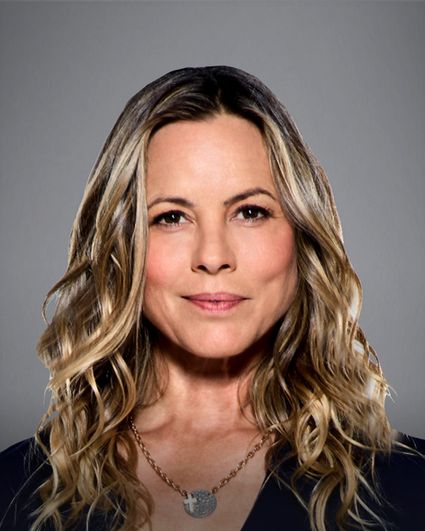 Special Agent Jacqueline "Jack" Sloane
Maria Bello
Biography
Maria Bello has established herself as a leading actress with her many diverse roles in dozens of films, including "The Cooler," with William H. Macy, which earned her Golden Globe and Screen Actors Guild Award nominations; David Cronenberg's "A History of Violence," opposite Viggo Mortensen and Ed Harris, which earned her a New York Film Critics Circle Award and a Golden Globe Award nomination; Oliver Stone's "World Trade Center"; and "Prisoners," opposite Hugh Jackman. Most recently, Bello appeared in the hit James Wan thriller "Lights Out" and the original series "Goliath," with Billy Bob Thornton and William Hurt.

Bello executive produced and starred in the films "In Search of Fellini," "The Journey Is the Destination," "GLO" and "Exit." She created and produced the virtual reality piece "The Sun Ladies," which had its world premiere at Sundance. Currently, she is producing the film "The Woman King," starring Viola Davis and Lupita Nyong'o, which is based on her original concept.

Bello's television credits include starring roles in "Prime Suspect," "ER" and the TV movie "Big Driver," based on the Stephen King short story.

In April 2015, Bello released her first book, Whatever… Love Is Love, in which she expanded on her news-making "Coming Out as a Modern Family" column that ran in the New York Times in 2013. The book explores themes and ideas surrounding family, partnership, sexuality and spirituality.

Bello is an internationally renowned activist and is a powerful voice for social justice and women's rights around the world. Her career as an activist began at Villanova University, where she majored in peace and justice education and worked at the Women's Law Project in Philadelphia. In 2009 Bello was voted one of Variety's most powerful women in Hollywood for her activism with women in Darfur, and she continues to speak around the country on women's rights, equality and social impact investing at venues such as TedWomen, the U.N. and the State Department.

Bello lives in Los Angeles with her son, Jackson. Her birthday is April 18. Besides her son, her greatest passion is travel. She can be followed on Twitter @Maria_Bello and Instagram @officialmariabello.