Pauley Perrette's Chocolate Chip Cookie Recipe
Get a taste of her new book, Donna Bell's Bake Shop!
Posted on Apr 14, 2015 | 02:45pm
The lovely
Pauley Perrette
from
NCIS
partnered with two of her friends, Darren Greenblatt and Matthew Sandusky, to create a recipe book in honor of her mother. The book,
Donna Bell's Bake Shop
, is full of mouthwatering recipes you'll want to sink your teeth into. In case you don't believe us, we've decided to give you a little taste of her book with this chocolate chip cookie recipe!
​​
STREAM: Full Episodes Of NCIS On CBS All Access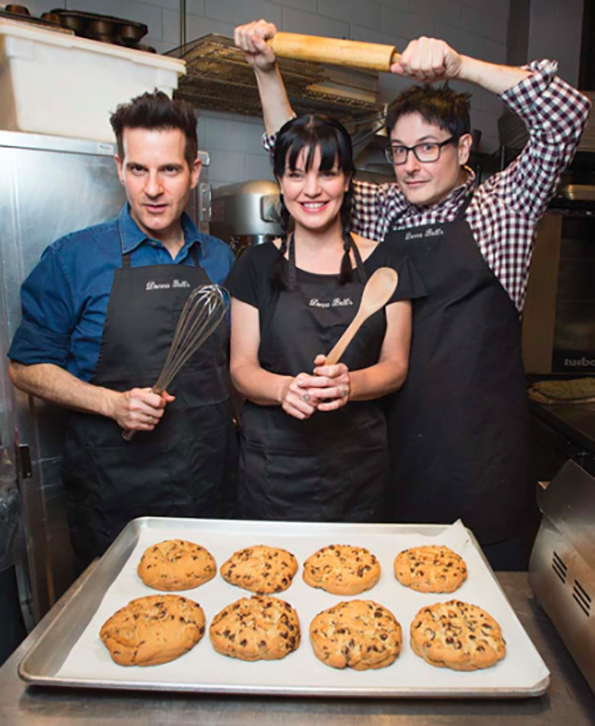 Chocolate Chip Cookies
Makes 12 cookies
Ingredients:
1 cup (2 sticks) unsalted butter softened
1 cup packed light brown sugar
½ cup granulated sugar
2 large eggs
1 teaspoon vanilla extract
3 cups all-purpose flour
1 teaspoon baking powder
¼ teaspoon baking soda
2 cups semisweet chocolate chips
Directions:
In a large bowl, beat the butter and brown and granulated sugars together with an electric mixer. On low speed, add the eggs, one at a time, mixing well after each addition. Scrape the bowl. Add the vanilla and mix again. In another bowl, whisk together the flour, baking powder, and baking soda. Add one-third of the of the flour mixture to the wet ingredients, mixing slowly on low speed. Repeat until all of flour is incorporated. Scrape the bowl and beat on low speed for 30 seconds. Lastly, add the chocolate chips and mix until combined. Transfer the dough to parchment paper or plastic wrap, roll into an 8-inch log, and wrap in the paper or plastic. Refrigerate for 2 hours. Heat the oven to 400 degrees F. Line 2 baking sheets with parchment paper. Roll the dough again to make sure it is round and has no flat sides, pressing the ends to ensure the log stays 8 inches long. Cut the log in half and return one piece to the refrigerator. Cut the other half into 6 equal slices. Place them on one of the prepared baking sheets, making sure to leave about 1 inch between cookies. Bake for 5 minutes. Reduce the oven temperature to 325 degrees F and bake until lightly browned, an additional 10 to 15 minutes. Let cool completely on the baking sheet. Repeat with the remaining dough.
You can get more of Pauley's favorite recipes in her book,
Donna Bell's Bake Shop
available at the
CBS Store
.
Watch all new episodes of
NCIS
on Tuesdays at 8/7c on CBS and
CBS All Access
.