The Ultimate NCIS Glossary
A comprehensive list of common acronyms, sayings, and terms from all three NCIS shows.
Posted on Aug 15, 2016 | 10:00am
Have you ever been watching an episode of
NCIS
and thought to yourself, "Hey, what does it mean when somebody has to give a SitRep to the SecNav, anyway?" Well, now you don't have to, because we've compiled a handy glossary of common terms and phrases from
NCIS
,
NCIS: Los Angeles
, and
NCIS: New Orleans
to help you brush up on all your nautical and crime verbiage—and everything in between!
APB -
Short for an
A
ll
P
oints
B
ulletin, or a radio message that's sent to every officer in a police force. Typically, these relay details of criminal suspects or stolen vehicles.
BOLO - B
e
O
n
T
he
L
ookout.
Bulkhead -
A dividing wall or partition between compartments aboard a ship or aircraft. This compartmentalization is used to reduce flooding of the entire vehicle at once.
Deep Six -
A nautical term for
six
fathoms
deep
, which is generally considered a sufficient underwater depth to get rid of something—like, oh, maybe
a dead body
.
Federal Agencies -
A broad term used to refer to NCIS, FBI, ATF, NSA, DEA, and literally
hundreds
of other agencies in the United States government.
FLETC
- Short for
F
ederal
L
aw
E
nforcement
T
raining
C
enters, this interagency body ensures that NCIS (and dozens of other U.S. government agencies) are sent well-trained probies.
Gibbs' Rules -
Always listen to your boss, and
make sure you know all his rules
.
Gunny -
Short for
a
Gunn
er
y
Sergeant and a
nickname for
Gibbs
, who held the position in the U.S. Marine Corps
before he became a Special Agent at NCIS
.
The Hill -
Short for Capitol
Hill
, which is the area surrounding the Capitol building in Washington DC. It can also allude to Congress itself.
Intel -
Short for
intel
ligence, or information that is of military or political importance.
JAG -
Refers to the
J
udge
A
dvocate
G
eneral's Corps, or the legal branch/specialty concerned with military justice and military law. It's also the title of
the series that preceded NCIS
.
Labby -
Abby
's affectionate name for her laboratory. (Test how well you know
Abby Sciuto with this quiz
!)
MTAC -
Short for
M
ultiple
T
hreat
A
lert
C
enter—or, as
NCIS
calls it,
M
ultiple
T
hreat
A
ssessment
C
enter. This group, housed within NCIS, identifies and provides warnings for various threats to the Navy and Marine Corps.
NCIS -
Short for
N
aval
C
riminal
I
nvestigative
S
ervice. (Hey, we're just covering our bases here!)
NOLA -
One of
New Orleans' many nicknames
. [Also:
Nawlins
,
The Big Easy
,
The Crescent City
,
The City That Care Forgot
]
On Your Six -
A military phrase meaning "I'm right behind you." The term refers to your physical orientation as a clock, where 12 o'clock is directly in front of you, 3 o'clock is to your right,
6 o'clock is directly behind you
, and 9 o'clock is to your left.
OSP -
Short for
O
ffice of
S
pecial
P
rojects, the secondary branch of the main NCIS building in Washington DC, and home base for the
NCIS: Los Angeles
crew,
overseen by Hetty Lange
.
Probie -
Short for
Prob
ational Agent and another word for "rookie." In terms of rank, probies are one step below a full-fledged field agent.
Recon -
Short for
recon
naissance, which is a military observation strategy used to extract and record information about an enemy.
Rigor Mortis -
A medical term from Latin, it's the stiffening of joints and muscles that occurs several hours after death, and typically lasts one to four days. (Also probably the grossest term on this list.)
Roll Tide -
A rallying cry for University of Alabama sports, and
frequent catchphrase
of lifelong UA fan
Lasalle
.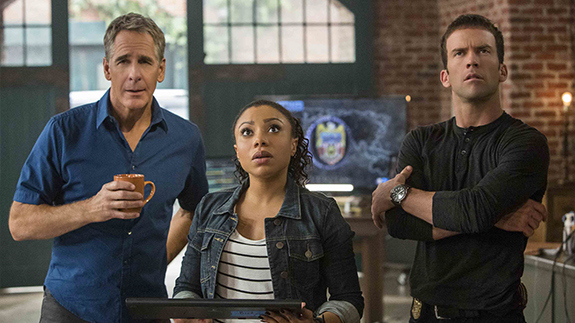 SCIF -
A
S
ensitive
C
ompartmented
I
nformation
F
acility is a secure system to communicate information that's so confidential it can't even be discussed among others with basic security clearances.
Scuttlebutt -
Nautical slang for "rumor" or "water cooler gossip."
SecNav -
Short for
Sec
retary of the
Nav
y, which is the chief executive officer of the Department of the U.S. Navy. A total of three SecNavs have appeared on
NCIS
thus far: Phillip Davenport, Clayton Jarvis, and Sarah Porter.
Semper Fidelis -
The U.S. Marine Corps motto. Translated from Latin, it means "always faithful" or "always loyal." The adage is said to have originated in Abbeville, France in the 14th century. [Also:
Semper Fi
]
SitRep -
Short for
Sit
uation
Rep
ort, which details a specific event or occurrence.
Squadroom -
The main area in the NCIS building in Washington D.C. where the team usually works. [Also:
Bullpen
]
Squg -
While this may
sound
like a rare type of rodent, it's actually a portmanteau of "
sq
uat" and "h
ug
"—as in the kind of hug a standing person squats down to give a sitting person. The term was
popularized by Abby Sciuto
.
Yankee White -
A high-level security clearance issued by the U.S. Department of Defense, the term can also refer to the background check process to obtain it. This also happens to be the title of the very first episode of
NCIS
.
NCIS begins its 14th season on Tuesday, Sept. 20 at 8/7c, followed by the Season 3 premiere of NCIS: New Orleans at 10/9c that same night. NCIS: Los Angeles will have its eighth season premiere on Sunday, Oct. 2 at 8/7c.
Until then, catch up on episodes with CBS All Access.