At long last, CBS All Access' original series Star Trek: Discovery premiered its first two episodes over the weekend ("The Vulcan Hello" and "Battle At The Binary Stars"), and critics have weighed in.

Praising everything from the show's remarkable opening credits to the slick production design to the intriguing character development, press across the country were impressed with Star Trek's latest chapter.

STREAM: Full Episodes Of Star Trek: Discovery On CBS All Access

Here's what reviewers had to say:

"It honors sci-fi's history while giving it a bold new future to stake claim in, making Star Trek essential television for the first time in decades." —Ira Madison III, The Daily Beast

"[Michael Burnham]'s an instantly engaging protagonist, one who can think and fight her way out of danger." —Todd VanDerWerff, Vox

"Damn fine television; I've already bought my subscription." —Tommy Cook, Collider

"Visually, Discovery shines. Space and action scenes have a cinematic quality, and aliens are believable, illustrating meticulous attention to detail." —Bill Keveney, USA Today

"...The nail-bitingly tense premiere delivered a cracking good action story, eye-popping special effects and a number of gasp-worthy twists." —Dave Nemetz, TVLine

"You ain't seen nothin yet." —Dominic Patten, Deadline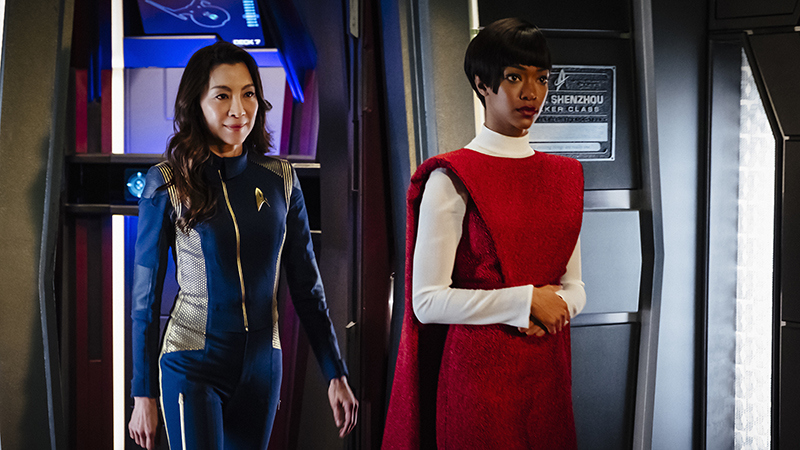 "...Television has always been the medium where Star Trek has thrived, and Discovery is already taking advantage of the format..." —Chaim Gartenberg, The Verge

"Sonequa Martin-Green is Commander Michael Burnham, and she is a commanding presence, weary and excited, bemused and desperate, never less than fully engaged." —Darren Franich, Entertainment Weekly

"...The effects are suitably impressive, the characters and premise are compelling, and a clear effort has gone into producing something new and different that still upholds the spirit of hope and optimism the entire franchise embodies. So far, this is most definitely a Trek worth discovering." —Zaki Hasan, Huffington Post

"Live long and prosper, Star Trek: Discovery." —Robert Lloyd, Los Angeles Times

"Discovery has the best opening credit sequence of any of the series." —Sopan Deb, The New York Times




"Lt. Saru (Doug Jones), the first Kelpien character in Star Trek, is a creation as vivid as Spock, Data, or Worf, though more particular in his neuroses. His biologically incubated sensitivity to the approach of death makes him the closest thing Discovery has to a poster child, or poster creature." —Matt Zoller Seitz, Vulture

"...What makes Discovery work so well, is how, despite being set 10(ish) years before Kirk and company launched their five-year mission in TOS, it pays loving tribute to every aspect of the franchise, from the shows to the movies, while decidedly pushing Star Trek firmly into the present of TV." —Alexander Zalben, TVGuide.com

"Martin-Green ... is indelible as the lead, but the supporting cast also features plenty of strong performances. In the first two episodes, [Michelle Yeoh] brings a quiet strength to the captain's chair, James Frain, inheriting the role of Sarek from Mark Lenard, nails that essential Vulcan essence, and Doug Jones, playing second officer Saru, once again proves why he's Guillermo del Toro's go-to guy for finding the humanity within the most alien of creatures." —Liz Shannon Miller, Indiewire

READ: Star Trek: Discovery Stars Weigh In On THAT Pivotal Moment From Episode 1

"The set-up for this Star Trek is unlike anything before it, prepping this series for drama that the franchise has not touched in its 50 years. That, along with the stunning production values, is enough to at least drag Trekkies over to a new streaming service." —Matt Miller, Esquire

"...This feels to me like a show made by people who love the franchise and its universe." —Alan Sepinwall, Uproxx

"Smart, serious sci-fi on a slow burn." —Chris Taylor, Mashable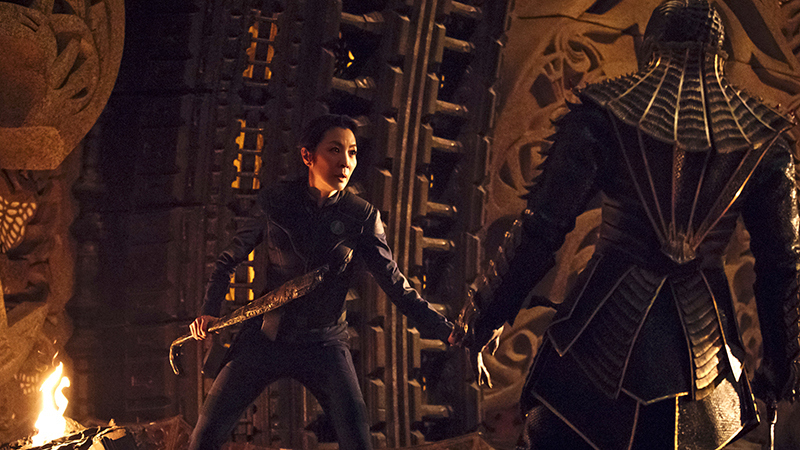 "This premiere put a lot of work into developing these characters, and that's going to pay off throughout the rest of Discovery's first season." —Michael Rougeau, Gamespot

"With a polished production, a complex plot, and several compelling characters already introduced, Discovery is off to a good start in transforming Trek on TV for a new era." —Scott Collura, IGN

"With Discovery, they have created a new series that both pays homage to the half-century of Star Trek history that preceded it and one that feels thoroughly modern in its storytelling." —Dan Casey, Nerdist

"...It's a real joy to see an African-American woman and a woman of Asian descent (Michelle Yeoh's Captain Philippa Georgiou) charging through the universe—leading, strategizing and kicking ass when necessary." —Maureen Ryan, Variety

"It's easily the best the franchise has offered, in any form, since Deep Space Nine went off the air. Tonally, I'd say it strikes the perfect balance between Picard-lecturing intellectualism and Gorn-punching pulp-sci-fi escapism that tends to represent Star Trek at its best from my vantage point. I'm really psyched to see where it's all going." —Bob Chipman, Geek.com

READ: How To Watch Star Trek: Discovery On CBS All Access

Stream the entire first season of Star Trek: Discovery, exclusively on CBS All Access.