Diving into a franchise as vast and storied as Star Trek might seem like a daunting task, and understandably so. With five TV series and 13 original films spanning the, well, generations, it's almost impossible for even a diehard fan to catch every Trek reference.

And while we'd always encourage you to "engage" with any of the aforementioned titles (which you can do when you subscribe to CBS All Access), you'll be glad to know that you don't need to be familiar with the greater Star Trek universe to become enthralled by the franchise's latest adventure: Star Trek: Discovery.

STREAM: Full Episodes Of Star Trek: Discovery On CBS All Access

But, just in case you need further convincing, let us tell you why Star Trek: Discovery should be your next binge-watch.

Discovery is set 10 years before the original Star Trek.
Translation: We're in uncharted territory! Because Star Trek: Discovery is set before the original series (yes, the one with Spock, Kirk, etc.), you'll be coming into the Star Trek universe completely fresh. No need for any prior knowledge!

The plot thickens...
"It's the most serialized Star Trek," Executive Producer Akiva Goldsman has said of Discovery. "It's long-form character storytelling." That means that the plot continues to unfold across a 15-episode arc, promising intense character development and myriad entwining storylines.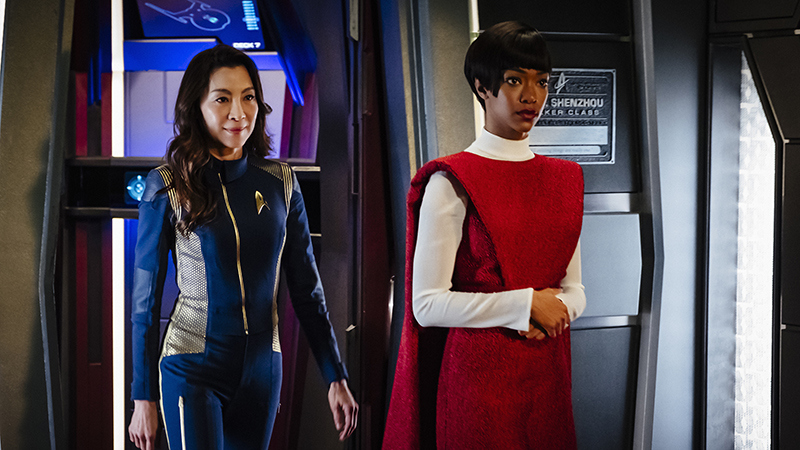 Women rule the universe.
Literally! In the series premiere, "The Vulcan Hello," we meet First Officer Michael Burnham (Sonequa Martin-Green) and Captain Philippa Georgiou (Michelle Yeoh), who pilot the U.S.S. Shenzhou and must contend with a burgeoning conflict between the United Federation of Planets and an alien race called the Klingons, with whom humans have a contentious history.

It's inherently diverse.
Star Trek has historically played up diversity and writing storylines portraying fascinating alien characters of every possible creed and background.

While Star Trek: Discovery also features previously introduced alien species from earlier Star Trek chapters, it also spotlights a brand-new group, the Kelpiens: a cautious species known for their ability to detect danger. The first Kelpien we meet is Saru (Doug Jones), also a Starfleet commanding officer who regularly assists Georgiou and Burnham in their decision-making processes.

What's more, Star Trek: Discovery will be the first chapter in the franchise to feature two women of color in lead roles; and it'll showcase the series' first openly same-sex couple: Dr. Hugh Culber (Wilson Cruz) and Lieutenant Paul Stamets (Anthony Rapp).

Space is only the beginning.
Like so many Star Trek voyages before it, Star Trek: Discovery makes contact with new worlds and new civilizations. But the show's central drama lies within character relationships—the ones they have with each other and, perhaps most important, the ones they have with themselves.

Burnham, for example, is human. But she was orphaned as a young child and raised on a different planet called Vulcan by an adoptive father. Her complicated upbringing makes her a capable Starfleet officer, but it often leaves her at odds with herself. Raised in Vulcan culture, which reveres logic above everything, Burnham must learn to contend with her human emotions in the face of grave danger.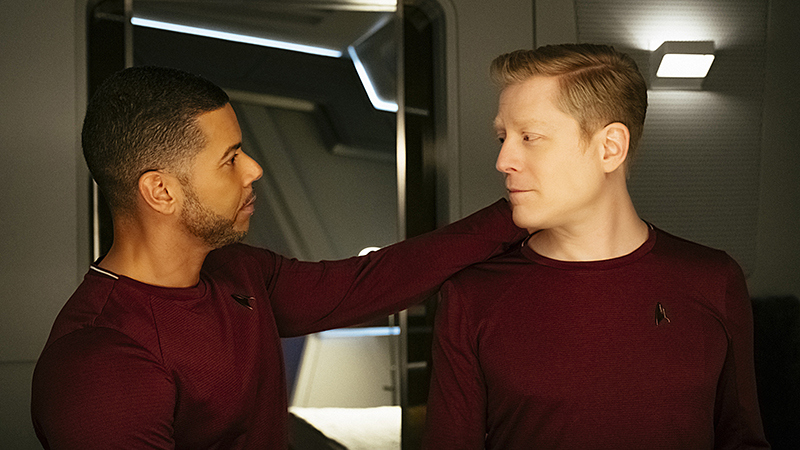 There's non-stop action.
While Star Trek: Discovery does go out of its way to spotlight the interpersonal, the show's high production value and tense, interplanetary relationships frequently set the stage for explosive combat sequences between spaceships and main characters alike.

There's so much Star Trek to explore...
One of the many benefits of subscribing to CBS All Access for Star Trek: Discovery is, you get all the other great Star Trek content that goes along with it.

Not only will subscribers have complete access to every episode of Discovery across multiple devices, but they'll also be able to watch all past iterations of the TV property: the original Star Trek, Star Trek: The Next Generation, Star Trek: Deep Space Nine, Star Trek: Voyager, Star Trek: Enterprise, and Star Trek: The Animated Series.

That's not to mention the Star Trek: Discovery companion after-show, After Trek, which drops new episodes following each new Discovery episode on CBS All Access!

READ: How To Watch Star Trek: Discovery On CBS All Access

Stream the entire first season of Star Trek: Discovery, exclusively on CBS All Access.