Back to Cast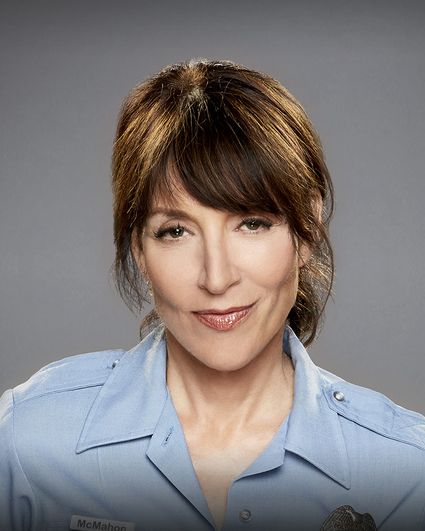 Biography
Golden Globe Award-winning actress Katey Sagal has entertained audiences in a variety of dramatic and comedic roles throughout her notable career.
Sagal won her first Golden Globe for her portrayal of Gemma Teller on the critically acclaimed drama Sons of Anarchy in 2010. Also, she was nominated two years in a row by the Broadcast Television Critics as "Best Actress in a Drama Series" for the same role. In 2015, Sagal starred in the historical drama The Bastard Executioner, Kurt Sutter's follow-up to Sons of Anarchy.
Sagal gained national attention for her role as the outrageous Peg Bundy in the groundbreaking, long-running series Married with Children, for which she earned three Golden Globe and two American Comedy Award nominations. Also, she starred in the comedy series 8 Simple Rules... alongside the late John Ritter, and was the featured voice of Leela, a beautiful one-eyed alien, in the animated series Futurama. Additional television credits include recurring roles as Helen on Lost and Nancy Gilroy on The Shield, as well as starring roles in the television movies Smart House, Mr. Headmistress, Chance of a Lifetime, Trail of Tears, and She Says She's Innocent. In her first job on television, Sagal joined Mary Tyler Moore in the television series Mary.
Also, Sagal has made her mark in feature films. Most recently, she starred in the biopic Bleed for This about the incredible comeback of World Champion Boxer Vinny Pazienza following a near fatal car crash. The film was executive produced by Martin Scorsese and stars Miles Teller and Aaron Eckhart. Also, she co-starred in Pitch Perfect 2, produced and directed by Elizabeth Banks, as the mother of Hailee Steinfeld's character. Additional film credits include I'm Reed Fish, Love Stinks, Mail Order, The Good Mother, and the 2000 Sundance Film Festival favorite Dropping Out.
In addition to acting, Sagal is a critically acclaimed singer and songwriter. She was a "Harlette" with Bette Midler for three years, as well as a background singer for Bob Dylan, Olivia Newton-John, Etta James, and Tanya Tucker. In 2013, Sagal's album Covered was released, with her cover of the Tom Petty song "Free Fallin'" as its first single.
With the support of record label Valley Entertainment, Sagal released her album Room in 2004, her first record since her 1994 debut, Well. Room was a combination of original songs penned by Sagal, including "Life Goes Round," "Daddy's Girl," and "Wish I Were a Kid," as well as memorable classics like "Feel a Whole Lot Better" and "(For the Love of) Money."
Earlier this year, Sagal released Grace Notes: My Recollections, an intimate and honest new memoir published by Simon & Schuster, Gallery Books. Told in a series of vignettes, Grace Notes immerses readers in the life behind Sagal's iconic television characters.
Sagal currently resides in Los Angeles with her husband Kurt Sutter and three children Sarah, Jackson, and Esmé. Her birthday is Jan. 19. Follow her on Twitter @KateySagal and Instagram @kateylous.