Back to Cast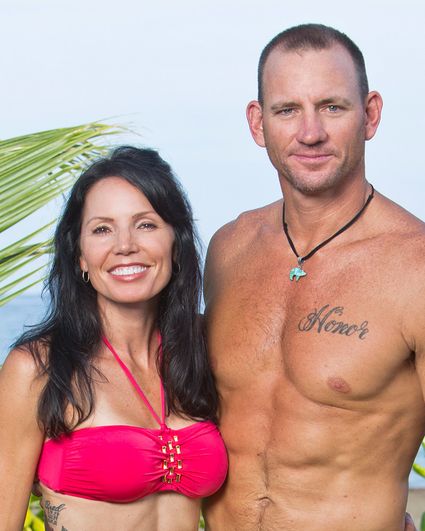 Biography
Name (Age): Monica Culpepper (42)
Tribe Designation: Returning Player
Relationship to Significant Castaway: Brad's Wife
Previous Season: Survivor: One World – non-jury, 5th out
Current Residence: Tampa, Fla.
Occupation: Former NFL Wife, homemaker
Why Did You Want to Return to Survivor and Play with Your Loved One? I wanted the chance to redeem myself from my early exit on One World and there is no better way to do that than with the love of my life and lifelong tribe mate, Brad. He's my guy and having my "shield" out there is an adventure in itself.

Name (Age): Brad Culpepper (44)
Tribe Designation: Loved Ones
Relationship to Significant Castaway: Monica's Husband
Current Residence: Tampa, Fla.
Occupation: Attorney and retired NFL player. Played for the Minnesota Vikings, Tampa Bay Buccaneers and Chicago Bears.
Personal Claim to Fame: My 21 year marriage.
Inspiration in Life: Monica, because she is selfless in her drive to improve our family.
Hobbies: Any outdoor adventure, kickboxing and gardening.
Pet Peeves: Hypocrisy and long goodbyes.
3 Words to Describe You: Tenacious, independent and forward thinking.
SURVIVOR Contestant You Are Most Like: The outdoorsy types like Ozzy, Colby and the first time Skupin played.
Reason for Being on SURVIVOR: Redeem my wife for being blindsided by Colton.
Why You Think You'll "Survive" SURVIVOR: Learning from my wife's experience, I know I can never truly trust anyone. I'll play paranoid and always play my angle.
Why You Think You Will Be the Sole SURVIVOR: I grew up in a stilt house on Dog Island in the Gulf of Mexico, spent 18 years in various locker rooms dealing with all kinds, and have devoted my last 12 years as a trial attorney, persuading people to understand my clients' positions.
What Does It Mean to You to Play Survivor with Your Loved One? Monica means more to me than anyone in this world. While this is a once in a lifetime opportunity, I will always place her before me as I would never want to jeopardize her Survivor flame.