Back to Cast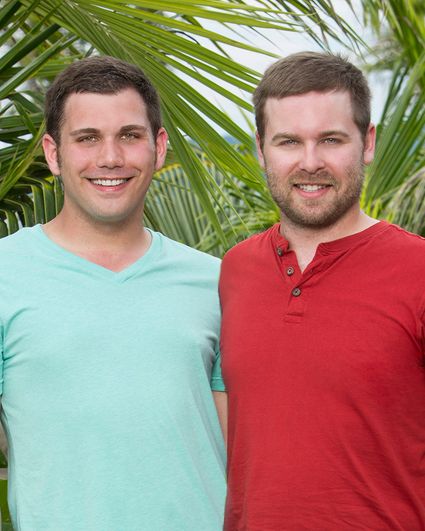 Biography
Name (Age): Colton Cumbie (22)
Tribe Designation: Returning Player
Relationship to Significant Castaway: Caleb's Fiancé
Previous Season: Survivor: One World – medically evacuated on day 16 due to illness – 6th out
Current Residence: Collinsville, Ala.
Occupation: Student Teacher
Why Did You Want to Return to Survivor and Play with Your Loved One? I probably wouldn't have said yes to returning if not for this specific twist. Last time I played I was extremely homesick and missed Caleb like crazy. He is my best friend and probably is the one between the two of us who should've been on Survivor in the first place. While I'm a highly emotional person, Caleb is very logical. He also keeps me calm in stressful situations. Having him with me will give me the emotional stability I need to combine with my already strong concept of strategy.

Name (Age): Caleb Bankston (26)
Tribe Designation: Loved Ones
Relationship to Significant Castaway: Colton's Fiancé
Current Residence: Collinsville, Ala.
Occupation: Post Office Manager/Farmer
Personal Claim to Fame: Shooting a 12 point buck on my first deer hunt.
Inspiration in Life: My momma and dad. They built a small five acre farm into a large cattle/chicken operation and have helped me more than I deserve or could ever return. They are very hard working and focused people and they have taught me how to be a man.
Hobbies: Riding horses, working with my dogs and hunting/fishing.
Pet Peeves: People who don't put down their cell phones.
3 Words to Describe You: Hard-working, hard-headed and outdoorsman.
If You Could Have 3 Things on The Island What Would They Be and Why? 1) My duck call 2) My camouflage Alabama hat 3) A gallon of sweet tea
SURVIVOR Contestant You Are Most Like: JT because we both farm, we are both tough and can do just about anything. We aren't stupid just because we talk slow.
Reason for Being on SURVIVOR: Showing America how farm boys from Alabama do things.
Why You Think You'll "Survive" SURVIVOR: I can definitely outlast anybody and I won't have any enemies. Why You Think You Will Be the Sole SURVIVOR: I am very good at working with my hands, really good at figuring things out and problem solving.
What Does It Mean to You to Play Survivor with Your Loved One? Survivor made Colton realize a lot of things he didn't know about himself. Some things were good and some were not so good. He grew so much from that experience and I wish I could have been there to experience it with him. When we learned it was a possibility that we could play Survivor together, I jumped at the chance because as much as he grew as a person from the first time playing, I knew beyond a shadow of a doubt that our relationship could withstand anything and it would only be strengthened through Survivor. However, on a selfish level, I wanted to help show America what love looks like because it doesn't matter whether it is between two men, two women, or a man and woman. Love is love and I love Colton.