Back to Cast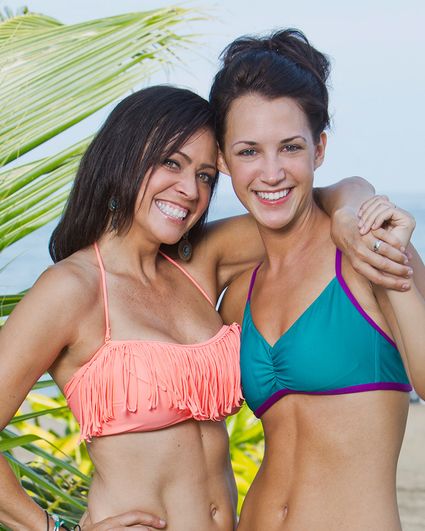 Biography
Name (Age): Laura Morett (43)
Tribe Designation: Returning Player
Relationship to Significant Castaway: Ciera's Mother
Previous Season: Survivor: Samoa – 3rd jury member
Current Residence: Salem, Ore.
Occupation: Co-owner of Morett construction
Why Did You Want to Return to Survivor and Play with Your Loved One? So that Ciera will understand what I went through. Now for the rest of our lives we'll always have this experience to remember and share.

Name (Age): Ciera Eastin (24)
Tribe Designation: Loved Ones
Relationship to Significant Castaway: Laura's Daughter
Current Residence: Salem, Ore. Occupation: Cosmetology Student
Personal Claim to Fame: Despite the fact that I got pregnant at 17, I am most proud of the fact that I finished high school, worked three jobs to support my daughter, and now I am happily married with two beautiful children.
Inspiration in Life: Easy…my dad. He is the best human I've ever met! Everyone he meets loves him; he is kind, caring, wise and has been my biggest fan and encourager, even when my mom is mad at me!
Hobbies: Singing/karaoke, ATV riding in the dunes and camping.
Pet Peeves: Incompetent people, slow moving people, and negative people who bring the mojo down.
3 Words to Describe You: Competitive, social/personable and sarcastic.
If You Could Have 3 Things on The Island What Would They Be and Why? 1) Picture of my family - to remind me and brag to people 2) Bible – to encourage me and keep me strong 3) Journal or camera – to record my amazing adventure
SURVIVOR Contestant You Are Most Like: Laura Morett because she taught me everything I know and also we have the same competitive nature.
Reason for Being on SURVIVOR: I want to beat my mom. I love her but you have to have tough skin in my family and my mom needs to be shown the real Survivor in our family.
Why You Think You'll "Survive" SURVIVOR: I am a little cute girl who gets along with everyone and lifts people's moods on the surface, but in my mind, I am 10 steps ahead of you calculating your death in this game. I'll tell you whatever it is you want to hear and lie to your face and you wouldn't even see me coming because I'm so sweet and adorable.
Why You Think You Will Be the Sole SURVIVOR: I bring a "get er' done" attitude. I don't sulk or whine and I'm an intense fighter and competitor. I'll be great to have around camp because I'm resourceful and creative. I'm hard working, I'm goofy and fun which can be uplifting and encouraging. I'm all around great for this game.
What Does It Mean to You to Play Survivor with Your Loved One? It means the world for me to be able to play this game with my mom and really understand what my mom had to go through first hand. Also, I really would like to show my mom that I can survive and I can do things on my own, and not only can I do them, but I might just even do them better than her!