Back to Cast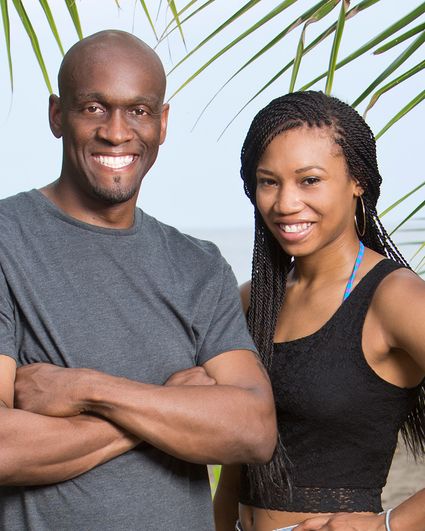 Biography
Name (Age): Gervase Peterson (43)
Tribe Designation: Returning Player
Relationship to Significant Castaway: Marissa's Uncle
Previous Season: Survivor: Borneo – 3rd jury member
Current Residence: Philadelphia, Pa.
Occupation: Cigar Lounge Owner
Why Did You Want to Return to Survivor and Play with Your Loved One? I wanted to return to Survivor because I felt that I could win the game if given another chance, and what better way to play than to play with my niece, Marissa. She is just as driven, focused and competitive as me. This is the ultimate experience and I get to share it with her.

Name (Age): Marissa Peterson (21)
Tribe Designation: Loved Ones
Relationship to Significant Castaway: Gervase's Niece
Current Residence: Chapel Hill, N.C.
Occupation: Student
Personal Claim to Fame: Putting myself through college.
Inspiration in Life: Tia and Tamera Mowry. They were the first black girls I saw on TV and that gave me confidence.
Hobbies: Playing sports/exercising, crafting/do-it-yourself projects and partying.
Pet Peeves: When people say they're going to do something and don't do it.
3 Words to Describe You: Outgoing, adventurous and passionate.
If You Could Have 3 Things on The Island What Would They Be and Why? 1) Chapstick 2) A camera 3) Music & speakers
SURVIVOR Contestant You Are Most Like: Parvati Shallow. She was underestimated initially, great at challenges, and a power player.
Reason for Being on SURVIVOR: To win a million dollars and to see if I'm really as tough as I think I am.
Why You Think You'll "Survive" SURVIVOR: I have strong will power, I'm mentally and physically fit and I don't give up.
What Does It Mean to You to Play Survivor with Your Loved One? Playing Survivor with Gerv would be the most amazing experience, from watching him on TV in 4th grade, to getting to bond with him in the most intense and competitive setting.