Back to Cast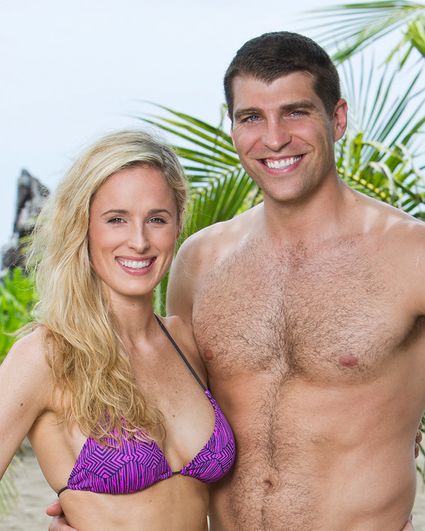 Biography
Name (Age): Candice (30)
Tribe Designation: Returning Player
Relationship to Significant Castaway: John's Wife
Previous Season: Survivor: Cook Islands-13th out, 5th jury member; Survivor: Heroes vs. Villians-13th out, 5th jury member
Current Residence: Washington, D.C.
Occupation: Physician, Anesthesiology Resident
Why Did You Want to Return to Survivor and Play with Your Loved One? We are both successful in our individual lives, but we never get a chance to be competitive and play together on a team. I can't think of anybody I would trust more to be on my side as a teammate. I'm very proud of my husband and I want to show him off!

Name (Age): John (30)
Tribe Designation: Loved Ones
Relationship to Significant Castaway: Candice's Husband
Current Residence: Washington, D.C.
Occupation: Physician, Army Orthopedic Surgery Resident
Personal Claim to Fame: Being a West Point grad, graduating from Georgetown Medical School and training at the Walter Reed National Military Medical Center for my Orthopedic Surgery residency.
Inspiration in Life: The Wounded Warriors that we care for at Walter Reed.
Hobbies: Basketball, golf and working out.
Pet Peeves: Slow thinkers, talkers and movers; people who eat paper; illogical, irrational and inflexible people; excuses; mouth breathers.
3 Words to Describe You: Competitive, off-the-cuff, and loyal.
If You Could Have 3 Things on The Island What Would They Be and Why? 1) My wife – someone I can always trust! 2) My dogs – great listeners and never talk back. 3) Deck of cards – helps pass the time.
SURVIVOR Contestant You Are Most Like: I relate most to Mick and Marcus because of my profession. I also relate to Penner and Boston Rob, as smart family oriented guys who realize they have more to play for then just themselves.
Reason for Being on SURVIVOR: This is one of the most intense, intellectual and physical challenges I can think of, and being able to play with Candice will make it that much more interesting and crazy!
Why You Think You'll "Survive" SURVIVOR: My work ethic, determination, outside-the-box thinking, flexibility and mental toughness.
Why You Think You Will Be the Sole SURVIVOR: I have a well-rounded mix of athleticism, grit and social emotional intelligence.
What Does It Mean to You to Play Survivor with Your Loved One? This will be such an incredible experience and an awesome opportunity for us! How many people can say they've competed in a game for a million dollars with the love of their life? There's nobody in this world I trust more than Candice and this will be a crazy story for us to tell our kids someday.