Back to Cast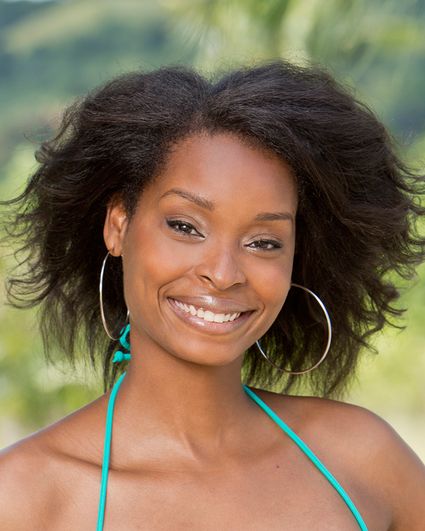 Biography
Name: J'Tia Taylor (31)
Tribe Designation: Brains Tribe
Current Residence: Chicago, Ill.
Occupation: Nuclear Engineer
Personal Claim to Fame: Passing my dissertation defense, because I was the expert on the subject matter and held my own against my professors, and being the first black female to successfully defend and receive a PhD from the department.
Inspiration in Life: My mother who is 61 years old and still kicking, running marathons, traveling, and learning new things.
Hobbies: Watching movies, reading and playing strategic games.
Pet Peeves: Ignorant, close-minded people, being late/off schedule, and chunks in food/drinks (e.g. rocky road ice cream).
3 Words to Describe You: Intelligent, adaptable and competitive.
If You Could Have 3 Things on The Island What Would They Be and Why? My favorite "I Love Nerds" T-shirt, mint-flavored Mentos, and a really thick intricate novel that I could read repeatedly and find new meanings to.
SURVIVOR Contestant You Are Most Like: Richard Hatch. He played the game authentically and originally since he had no precedence, and was true to who he was.
Reason for Being on SURVIVOR: Winning a million dollars and beating everyone else, while on the adventure of a lifetime.
Why You Think You'll "Survive" SURVIVOR: I'm very analytical so I'm good at breaking down/solving a problem and I'm also really good at getting people motivated and helping them achieve a goal.
Why You Think You Will Be the Sole SURVIVOR: I have an irrepressible drive and tenacity.
Do You Consider Yourself a Brain, a Beauty or a Brawn? I'm definitely easy on the eyes but I'm a true Brain at heart. I would say I'm 1/4 Beauty, 3/4 Brain. My answer, in which I give myself a narcissistic compliment and then use fractions, pretty much confirms this. Who Do You Think Has the Best Chance in the Game of Survivor: Brains, Beauty or Brawn? Brains always win... "Strength does not come from physical capacity. It comes from an indomitable will." -Ghandi

Watch J'Tia's Cast Video!