Back to Cast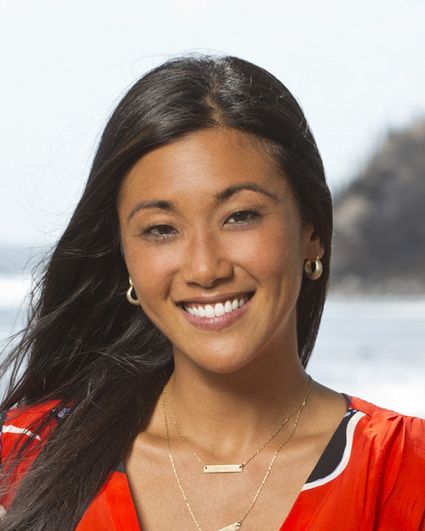 Biography
Name (Age): So Kim, 31
Tribe Designation: White Collar (Masaya)
Current Residence: Long Beach, Calif. Occupation: Retail Buyer
Personal Claim to Fame: Having the courage to re-invent myself. Last year, I turned 30, went through a divorce, moved across the country and changed jobs. It was simultaneously one of the best and worst years of my life and I'm a stronger person for it.
Inspiration in Life: Anyone who lives life to the fullest, laughs with abandon and loves openly.
Hobbies: Laughing, adventuring, traveling, dancing and LIVING.
What is your favorite sport? Surfing, swimming and eating.
Pet Peeves: Indecisiveness, "princess" attitudes, narcissism, procrastination, losing and complacency.
3 Words to Describe You: Spirited, charming and brutally honest
If You Could Have 3 Things on The Island What Would They Be and Why? 1. iPad with unlimited battery power – who doesn't love a good dance party? Not to mention, I could record conversations as needed. 2. Sunglasses – my eyes give everything away. 3. Letters from loved ones – to remind me to have fun, dig deep and stay humble.
SURVIVOR Contestant You Are Most Like: I am a combination of Ozzy (physically capable, agile, a bit self-righteous), Parvati (cute, flirty, coy) and Cochran (self-deprecating, paranoid and devious).
Reason for Being on SURVIVOR: I want to win and become the legendary female sole Survivor who made big moves and didn't play it "safe!" The million bucks doesn't hurt.
Why You'll "Survive" SURVIVOR: I would completely be in my element in the game of Survivor. I live for extreme experiences! Whether that is competing in challenges, surviving the outdoor elements, or strategically navigating alliances, I know I would be laughing and having a good time with the people around me.
Why Will You Be the Sole SURVIVOR: People who know me say I'm the strongest girl they know - physically, mentally and emotionally. Physically, I would kill it in challenges. Mentally, I am extremely analytical and approach things objectively. Emotionally, I know how to laugh at myself and make the best of any situation. And I would have no problem being manipulative in order to further myself!