Back to Cast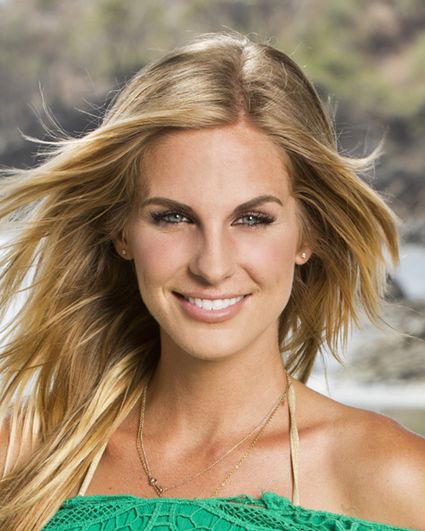 Biography
Name (Age): Sierra Dawn Thomas, 27
Tribe Designation: Blue Collar (Escameca)
Current Residence: Roy, Utah
Occupation: Barrel Racer
Personal Claim to Fame: I was the National Champion Barrel Racer and All Around Cowgirl in High School Rodeo and also a National Champion in College rodeo rankings.
Inspiration in Life: I can't just pick one. But, my mom and dad are my heroes because they have been through so much and through it all they stay positive. They are my main support system and I wouldn't have accomplished what I have if it wasn't for them.
Hobbies: Rodeo, basketball, football, hunting and fishing.
What is your favorite sport? Rodeo, basketball and long distance running.
Pet Peeves: Being late because it's so disrespectful, when people loudly chew their food and underachievers (at least give it an honest try).
3 Words to Describe You: Competitive, athletic and outgoing.
If You Could Have 3 Things on The Island What Would They Be and Why? 1. A radio because music makes my soul happy. 2. A notepad and pen because I love writing down my thoughts and goals. 3. Chocolate milk because I literally can drink a gallon in two days.
SURVIVOR Contestant You Are Most Like: Parvati Shallow, hands down, because she's not overly aggressive and uses her female traits to her advantage, she's a very intelligent woman.
Reason for Being on SURVIVOR: I truly believe there is little I cannot do. My physical, mental and emotional capabilities are of a man's level.
Why You'll "Survive" SURVIVOR: I'm not afraid to set impossible goals and strive to achieve them. I'm extremely athletic and push my body to its utmost limit.
Why Will You Be the Sole SURVIVOR: I am a 6'1" model and most people just see me as a pretty face, but I'm a cowgirl and rancher who doesn't mind doing a man's job. I am also an extreme athlete. I played basketball, volleyball and ran track and cross-country in high school (got offered a full ride scholarship for college basketball but decided to take the rodeo scholarship). I am a college student who's going to school for a master's in Criminal Justice with an emphasis in Corrections. I believe in strategizing and I am not afraid to push myself mentally and physically.