Back to Cast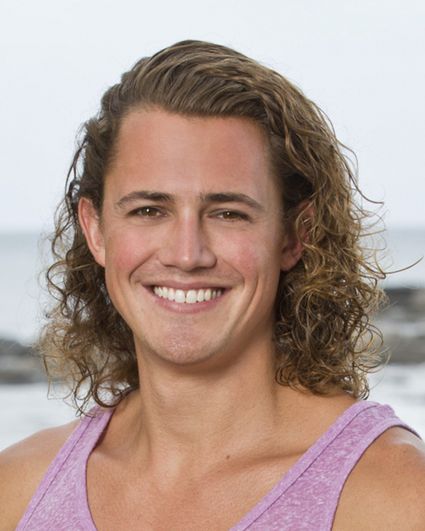 Biography
Name (Age): Joe Anglim, 25
Tribe Designation: No Collar (Nagarote)
Current Residence: Scottsdale, Ariz.
Occupation: Jewelry Designer Personal Claim to Fame: I am most proud of winning a state championship for basketball my senior year of high school. In college, I played indoor volleyball at Northern Arizona University. After four years of being self-coached and self-funded, we upset the number one team in the nation in the finals of a Vegas tournament.
Inspiration in Life: My Dad. My whole life, he was incredibly hard on me and always pushing me to become better at everything I did. He grew up very poor and in a large family in which he endured a lot of hardships. Through the pain and sadness of divorce, family tragedies and death of loved ones, he was still able to keep faith and carry on. He has been an amazing father and role model to me and my sisters and he is a loyal hardworking husband who puts others before himself. I've always looked up to him and I hope that I can be as strong, loving and fearless as he is when I become a husband and father.
Hobbies: I enjoy anything that allows me to work with my hands. These include metalworking, painting, drawing and welding. I also love the outdoors- you name it: Hiking, climbing, hunting, camping, etc.
What is your favorite sport? It's a true tie between basketball and volleyball. I love hoops but the last several years I've been playing a lot of sand volleyball which I love playing down here in the valley of the sun.
Pet Peeves: Bad hygiene, rude, inconsiderate people, that person with really nasty coffee breath who has no idea what personal space is, when the last person to use the bathroom doesn't replace the empty toilet paper roll and when someone is telling a story and every other word is "like."
3 Words to Describe You: Creative, compassionate and charismatic.
If You Could Have 3 Things on The Island What Would They Be and Why? 1. A fully stocked self-replenishing ice-chest 2. A toothbrush since I hate the feeling of my teeth being grimy. 3. Loaded up iPod because I love listening to music.
SURVIVOR Contestant You Are Most Like: There are so many players that I relate to in different ways. In terms of game play, I would have to say it's a combination of Malcolm and Ozzy.
Reason for Being on SURVIVOR: Ever since I can remember I have wanted to be on Survivor. My primary motivation is that every day I dream about competing and earning the title of sole Survivor. With every season, my desire to play has grown more and more. The game is a true test of self-awareness as well as mental, physical and emotional determination. There is also a perk of a million dollars. I would honestly play Survivor for way less but the fact that it is one million dollars makes it that much sweeter.
Why You'll "Survive" SURVIVOR: I would be an asset to the tribe because I am athletic and very competitive. I love competition and I hate losing. I am not lazy and I don't mind doing what needs to get done in order to help others. I feel that I'm in decent physical shape, but I will work hard and will bust my butt in challenges and around camp. I have worked in different jobs that have focused on customer service and have dealt with a wide range of diversity in the workplace. This has taught me how to communicate and connect with people I don't know. I'm a very social person and I enjoy getting to know people and their story. Being one of the most important aspects of Survivor, I feel my social game will be strong and lead to my success in the game
Why Will You Be the Sole SURVIVOR: With every season I watch, I can't help but imagine that I'm actually in the game playing. My brain goes into game/strategy mode as I put myself in the shoes of the current contestants and analyze how I would deal with the conflicts each is faced with. Of course, it's different when you're sitting at home on the couch and know what every player is thinking. However, I feel that I am well rounded enough, athletic enough and mentally strong enough to adapt to the people I'm put with. I am confident in the life skills I possess and I feel I can maintain my focus despite all of the other personal and crazy things the game may and will throw my way. After being such a huge fan for so many years, I truly respect how complex and challenging the game is. I am ready to battle and I want my shot in the ultimate arena that is Survivor.