Back to Cast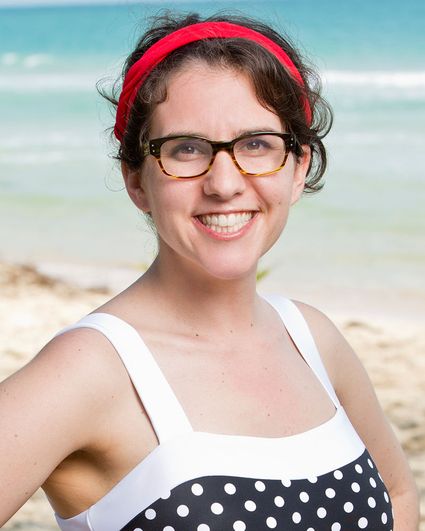 Biography
Name (Age): Aubry Bracco (29)
Tribe Designation: Brains
Current Residence: Cambridge, Mass.
Occupation: Social Media Marketer
Personal Claim to Fame: My name (it means "leader of the elves") and the way I pursued my education with my own style. I convinced my advisors at Brown University to let me write a children's book about a manatee instead of a 50-page thesis and went on to graduate with honors.
Inspiration in Life: My grandmother, Madeline. She dealt with a crazy Brooklyn Italian family and was a hard worker. She was the first Woman of the Year at the New York Daily News and never let anything get her down (she once went back to work the day after a major car accident). She also had a wacky personality -- as kids she told us she didn't eat chicken because "their legs were too close to their butts."
Hobbies: Crayon art, running, meeting locals in new places and astrology.
Pet Peeves: People who are not self-aware, don't know how to listen actively or give fake compliments. Close second: scented things covering bad smells.
3 Words to Describe You: Beguiling, intuitive and relentless.
If You Could Have 3 Things on the Island What Would They Be and Why? 1. Crayons – (preferably a 64-pack with built-in sharpener) to hold an art therapy session to calm everyone down. Plus, they smell good. 2. Camera – to document the adventure. 3. Astrology books – I want to know who I'm dealing with and what motivates people.
SURVIVOR Contestant You Are Most Like: Love child of Sophie and Cochran. Hair of Shambo.
Reason for Being on SURVIVOR: I love SURVIVOR. Since I was 15, I've watched. As complicated as the game is, there's something so simple, authentic and raw. I have deep respect for the timelessness and evolution of the game.
Why You Think You'll "Survive" SURVIVOR: I'm a hard worker who never gives up, and I'd entertain people by pulling a Greg Buis and being a weirdo. People would think I was doing this to be funny and pass time, but I'd actually be extracting key details. After living in Salem, MA during several Halloweens, I've learned to embrace my quirkiness and work with outlandish personalities.
Why You Think You Will Be the Sole SURVIVOR: I'm an expert listener and a journalist at heart so I'm inherently observant and social. I look for the most genuine and self-aware person in the room so I can connect with them, and I'm on the prowl for the most fake person in the room so I know what I'm dealing with. I want to prove to myself that I have what it takes to manage personalities under pressure with $1,000,000 on the line.