Back to Cast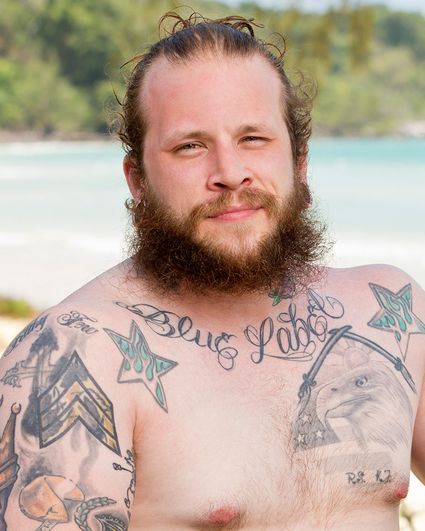 Biography
Name (Age): Kyle Jason (31)
Tribe Designation: Brawn
Current Residence: Detroit
Occupation: Bounty Hunter
Personal Claim to Fame: Besides my family, it would be becoming an NCO while in the Army. I worked my ass off to get there and I did it in only 3 years.
Inspiration in Life: I don't have a hero or an inspiration. I am just me, and everything I have ever wanted, I go for. I won't stop until I get it and I don't care what I have to do to get it. Hobbies: Kicking in doors, getting tattoos and riding my motorcycle.
Pet Peeves: There are so many, but if I were to narrow it down, I would have to say dumb people, lazy people and one uppers.
3 Words to Describe You: Loud, blunt and hilarious.
If You Could Have 3 Things on the Island What Would They Be and Why? Hair ties, energy drinks and a mini DVD player.
SURVIVOR Contestant You Are Most Like: Russell Hantz because he is the only person that has ever truly played the game the way you should. The only difference is that I wouldn't wait so long making things disappear.
Reason for Being on SURVIVOR: Truthfully, for the money. I have a family that is very important to me and that is why I work so hard. My youngest daughter has autism and is always in some form of therapy. It costs a lot of money and I make it work, but it would be nice to have some real money in my bank so I don't worry about her as much. I have been watching this game from Season 1, when Rudy should've won until he took his hand off that log. I can play this game and want that Survivor title.
Why You Think You'll "Survive" SURVIVOR: I have spent years living in third world countries and war zones- I know how to survive. I can make fire, build shelter, last as long as needed, go days without food and I work extremely hard.
Why You Think You Will Be the Sole SURVIVOR: I really do believe I can win this competition. I lie for a living, day in and day out. I have no shame telling people what they want to hear so I can stab them in the back and make it look like someone else. I know this game too well, watching it from the start, and I believe I can play it in the way it should be played and be the first to win in that way.