Back to Cast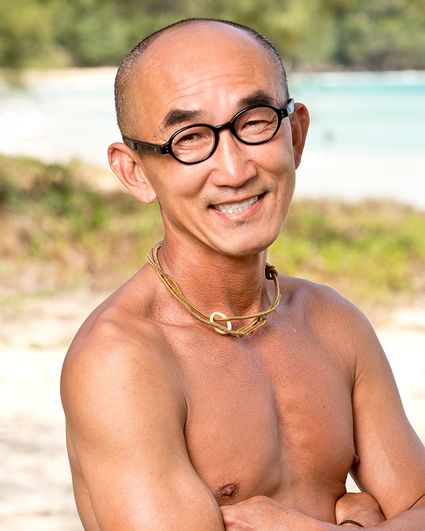 Biography
Name (Age): Tai Trang (51)
Tribe Designation: Beauty
Current Residence: San Francisco
Occupation: Gardener
Personal Claim to Fame: Being a part of the AIDS Life Cycle ride for the past 13 years. A 545-miles, 7-day camping and bicycle ride from SF to LA to benefit HIV and AIDS services. In total, I've raised over $75,000 for the LA LGBT Center and SF AIDS Foundation. I love this grueling, but fun, mental and physical challenging experience.
Inspiration in Life: My parents. They worked so hard to provide for 11 of my siblings. During and after the Vietnam war, we were so poor, we had to eat plain rice with soy sauce for months. Somehow they managed to get us all on a fishing boat to escape Communism and luckily we all survived 11 days on the open ocean. In an Indonesian refugee camp, my mom made and sold one cookie at a time to earn extra money for her children. They are the ones that taught me self-reliance and my mom always reminds me "If you have health and both hands, you can never go to sleep cold or hungry."
Hobbies: Planning dinner parties, cooking for friends and keeping bees. I am fascinated by the colony's social structures. I also enjoy reading and discussing fiction in our book club.
Pet Peeves: Foodies, double parked cars and lazy people.
3 Words to Describe You: Energetic, resourceful and competitive.
If You Could Have 3 Things on the Island What Would They Be and Why? Coffee-my life necessity, I grew up loving Vietnamese coffee since I was 3 years old; a razor- I like to shave my head and face to feel young (a survival must) and clean; "The Windup Bird Chronicle," it's a surreal Japanese fiction that would relax me.
SURVIVOR Contestant You Are Most Like: Spencer, I like his positive spirit and determination to survive in given situations, and Bob Crowley, because we're both older, nice, likable players with non-threatening demeanors who work hard.
Reason for Being on SURVIVOR: Definitely, the fun of testing my ability to survive in harsh conditions, pushing my body physically and mentally to the fullest. I would love to compete in challenges against younger, stronger or bigger players to prove that size and age does not matter in this game. I believe in playing a good social game, and the nice guy always can win in the end. Also, to win the million dollars!
Why You Think You'll "Survive" SURVIVOR: As a gardener and fishermen, I have the outdoor skills to build shelter, climb trees, forage for food, fish and dive. I am a vegetarian but I will harvest sea life for the tribe if it keeps me in the game. I will be useful and work hard at camp. I'm physically fit and will help win challenges. Being the middle child of 11 kids, I know how to get along and be the peacemaker. I can share my childhood war stories to pass time and charm people while bringing good spirit and harmony to the tribe.
Why You Think You Will Be the Sole SURVIVOR: Growing up poor and without many of life's comforts, I have the physical and mental stamina to survive in harsh environments. I'm determined and never give up till I get what I'm after. I am short and non-threatening, most people seem to like me and often are drawn to me for whatever reason. I am genuinely nice and will treat everyone well (but don't cross me, not even once). I will do whatever it takes to become the Sole Survivor. Even though it'll be difficult and devastating to betray my alliance, my ultimate goal is to win. I want to be a winner that everyone thinks is a little odd, but endearing, who plays a smart and interesting game with some spicy drama.