Back to Cast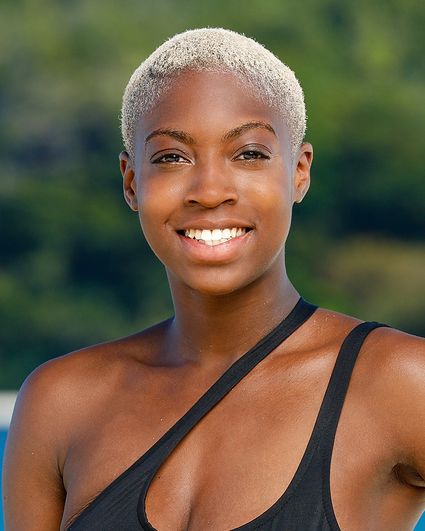 Biography
Age: 21
Hometown: Newark, New Jersey
Current residence: Brooklyn, New York
Occupation: Student

Hobbies: Traveling, debating, and binging on YouTube videos.

Pet peeves: Complaining.

Three words to describe you: Unbreakable, driven, and real.

What's your personal claim to fame?
Getting a place and back on my feet after being homeless. Freshman year when school ended, I didn't have anywhere to go. My parents were in Nigeria and both my brothers were in the U.S. but not much older than me so they couldn't help. This resulted in me being homeless for 1-2 months.

Who or what is your inspiration in life?
Beyoncé. She works so hard and is constantly topping herself. She literally sets the standard for every performer and artist and continues to raise the bar. She had Adele and Kanye West on stage defending her when she didn't win an award. Who else can do that? She is one of the few super humans to walk the Earth.

If you could have three things on the island, what would they be and why?
A picture of a skeleton in a grave to constantly remind me that things could be worse, a photo book of my family because I will always love them and they forever motivate me and finally, text message threads between me and my best friend. We have the funniest conversations and laughing is the best way to stay positive and happy.

Which Survivor contestant are you most like?
Michaela! I am a strong black woman who is not afraid to make power moves. I haven't had an easy life and sure as hell don't expect winning Survivor to come easy. I relate a lot to her because we are both strong-willed and determined and willing to do what it takes to accomplish our goals.

What's your reason for being on Survivor?
The million dollars would change my life drastically. I would have a story for the books—the girl that went from village to Versailles. I've seen it all, from the slums to the fast-paced, hard working student life in NYC. I want to change my life and my surroundings. I want to show myself and others that regardless of what you've been through, (it was being homeless for me), you can succeed.

Why do you think you'll "survive" Survivor?
I currently live in a house of eight girls. I know how to deal with seven different versions of crazy and different personalities. I am constantly settling issues in the house and running the house meetings, not only does this make me sociable, it makes me likable and adaptable. I have good experience in sports, having played basketball for most of high school and I work out at my college gym. I'm putting myself through school with grants and academic scholarships while my parents are in Nigeria and I am an asset to any team.