Back to Cast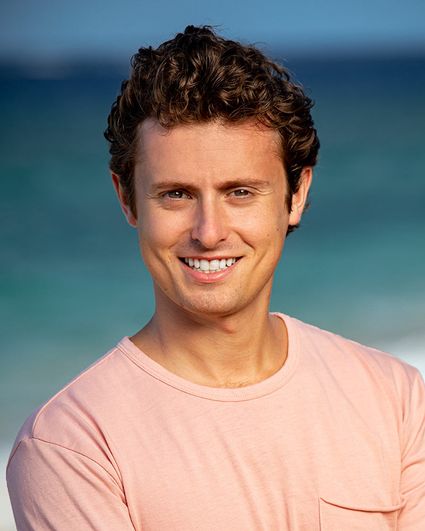 Biography
Hometown:
Burlingame, California
Current residence
: Los Angeles
Previous season:
Winner of
Survivor: Millennials vs. Gen X (Season 33)
Occupation:
Keynote speaker and host
Hobbies:
Board games, poker, travel, and if I am being honest,
Survivor
.
Pet peeves:
When you ask someone to take a picture and they take dozens of the exact same photo.
Three words to describe you:
Personable, determined and caring.
When did you first watch Survivor?
Season finale of Season 1. Started a fantasy league with my family Season 2 and haven't missed an episode since.
Do you still watch Survivor?
Always.
Who is your inspiration in life?
My parents, Alan and Susie. Also, Jeff Probst.
What does Survivor mean to you and your family?
Everything.
Survivor
has been a constant in my life, and kept my family close before, during, and after my time on the show. It may sound silly to some, but
Survivor
is far more than just a television show for us. It has given us hope, it has allowed us to dream and realize those dreams, and it brought us joy during the most difficult times in our lives.
What is one way playing Survivor changed your life?
My first ever screen name on the internet was SoleSurvivorAdam.
Survivor
turned my middle school obsession into a professional title! Ultimately, I believe that I am, at my core, the same person that I was when I played
Survivor
for the first time. Same values, ambitions, passions, and energy. The difference is that I have more opportunities to realize those ambitions and to make a greater impact on the world around me.
As Survivor approaches Season 40 and celebrates 20 years on television, what does it mean to be a part of the legacy?
I grew up watching Sandra, Boston Rob, Ethan, Tina, Amber, and Richard Hatch. Playing in Season 40 is like growing up watching Steve Young and Jerry Rice on your favorite football team and then getting to play against them in the Super Bowl. It only can happen in your wildest dreams. So many thousands of
Survivor
super-duper fans would do anything to be in my position.
How will you play differently than you did in your past season?
My basic strategy is the same for
Survivor
as it is for life: make friends. Anyone who comes into this game believing, "I'm not here to make friends" is playing a losing game. What's different this time is that some of the people I will be playing with already are friends. I need to obfuscate my existing relationships, keep an eye out for others doing the same, and work hard to build "in-game" trust that goes beyond liking someone outside of the game.
This time around, I can't hide how big of a fan I am. I can have fun with that and subtly play into the larger egos, especially since my life is far less serious and scary than it was last time. My sense is I may come into this game generally underestimated, with at least some people believing that my win was fluky and my social game was choppy. I want them to underestimate me and I will play into that, while also recognizing that all of them are incredibly capable and not to be underestimated.