The Good Fight's Costume Designer Breaks Down The Best Looks Of Episode 7
Costume Designer Dan Lawson explains how he styled the cast for the latest episode, "Not So Grand Jury."
Costume designer Dan Lawson
, the man behind your favorite characters' styles since the series premiere of
The Good Wife
, continues to dress the cast of
The Good Fight
in both timeless silhouettes and trendsetting ensembles.
STREAM: The Good Fight On CBS All Access
We caught up with the fashion guru to find out his inspiration, style choices, and insider fashion tips from the latest episode of
The Good Fight
, "Not So Grand Jury."
Name an adjective to describe each woman's style this episode.
For Diane Lockhart, played by
Christine Baranski
, "Fiercccccccce!"
For Lucca Quinn, played by
Cush Jumbo
, "Sporty."
For Maia Rindell, played by
Rose Leslie
, "Elegant."
What was your favorite look or piece from this episode?
I must confess that I have three pieces that I just loved in this episode. Real faves!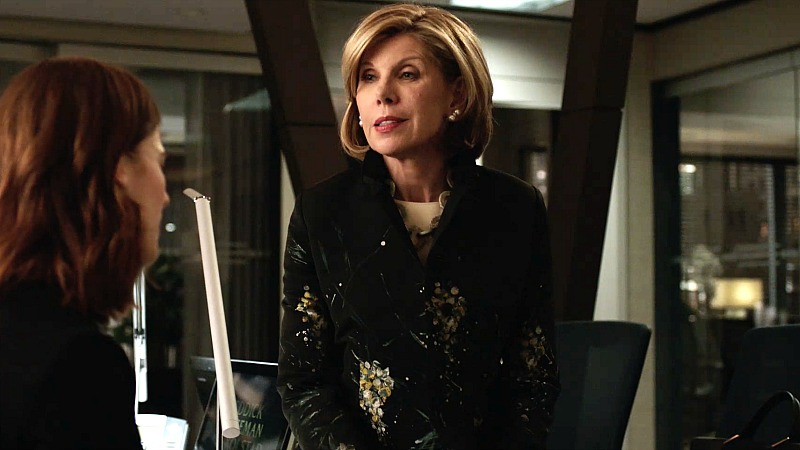 My first fave was an absolutely stunning, incredibly special "topper," as the company likes to call them, by Lafayette 148 NY. It is a navy blue faille with gorgeous flowers and leaves woven into the fabric. I think it is one of the most special pieces I have seen in years. The shape of it was extremely wide à la a trapeze coat, but we took a lot of that volume out for camera. I punched the lighter tones of the pattern with a light colored dress underneath. My hat is off to Lafayette 148 NY for designing this magnificent piece. Absolute elegance in a very pleasing form.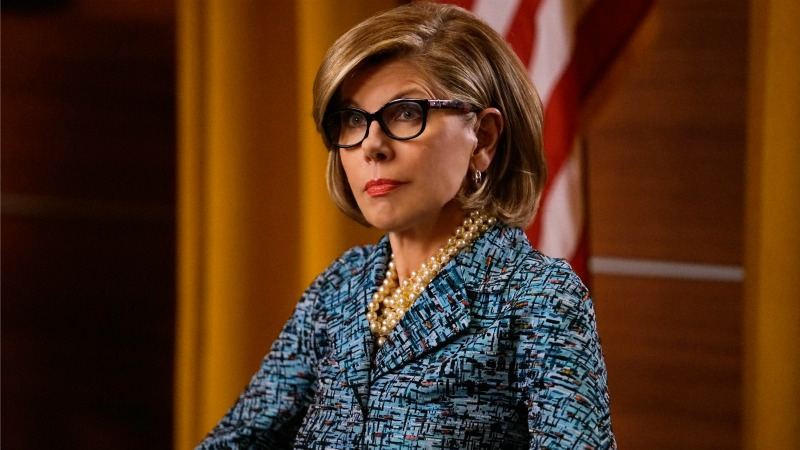 Diane also wore a beautiful turquoise colored jacket by Escada that had what I called a confetti pattern on it. I loved it for two reasons. First, it really was a stunning jacket made out of a unique fabric. Second, I loved how it worked in the scene. Diane was being questioned before a grand jury and I wanted her to be isolated in the scene and be the absolute focus. That turquoise jacket made that happen and really pulled the attention in the room to Diane.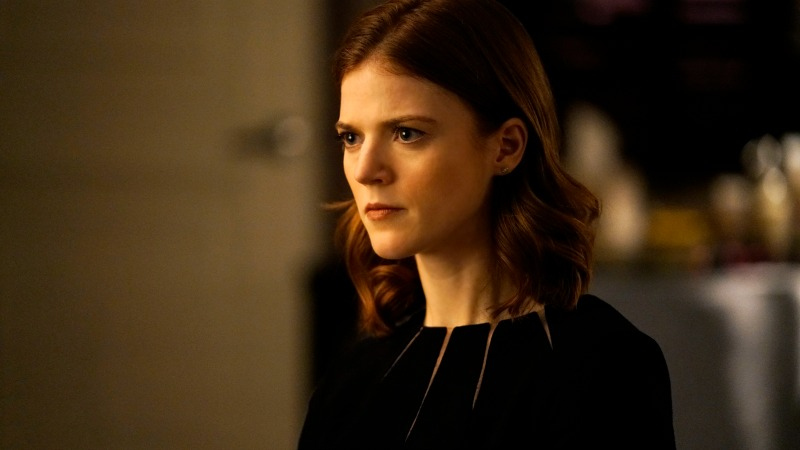 Finally, Maia wore a black dress by Escada with nude "darts" at the neck. I found this dress to be such a clever take on the LBD. The nude mesh inserts at the neck drew the audience's attention to Maia's face and made what would have been a ho hum dress something that was interesting and stylish.
Breakdown this look: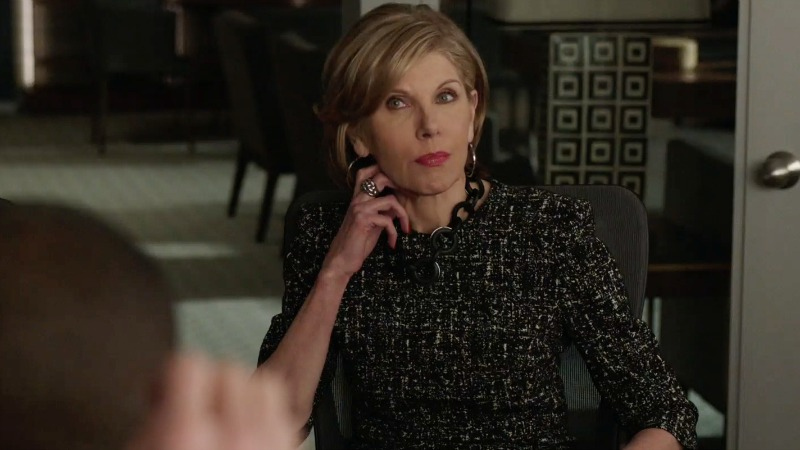 In this scene Diane is wearing an Alexander McQueen black and white static print dress with extra strong shoulders. Such a striking dress that I think is quite reminiscent of an old Hollywood era. I punched the dress with a spectacular
PONO
necklace that I thought really finished the dress at the neckline.
Breakdown this look: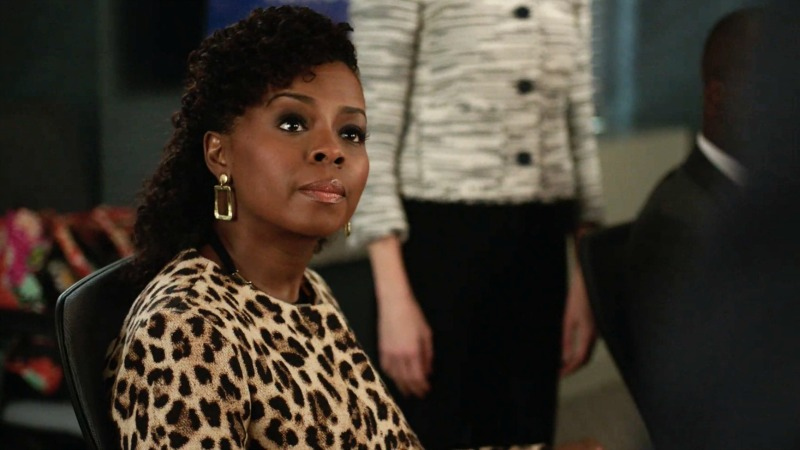 Barbara is such a fun character to dress!
Erica Tazel
wears clothing so well that it makes dressing her such a joy! In this look she is wearing a black Theory dress with an "A" line skirt. Over the dress is a great, long leopard jacket by Zara. It just goes to show you that you don't have to spend a ton of money to look great. I think the jacket cost $99.99. We did some alterations on it and made it look like a million bucks on her.
I finished the look with a shiny gold metal ribbon necklace from my kit that was originally purchased at Bloomingdales and a pair of gold rectangle earrings from my favorite jewelry store in the world (besides Cartier!),
Dem Two Hands
in Montclair, NJ.
Is there any symbolism behind the looks of the firm's financiers?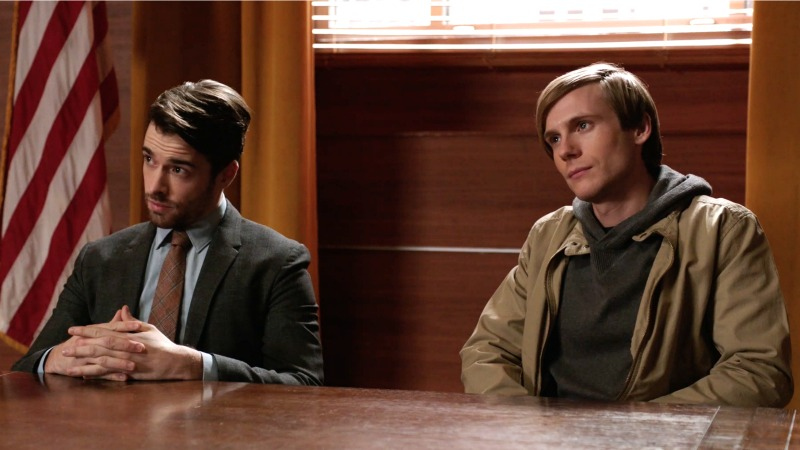 Robert and Michelle King
, who created the show, always had the vision that Tom and Jerry (that's what we called them!) would dress in opposition to one another. It created a visual dynamic between the two financiers, which makes it interesting for the audience to look at. Anytime we can step away from the expected suit, we try to do that since the legal world is so full of them.
Are there any fashion easter eggs in this episode?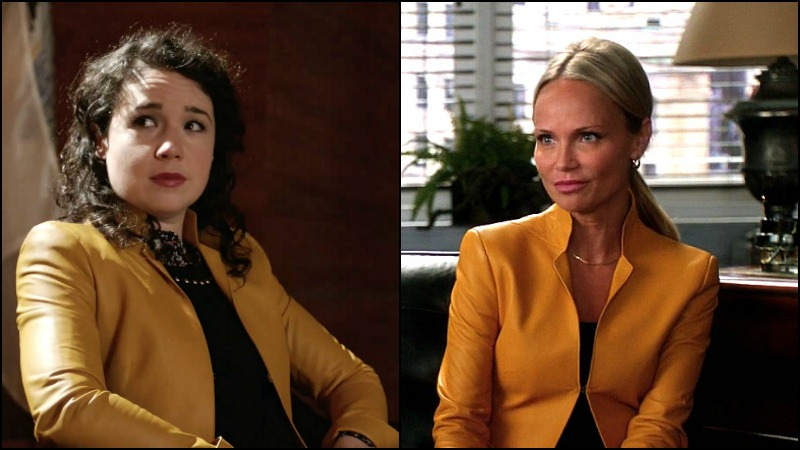 There is! Well, in a way.
Marissa
wears a bright yellow leather jacket by Akris in the episode. I have had it in stock for a long while as it was originally worn by Kristin Chenoweth on
The Good Wife
. I loved the jacket so much and I couldn't part with it and put it in stock for a future moment to shine. So when we needed a jacket for Marissa, I remembered this yellow one and since both actresses are tiny, it fit perfectly!
Chenoweth, who guest starred as Peggy Byrne
, appeared in Season 4 of
The Good Wife
in two episodes,
"The Art Of War"
and
"I Fought The Law."
Catch up with both episodes on
CBS All Access.
Do you dress the show's background actors? If so, how do you decide what each person will wear?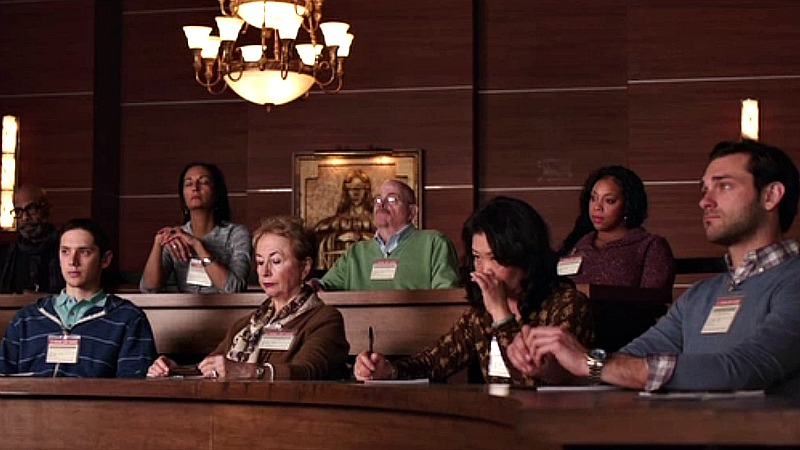 We pay a lot of attention to our BG artists. I think their look is very important. If we have raised the reality of the characters in our show, then we need to do the same for the BG actors as well. Otherwise, our principle actors would look like they were floating in a world they don't belong in.
BG actors bring clothing in with them, but since I am so specific about how I want the clothes to look and fit, we usually end up dressing everyone. Our core group of BG at the law firm even have closets we've made for them. So each day they come into work, we go through their closets and put together looks for them for the specific episode they are working on.
See all of Dan Lawson's creative fashion curations from
The Good Fight's
latest episode, "Not So Grand Jury," available exclusively through
CBS All Access.
Watch
The Good Fight
on
CBS All Access.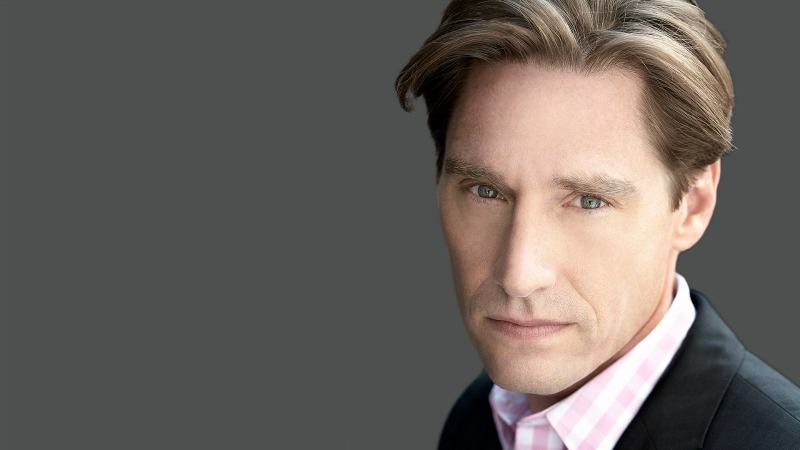 For more from Dan, follow him here:

Facebook: @DanLawsonStyle
Instagram: @DanLawsonStyle
Twitter: @DanLawsonStyle