The Good Fight's Costume Designer Breaks Down The Best Looks Of Episode 9
Costume Designer Dan Lawson explains how he styled the cast for the latest episode, "Self Condemned."
Costume designer Dan Lawson
, the man behind your favorite characters' styles since the series premiere of
The Good Wife
, continues to dress the cast of
The Good Fight
in both timeless silhouettes and trendsetting ensembles.
STREAM: The Good Fight On CBS All Access
We caught up with the fashion guru to find out his inspiration, style choices, and insider fashion tips from the latest episode of
The Good Fight
, "Self Condemned."
Name an adjective to describe each woman's style this episode.
For Diane Lockhart, played by
Christine Baranski
, "Well-heeled."
For Lucca Quinn, played by
Cush Jumbo
, "Strong."
For Maia Rindell, played by
Rose Leslie
, "Resolute."
What was your favorite look or piece from this episode?
Well, as usual, there are two pieces that I really loved in this episode.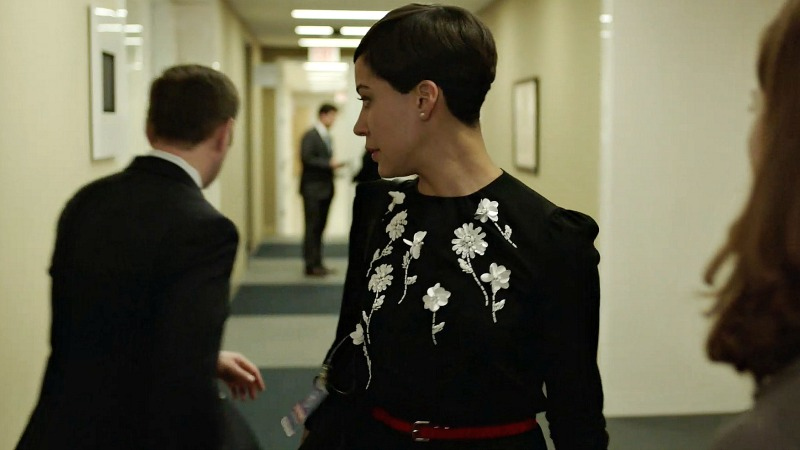 The first was the black dress with white three-dimensional flowers on it by Prada. I thought this dress was really special. I gave it an extra little kick by using a red belt.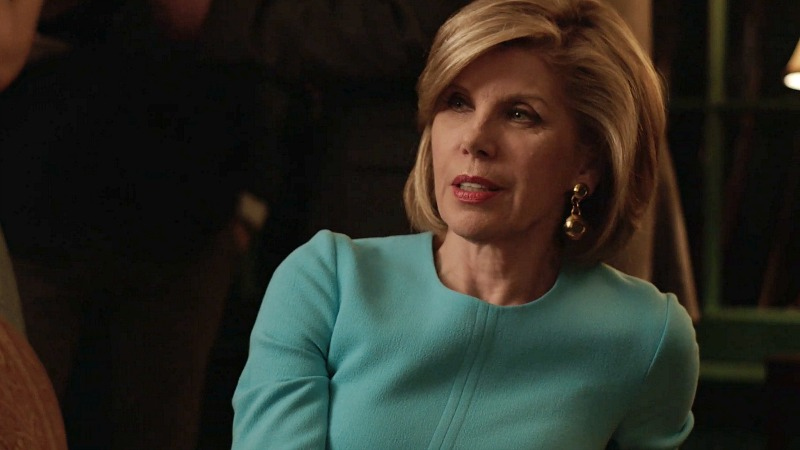 The other piece that I loved was the blue Diane wore by Michael Kors. Sleek, classic and chic—just what I love in an outfit.
Breakdown this look: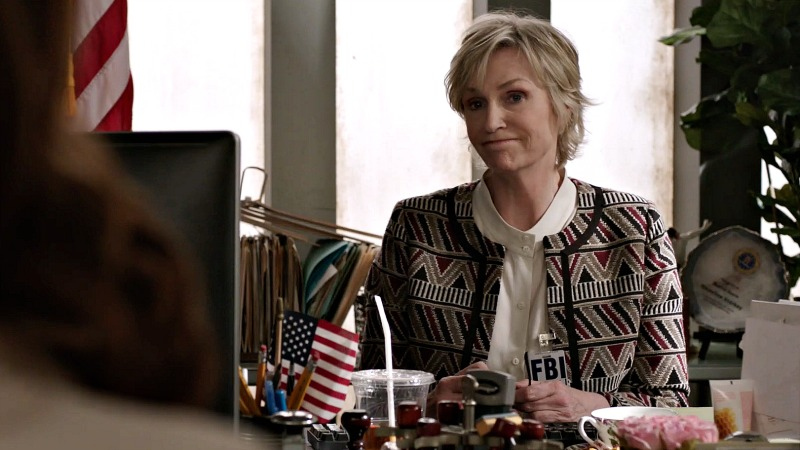 What a wonderful surprise to have Jane Lynch on the show! She is magnificent and I was a star-struck fan having her in my fitting room. Jane's character's look was to be a bit square; a bit plain. In this look she is wearing a maroon, black, and cream patterned jacket by Tahari, a black skirt by Nipon Boutique, and a blouse by Eileen Fisher.
We had an interesting thing happen with this outfit—the day Jane worked, she wore this blouse into work. When she was dressing to go to set, we realized that we liked
her
blouse more than the one we were originally going to use. So we ended up using hers.
Breakdown this look: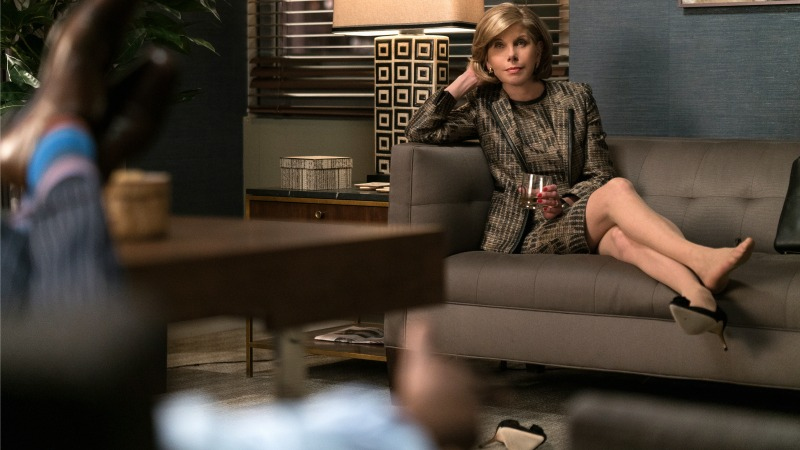 Max Mara has been a favorite brand of mine for years and I think this outfit explains why! The brown and gray woven floral fabric had a hint of a sheen to it. So it caught the light nicely. The black leather trim finished it off beautifully. It was a very elegant work look that gave Christine a nice shape.
Is there any symbolism behind Barbara and Adrian's similarly gray ensembles?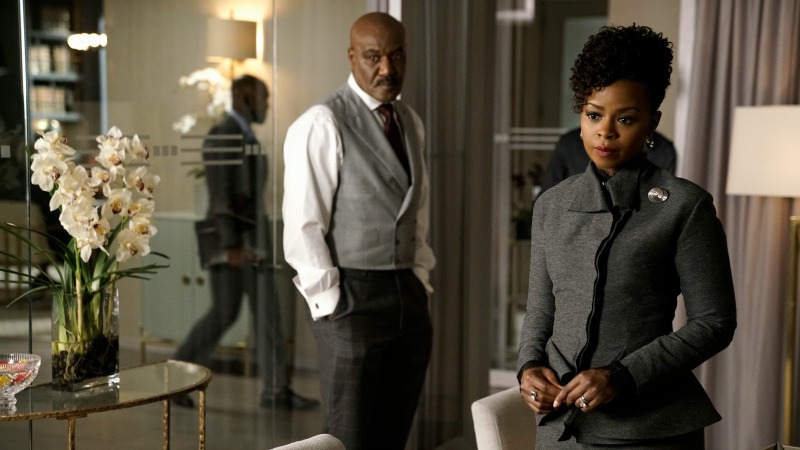 Yes. But not just with these two. It was throughout the episode. Since we had many flashbacks, we decided that we wanted to have more color in the flashbacks and maintain a neutral palette in the contemporary scenes.
So we sapped the color out of most of the scenes in the episode, which means I had to focus even more than usual on pattern, fabrics, and shapes. And I pumped up the color in the flashbacks.
Are there any fashion easter eggs in this episode?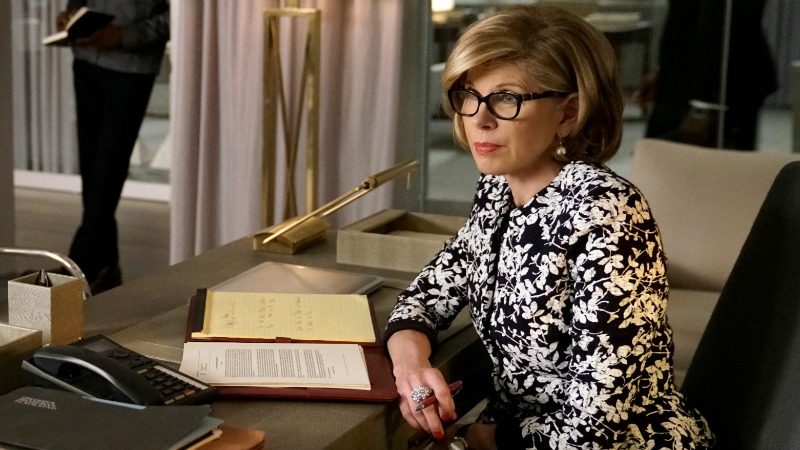 This episode really didn't have any special easter eggs. There are always the signature jewelry pieces that Diane wears—pearls and rings—but outside of that there were not any
strategically placed easter eggs
in this episode.
How did you choose young Maia's looks? How do you approach aging a character down?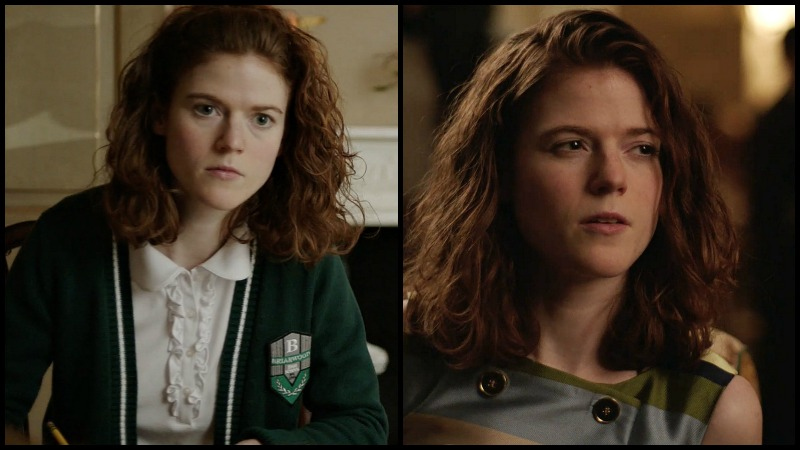 Making a character look younger is always a challenge. Changing the character's usual silhouette is one big way to make an age change statement. With Maia, I went from her usual sleek, pencil skirt shape to "A"-shaped skirts and dresses. Even with her school uniform, I went with a pleated uniform skirt. For the birthday celebration I went with a horizontally candy striped full skirted dress by Hobbs.
In addition to changing silhouette, I also used colors that we hadn't necessarily seen Maia wear before—not all, but some. Just enough to feel a difference.
Hair and makeup were also very important in making Maia look younger. Our amazing hair designer, Emily McKenzie, used curls to create a much younger look on Maia. And Andrea Miller, our incredible makeup designer, went with a more natural, no makeup look on Maia. And—and I
really
love this—she added freckles to her complexion. Such a great idea. Subtle, but brilliant!
Some of the flashbacks were just a few months in the past, maybe a year at most. So we didn't want to go so radical for those changes. We kept her in the world of her current look, such as the look in the photo below with the red cashmere sweater.
See all of Dan Lawson's creative fashion curations from
The Good Fight's
latest episode, "Self Condemned" available exclusively through
CBS All Access.
Watch
The Good Fight
on
CBS All Access.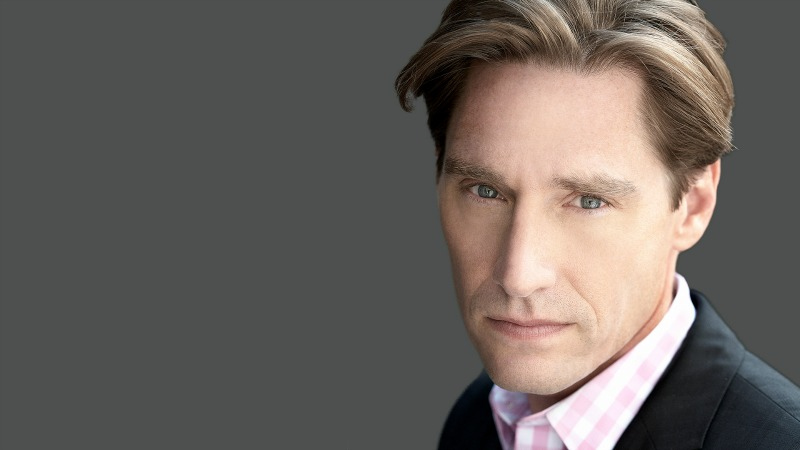 For more from Dan, follow him here:

Facebook: @DanLawsonStyle
Instagram: @DanLawsonStyle
Twitter: @DanLawsonStyle