Diane Lockhart had her fair share of challenges in the first season of The Good Fight, including losing both her retirement savings in a Ponzi scheme and her position at Lockhart, Decker, Gussman, Lee, Lyman, Gilbert-Lurie, Kagan, Tannebaum & Associates.

Despite all the adversity thrown her way, the sharp attorney picked herself up and faced her challenges—and challengers—head-on and with confidence.

STREAM: All Episodes Of The Good Fight Now On CBS All Access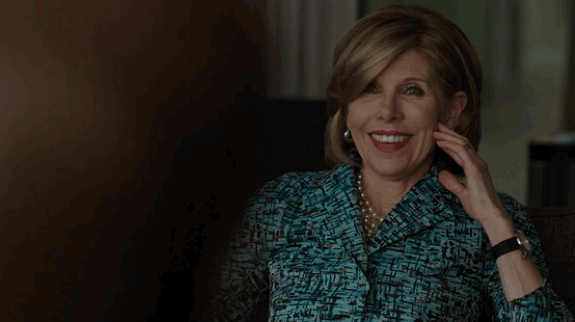 Here are some of the best times Diane made her intentions clear on The Good Fight:

1. When she explained the intricacies of life and the law to her goddaughter Maia
Though Maia's time at Lockhart, Decker, Gussman, Lee, Lyman, Gilbert-Lurie, Kagan, Tannebaum & Associates was short, it was valuable. While going up against Reddick, Boseman & Kolstad in a police brutality case, the young attorney asked Diane if they were on "the right side" of the law, to which Diane responded:

"We're on a necessary side. People I thought with all my heart were guilty turned out to be innocent, and people I thought were saints, they weren't. That's why you don't go on instinct. You wait, you listen, and watch. Eventually, everyone reveals themselves."

Stream "Inauguration Day" on CBS All Access

2. When she exited her old firm with her head held high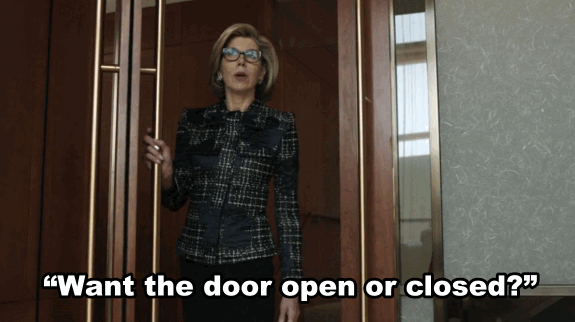 Diane devoted countless hours and extensive energy into her old firm, Lockhart, Decker, Gussman, Lee, Lyman, Gilbert-Lurie, Kagan, Tannebaum & Associates, so it was shocking that her former partners denied her request to come back to the company and reinstate her position.

Though she was stunned by their response at first, Diane chose not to let her former colleagues belittle her and exited with a professional, "Goodbye; it was fun."

Stream "Inauguration Day" on CBS All Access

3. When she helped Maia process her first loss in court
During her first trial, Maia represented an employee accused of stealing 400 pairs of running shoes. Though she defended him fiercely, her case crumbled when evidence of his past criminal activity came to light.

Devastated by the loss, Maia looked to Diane for guidance.

"People can lie and still be telling the truth," Diane said to Maia. "Nobody's 100 percent of any one thing."

Stream "First Week" on CBS All Access

4. When she put a careless medical director in his place
In her first few weeks at Reddick, Boseman & Kolstad, Diane represented Laura, a cancer survivor who had sold her eggs to a fertility clinic several years ago. When Laura wanted to get one of them back, she learn the clinic had already given 11 to a research university and the remaining one to a private doctor.

Because the egg hadn't been used within a predetermined time frame, it should have been given back to its rightful owner—Laura. Unfortunately, the doctor side-stepped the law and gave the egg to a British couple who, in turn, fertilized it.

The doctor haughtily claimed there was nothing Diane could do since he'd already made the transfer. Little did he know, she wouldn't go down without a fight.

"We will be suing you personally, Doctor," Diane said. "You are in charge of a clinic with the same facilities and the same director. My guess is you don't want the Secretary of State's office looking closely into a fraudulent transfer."

Stream "Henceforth Known As Property" on CBS All Access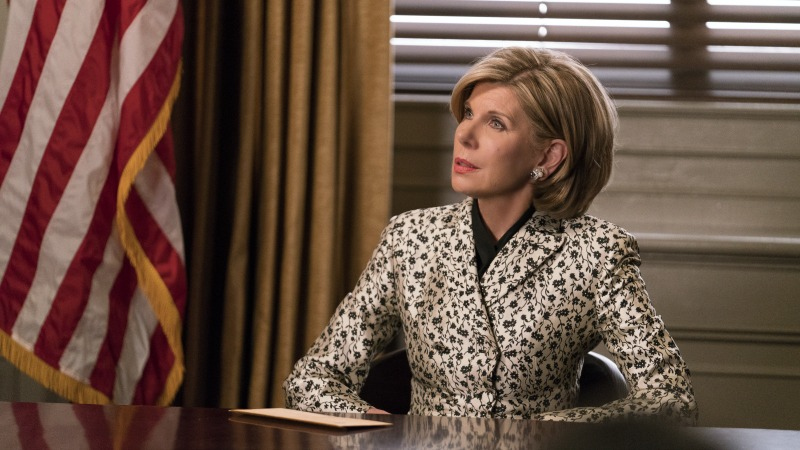 5. When she didn't allow Mike Kresteva to state slanderous information about her in front of the Grand Jury
Mike Kresteva, known for his snide remarks and uncanny ability to twist the truth in The Good Wife, proved in The Good Fight that some people never change.

In an attempt to defame Reddick, Boseman & Kolstad, whose work fighting cases against police brutality had made millions of dollars and countless headlines, Kresteva summoned their employees to appear before a Grand Jury to testify about their ethics.

Throughout the trial, Kresteva attempted to smear Diane's character by attributing a bogus quote to her. As you can imagine, Diane didn't tolerate his behavior.

"Your notes on our meeting are bizarrely incorrect ... I don't know where you got this quote, but there is not a single word of it that is accurate," she said sternly.

Stream "Stoppable: Requiem For An Airdate" on CBS All Access

6. When she negotiated her way to becoming a partner at Reddick, Boseman & Kolstad
For weeks, Diane struggled to come up with the retainer needed to become a named partner at Reddick, Boseman & Kolstad; so, after she convinced billionaire tech giant Neil Gross to switch to the firm, she didn't just make her colleagues a lot of money, she also found the perfect bargaining chip.

"I like this firm a lot," she said to Julius, Barbara, and Adrian. "I think it's got a great future. But in good conscience, I can't encourage Neil Gross to come here if I'm only of counsel … I want my capital contribution to come directly from the ChumHum retainer, and I want to be made a name partner."

Mission accomplished.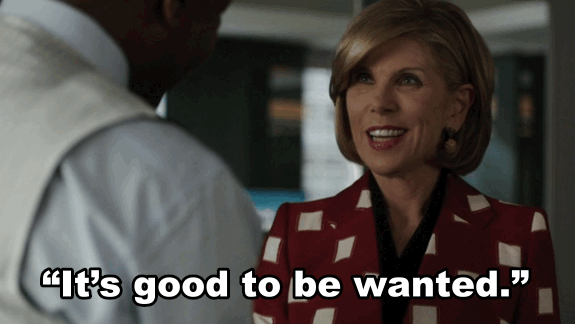 Stream "Stoppable: Requiem For An Airdate" on CBS All Access

7. When she shut down infamous alt-righter Felix Staples
While representing Neil Gross in his fight to censor hate speech on ChumHum, Diane met the vibrantly dressed and self-righteous alt-right superstar Felix Staples, whose fight for freedom of expression proved to be nothing more than an excuse to be the center of attention.

So, when Felix refused to accept that the site had reinstated his rights to comment in online forums, Diane showed him just how powerful her use of free speech could be.

"You're a clown," she said. "What's worse is you're a smart clown who occasionally has a point—a point you've destroyed by mixing it up with racism and a misogyny you probably don't even believe.

"When you were little, someone rejected you or made fun of you, and now you get to be one of the mean guys making fun of others ... You think this is some grand rebellion against progressives and Social Justice Warriors; it's not. You're just some kid in the corner pissing yourself."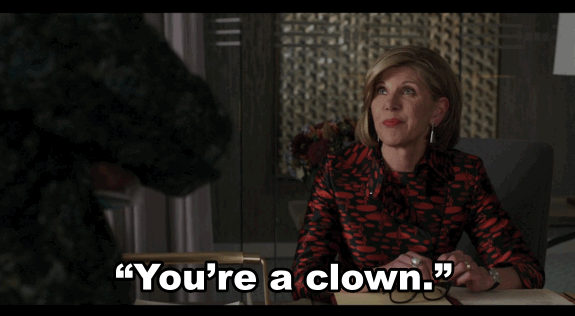 Stream "Social Media And Its Discontents" on CBS All Access

8. When she called out Neil Gross for using Reddick, Boseman & Kolstad as a shield
After she had put Felix in his place, Diane focused her attention on Neil Gross, who decided to blame the firm, and not himself, for the failed efforts to block hate speech online.

"We were a trial balloon," she said. "You wanted to censor your sites, but if we failed, you could point to us as the problem. A liberal African-American firm. That's why we're here, sir: to make you look good."

Stream "Social Media And Its Discontents" on CBS All Access
​
9. When she put Colin Sweeney in his place in court
Colin Sweeney, the eccentric billionaire with a knack for NSFW parties, called upon the services of Reddick, Boseman & Kolstad to help him win a police brutality suit. In true Colin fashion, he didn't make things easy. The GIF below says it all.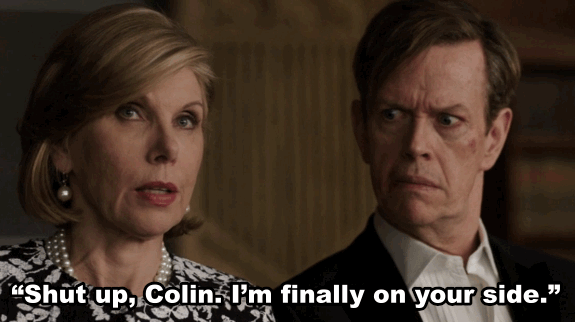 Stream "Self Condemned" on CBS All Access

10. When she worked with Felix to take down a client involved in cyber-terrorism
After Dylan Stack tried to play Reddick, Boseman & Kolstad for fools and used Lucca as an unwitting mule for his cyber-terrorism plot, Diane decided to get even. With the help of our free-speech loving favorite, Felix, Diane cleverly arranged a meeting in which Dylan admitted his role in the impending attack and handed over valuable information.

Of course, she also took the opportunity to make a little more money for the firm.

"You're representing me?" Dylan asked her as the feds cuffed him.

"Yes, and I suggest you remain silent." she responded with a smirk.

If revenge is sweet, justice is sweeter.

Stream "Chaos" on CBS All Access

Stream all episodes of The Good Fight now on CBS All Access.