There's No Shortage Of Complex Female Characters On The Good Fight
Cush Jumbo, Christine Baranski, Rose Leslie, Audra McDonald, and Sarah Steele dig into their characters' boldness.
When it comes to strength and tenacity, the women of Reddick, Boseman & Lockhart have it on lock.
And who better equipped to discuss Lucca Quinn, Marissa Gold, Maia Rindell, Liz Reddick-Lawrence and Diane Lockhart's exceptionalism than the women who portray them:
The Good Fight
actresses
Cush Jumbo
,
Sarah Steele
,
Rose Leslie
,
Audra McDonald
, and
Christine Baranski
, respectively.
READ: How And When To Watch The Good Fight On CBS All Access
"I think the reason why these characters come across as such strong characters is because they're rounded," offers Cush in the above video. "One of the things I've always loved about Lucca is that she says all the kinds of things I'd never have the balls to say in real life, and she makes decisions based on her gut."
Sarah, meanwhile, is impressed by her character's tangible growth over the course of Season 1 and Season 2.
"I think that Marissa's kind of becoming much more fearless," Sarah says. "She both doesn't care what anyone thinks of her and is willing to put herself in dangerous situations."
Rose also touches upon her character's transition—from a meek, legally embattled associate in Season 1 to, in Season 2, a confident attorney who has, against all odds, become invaluable to the framework of Reddick, Boseman & Lockhart.
And, perhaps most importantly, she's managed to emerge from the shadow of her father's Ponzi scheme.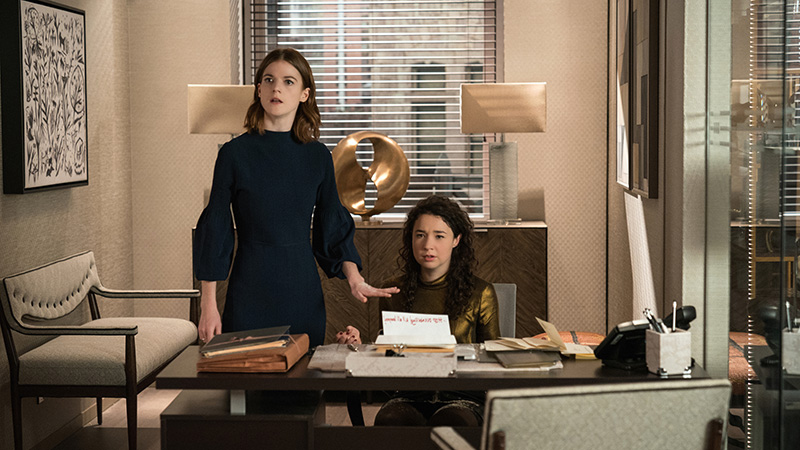 "I think we see a real flourishing in Maia," Rose says. "It's the resilience Maia has... The kind of evolution of her gathering momentum and not having the Rindell name hanging over her head."
Meanwhile, in a separate interview with
TV Insider
, Audra McDonald (who many might recognize from her turn as Liz Reddick-Lawrence on
The Good Wife
) commented on her character's motive behind joining her ex-husband's firm in Season 2.
"The opportunity [to mess with Adrian] presented itself, but also it offered a chance to reclaim and assert her power," she says. "She felt a bit powerless in her relationship. She'll make sure he knows she's no one to be messed with now!"
And Diane?
Christine has nothing but the utmost respect for her character's consummate professionalism—not to mention all of the women's.
"I think [Diane] has a fierce mind and an ability to articulate her thoughts in a very graceful way," Baranski says. "[All of the women are] at a certain professional level, and they operate as such. And so that's just a given that the women in this world are deserving of their place."
STREAM: Episodes Of The Good Fight Exclusively On CBS All Access
Watch the above clip to learn more about how the female characters on
The Good Fight
push boundaries and break the mold.
Stream all-new episodes of The Good Fight Sundays, exclusively on
CBS All Access
.