Back to Cast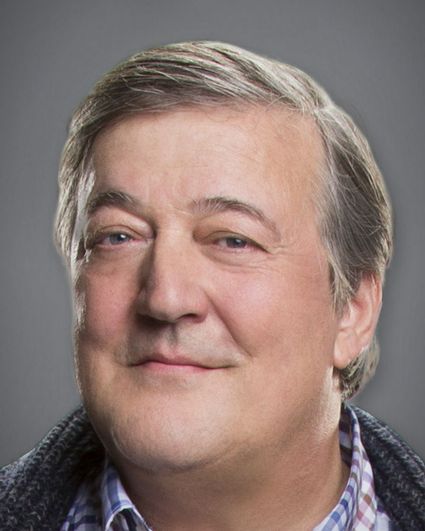 Biography
Hometown: London
Birthday: August 24
Stephen Fry is an English actor, screenwriter, author, journalist, comedian, television presenter and film director.
Fry has amassed numerous credits on American and British television. In the U.S., he recurred as Prime Minister Alistair Davies in "24: Live Another Day" and as Dr. Gordon Wyatt in the drama series, "Bones." On British television, Fry starred as Melchett in the series "Blackadder," opposite Rowan Atkinson, played the titular character in the series "Kingdom," and is the long-time host of the television quiz show "QI."
Additionally, Fry has presented several documentary series, including the Emmy Award-winning "Stephen Fry: The Secret Life of the Manic Depressive." As a proudly out gay man, the award-winning documentary "Out There," which chronicles the lives of lesbian, bisexual gay and transgender people around the world, is part of his 30-year advocacy for the rights of the LGBT community.
Fry's feature film credits include playing author Oscar Wilde in "Wilde," which earned him a 1999 Golden Globe nomination; starring as Gordon Deitrich in the dystopian thriller "V for Vendetta"; inhabiting the iconic character Mycroft Holmes in "Sherlock Holmes: A Game of Shadows"; and starring as The Master of Laketown in Peter Jackson's "The Hobbit: The Desolation of Smaug" and "The Hobbit: The Battle of the Five Armies."
In addition to his work in television and film, Fry has contributed columns and articles to a variety of newspapers and magazines. Also, he frequently appears on radio, reads for voice-overs and narrated all seven of JK Rowling's best-selling "Harry Potter" novels for British audio books. He has written four novels and three autobiographies, "Moab is My Washpot," "The Fry Chronicles" and "More Fool Me."
Fry is a graduate of the University of Cambridge in Cambridge, England. As an undergraduate, Fry became involved with the Cambridge Footlights, the university's theatrical and comedic club. As a Footlights member, Fry met his long-time collaborator and friend, Hugh Laurie.
Together, they formed the comedic duo Fry and Laurie. As one half of the act, Fry would co-write and co-star in "A Bit of Fry & Laurie." Also, he played the role of Jeeves, with Laurie playing Wooster, in "Jeeves and Wooster."
Fry was born in London and lived in the English county of Buckinghamshire until he was 7. He spent the rest of his formative years in the village of Booton in the English county of Norfolk, where his parents still reside. Currently, he lives in Los Angeles. Fry's birthday is Aug. 24.