Stephen Colbert Tries To Make Sense Of The Presidential Election
The Late Show host attempts to find hope in a Trump presidency during his post-election live show.
Posted on Nov 9, 2016 | 11:45pm
Like millions of Americans, Stephen Colbert was shocked by the outcome of the 2016 presidential election.
​During his post-Election Day live show,
The Late Show
host tried to make sense of a Trump presidency and held onto hope for a brighter future by sharing a message with viewers across the nation: Don't move to Canada just yet.
After a long night of monitoring the polls and hosting his Election Day special,
"Stephen Colbert's Democracy's Series Finale: Who's Going To Clean Up This Sh*t?"
, Stephen couldn't help but feel a bit downtrodden.
"This is what it feels like when America is made great again, and I was really hoping it'd feel better because this sucks," he said.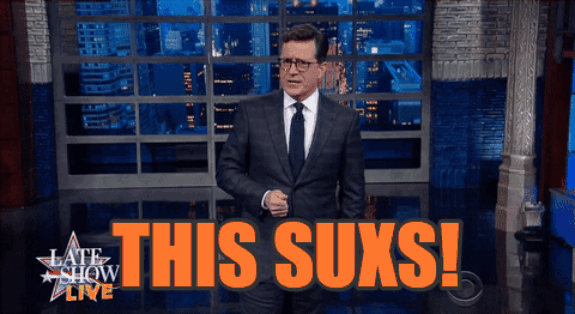 But, he hadn't completely given up hope. While Stephen reflected on how to explain Nov. 8's events to children, he realized that perhaps there was a silver lining amongst the madness, after all.
"If your kid asks, 'Why do bad things happen to good people?' there's finally an answer: the electoral college," he said.
See, everything's easier with a scapegoat!
Tune into The Late Show on Friday, Nov. 11 at 11:35/10:35c
for a special re-broadcast of Stephen's Showtime episode on CBS and
CBS All Access
.
Watch
The Late Show with Stephen Colbert
weeknights at 11:35/10:35c on CBS and
CBS All Access
.