Laverne Cox Talks Meeting Beyoncé, Protecting Trans Rights, And Her New Show Doubt
The star of CBS' new drama, Doubt, somehow didn't cry when she met The Queen at the GRAMMYs.

Laverne Cox visited The Late Show on Monday night, just hours after she wowed millions at the 2017 GRAMMY Awards. But, instead of looking jet-lagged, the actress had a glow of excitement she attributed to having just met one of her icons.

The star of CBS' sexy new courtroom drama, Doubt, found peace when she met The Queen (aka Beyoncé) on Sunday.

"When you meet The Queen, a calm comes over you," she told Stephen.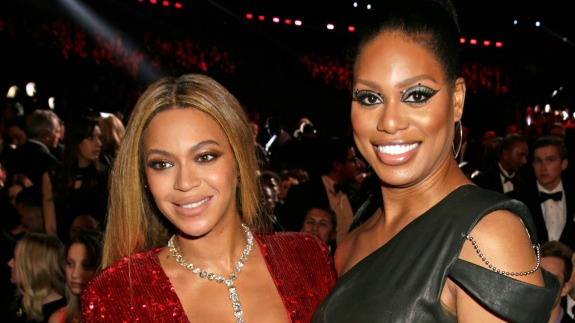 While Laverne met her idol at Music's Biggest Night®, she also made headlines by advocating for transgender rights and asking people to support Gavin Grimm before introducing Lady Gaga and Metallica's act.

"Gavin Grimm is a 17-year-old young man from Gloucester, Virginia, and he is going to the Supreme Court on March 28 ... I felt like people weren't talking enough about this case, and this is the first time the Supreme Court is hearing a case about trans rights, and if we lose this, our rights could be set back for a really long time," she said.

Throughout her career, Laverne has also worked hard to bring trans stories to TV. Her most notable roles to date include Sophia Burset in Orange Is The New Black and Dr. Frank-N-Furter in Rocky Horror Picture Show: Let's Do The Time Warp Again.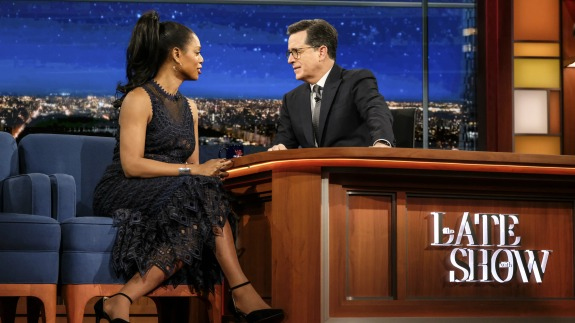 Now, Laverne stars in Doubt by playing Cameron Wirth, a defense attorney and transwoman, who fights wholeheartedly for her clients.

When Stephen asked if Cameron could hypothetically acquit her old character, Sophia, Laverne said: "I believe she could because Cameron's superpower, according to my showrunners, is that she has the capacity to convey deep empathy to a jury and a judge for the clients she represents."

To see Laverne take control of a courtroom, watch the series premiere of Doubt on Wednesday, Feb. 15 at 10/9c on CBS and CBS All Access.

Watch The Late Show with Stephen Colbert weeknights at 11:35/10:35c on CBS and CBS All Access.